Green Bay Packers Fans Exhale as Last-Second Win Is Completed
September 9, 2011
Jonathan Daniel/Getty Images
Phew, everyone take a big breath there in Packerland.  Like they often did last year, the Packers found a way to make a game they were in control of into a nail-biting win.  A 42-34 win over a team as good as New Orleans is still satisfying and important, but this one didn't need to be that close.
In a game in which the team scored 42 points, it is easy to say the offense performed well.  But the Packers offense was, in a word, spectacular, out of the gate.  They scored 21 points before the first quarter was over, and Rodgers seemed to find receivers at will. 
The Saints tried to blitz often and were torn up in the secondary because of it.  For the rest of the game they played more conservatively with less blitzes and more zone coverage.  The result was longer drives and Rodgers completed a large number of third downs to keep drives alive. 
For the game, Rodgers finished 27/35 for 312 yards and three touchdowns.  He was sharp all game with only one real bad throw—an overthrow well past a streaking Nelson that would have been a sure touchdown. 
Jennings and Nelson were both stellar with a touchdown apiece.  Nelson appears settled in as the No. 2 receiving option on this team.  After being questionable all week, Finley played and had three catches for 53 yards.  He will continue to grow in this offense and be a big piece of it. 
The surprise of the game was Randall Cobb.  He had an amazing 108-yard kickoff return for a touchdown and a long punt return called back on a penalty.  This was expected to be his role on the team, but in a surprise, he was also in on offense where he had two catches for 35 yards and a nice touchdown. 
If Cobb continues to grow, James Jones may find himself a fifth option in this offense. 
Driver looked steady and productive and came up just short of passing Lofton's all time yards record for the Packers.  He also recovered the onside kick at the end of the game.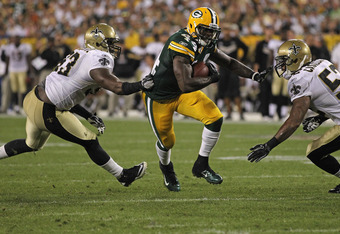 Jonathan Daniel/Getty Images
The Packers had said they planned on splitting carries with Starks and Grant.  Grant had nine carries for 40 yards and Starks 12 carries for 57 yards and one touchdown.  Both looked good, running tough inside and going through first contact on most plays.  Starks seemed to play more time overall, but both shared carries and looked to be threats for the season. 
The offensive line was solid opening some decent running lanes and giving up only two sacks to a blitz happy Saints defense.  Add in no turnovers and only two penalties on offense (both false starts by Lang) and this was a crisp and fantastic performance by the entire offense. 
The defense, on the other hand, did not enjoy as good a night.  I am willing to chalk it up to playing Brees and the Saints and not panic, saying changes are needed, but this was not pretty to watch at times. 
Brees passed for over 400 yards and seemed to be able to find avenues to throw in at will.  The defensive line and blitz packages did nothing to bother Brees, and all three sacks the Packers got appeared to be coverage sacks as Brees scrambled into trouble when the throw was not there.  Matthews was stymied and the Packers tried to change it up and blitz Hawk, but Brees had his way most all night.
In the secondary, Woodson was only average in this game and had a nasty penalty that will probably end up in a fine.  Shields showed off his speed several times but was also burned several times for long gains. 
Williams was the most solid coverage guy, but he left the game holding his hand awkwardly, so this is a troubling situation to watch.  I do not like the Packers' long term chances if Williams is out for an extended period and having to cover top receivers with Bush. 
On the positive side, the interior line was solid and gave up only 81 yards rushing for the game.  The key to the game was that the Packers got one turnover that they turned into points and that they stopped the Saints in the red zone four times. 
Twice they stopped drives and made the Saints kick field goals.  They had a nice fourth down stand, and of course the big play at the one yard line on the final snap of the game. 
The Packers have good beef up front and seem well suited to slow down running games.  The Saints' offensive line stopped the pass rush and the Packers may need to scheme rush opportunities, as after Matthews, they have no real sack threats to offer.  The Saints moved up and down the field until they got to third and fourth-and-short near the goal line when the Packers stepped up a few key times to get the win.
Special teams continued to be a problem, as Darren Sproles looked like an all-pro with a punt return for a touchdown and several other long returns.  I had hoped this was not going to be the recurring problem it was last year. 
On the flip side, the Packers return game was certainly boosted by Cobb.  He seemed to tire on his two long returns, but his initial burst and ability to make a guy miss was obvious. 
Crosby got no field goal attempts, as the Packers finished every drive, and he only had to kick extra points.  His kickoffs were deep (I do wonder why, while they moved the kickoff forward five yards, all the kickers seem to be kicking the ball 10 yards further now—must be a mind thing for them) and strong. 
Overall, this was a great win for the Packers and a great start to the season.  It should also dispel all the Super Bowl hangover talk and all the "Packers didn't have any organized practices during the lockout" stupidity.  The offense showed in this game by both teams should scare the rest of the league.  But the Packers' defense and special teams have plenty of work to do going forward.  At least they are 1-0 while doing it.