Patriots vs. Dolphins: 10 Things to Look for in Their Monday Night Opener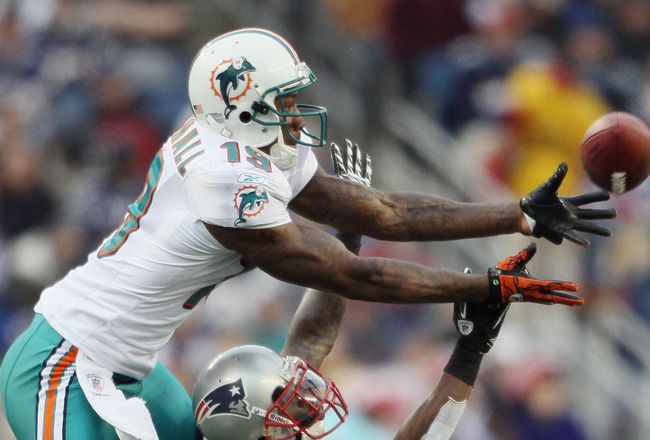 Elsa/Getty Images
Are you ready?
Monday is only a few days away.
The Patriots and the Dolphins will meet Monday Night (7 p.m. ET, ESPN) in a Week 1 matchup that many are expecting the Patriots to come away with very handily.
The Patriots are favored by seven, and you know they usually give three points to the home team.
Hey Dolfans, remember the last time the Patriots came into Miami on a Monday Night as heavy favorites?
Anyways, let's take a look at what to look for in a key Week 1 AFC East battle.
1. New England's Receivers vs. Miami's Pass Defense
Scott Cunningham/Getty Images
It's not so much Chad Ochocinco who bothers me, for he'll be blanketed by Vontae Davis all night and should have a night that's only slightly better than the one Randy Moss put up last season against the 'Fins. (In what would be Randy Moss' final game in New England, Moss had zero catches. I'm sure Chad will get at least two or three, but he won't be the primary target.)
It's Wes Welker that I'm looking at. Since the Dolphins traded him to New England in 2007 (and it would've been a great trade considering that New England gave up a second-round pick for him), Welker has lit up the Dolphins.
For his career, Welker has 55 catches for 683 yards and two touchdowns. And that's only against the Dolphins.
Expect Welker to get plenty of quick slant plays against the Dolphins defense, and expect the secondary to have its hands a bit tied, meaning the responsibility of stopping Welker once again falls to the linebackers and safeties.
For Reshad Jones, it will be imperative for him to stop Welker since he will be the starting free safety. If he can keep Welker under control and not let him light up Miami's defensive backfield, the Dolphins' starting free-safety job will belong to him.
2. Miami's Pass Rush vs. New England's Offensive Line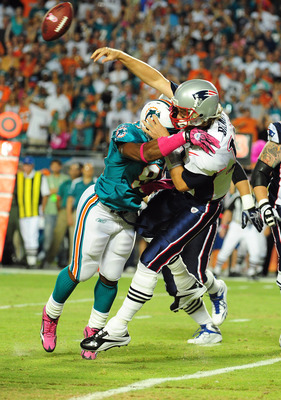 Scott Cunningham/Getty Images
Last year, the Dolphins defense (ranked sixth in the league, but ranked third before their final game of the season against the Patriots) sacked the opposing quarterback 38 times, 14 of those sacks belonged to Cameron Wake, and Tom Brady was a victim of three of those sacks.
Meanwhile, last year, Tom Brady was sacked 25 times, only five less than Chad Henne.
In recent years, it has been the Patriots offensive line that has been the cornerstone for their success. This was even shown in a Visa commercial in 2007 where the Pats O-Line was used to show Visa's identity protection features.
But New England's offensive line is currently in rebuilding mode. Matt Light is still the starting left tackle, but last season at times he showed signs of age—if Belichick feels that Nate Solder is ready to start, Light won't be around much longer.
Logan Mankins got the deal that he deserved, and I still expect him to perform the same way he's performed in recent years.
Koppen's chemistry with Tom Brady at center, along with his veteran leadership skills, is as valuable to the Patriots as Brady himself. But has age started to creep up to Koppen?
Dan Connolly is still the starting right guard, but new acquisition Brian Waters, formerly of Kansas City, will likely push Connolly.
Now look at the third preseason game for the Patriots against the Detroit Lions.
Detroit only netted two sacks against the Patriots, but their front seven was in Tom Brady's face throughout the game. Brady was 12-of-22, throwing for 145 yards, one touchdown and an interception. Many felt this game gave teams the blueprint for how to stop the Patriots this season.
While the game was being played at the same time that the Dolphins saw offensive line woes of their own in Tampa, I hope that the Dolphins coaching staff has plenty of tape of that game.
Miami's pass-rush can be just as good as Detroit's, and Cameron Wake compares very well to Ndamukong Suh (who wasn't responsible for any of the Lions' sacks that night but was in Brady's face the whole night). If the Dolphins can do to the Pats offensive line what the Lions did a couple of weeks ago, this game won't be what anyone expects it to be.
3. New England's Running Game vs. Miami's Rush Defense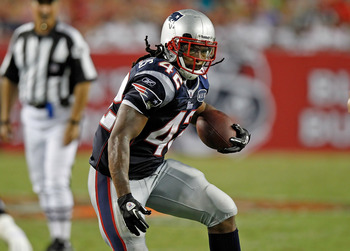 J. Meric/Getty Images
When you look at the Patriots offense, what comes to mind first?
Raise your hand if you said BenJarvus Green-Ellis and Danny Woodhead.
Put your hands down, liar—you know it's Brady and Welker who come to mind first.
The Patriots offense is known for prolific passing, but you can't sleep on their running backs.
Last season, Green-Ellis had 1,008 yards on 229 attempts, while Danny Woodhead, a waiver-wire pickup from the Jets, had 547 yards on 97 attempts. The two backs combined for 18 touchdowns, with the Patriots picking up another rushing touchdown from Tom Brady.
Now let's look at the Dolphins rush-defense.
Miami ranked seventh in the NFL against the run, however in two games against New England last season, allowed 300 yards on 77 attempts for an average of 3.9 yards per carry. Averaging out those two games, that's 150 yards on 39 (rounding up it was 38.5) carries. For the season against teams other than New England, Miami allowed 1,301 yards on 370 carries for an average of 3.5 yards per carry.
Safe to say that the Patriots running game can carve Miami's defense apart in a way that no other team in the NFL can. (For comparison's sake, in their two games against the Jets, Miami allowed 233 yards on 60 attempts, an average of 3.8.)
Now there are other factors affecting those numbers, like the fact that in the final game the Patriots went up big early on Miami, but the Dolphins have to neutralize the Patriots running game in order to have a chance.
4. Tom Brady's Miami Woes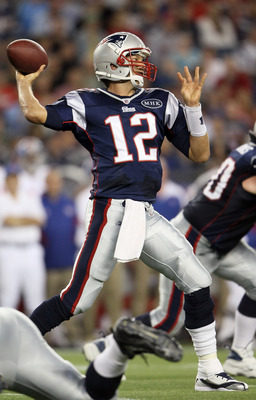 Elsa/Getty Images
This obviously goes without saying, but yes, Tom Brady is obviously an important factor to watch.
How about this for numbers: Tom Brady's record in Miami is a pedestrian 4-5. If you want to include his performance at Michigan in the 2000 Orange Bowl, then you get it up to 5-5.
Now let's look at Brady's total numbers in Miami: 163-of-257 for 1,992 yards, 18 touchdowns and 10 interceptions. He's also been sacked 21 times, including three times last season.
Miami hasn't exactly been Tom's friend, nor has Jason Taylor, who against Brady has 10.5 sacks as well as a pick-six in 18 career games against the Patriots.
How will Brady respond? Many expect him to perform well, but history suggests that Miami isn't quite paradise for Tom Terrific.
5. Special Teams
Ezra Shaw/Getty Images
Not that it will make much of a difference, but Brandon Fields is the best punter in the NFL.
That won't matter against the Patriots—not because of a threat in their return game (Brandon Tate is good but not exactly Devin Hester and is a Cincinnati Bengal now, hence making this entire part moot), but simply because this Patriots offense can move up and down the field so proficiently.
However, it's worth nothing that Clyde Gates is expected to return punts for the Dolphins this season.
If he can break one off against the Patriots, expect good things for Miami.
Speaking of the Patriots and special teams, that was the turning point during last year's game in Miami.
Going into the second half, Miami led 7-6. Then Brandon Tate returned the opening kickoff 103 yards for a touchdown.
A blocked punt came in the ensuing Dolphins possession, which led to a BenJarvus Green-Ellis touchdown only two plays later.
Then, with Miami only down by two scores early in the fourth quarter, Patrick Chung blocked a field goal that was then returned for a touchdown by Kyle Arrington.
Dolphins special teams coach John Bonamego wound up getting fired after this game.
It's important to note with that first game that Miami wound up giving up 21 points either directly or indirectly due to special teams play. They can not afford to have another performance like that.
6. Miami's Offensive Line vs. Patriots Pass-Rush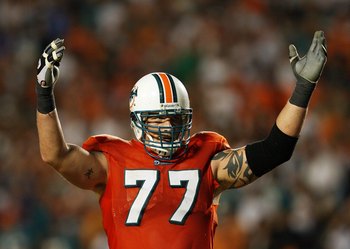 Doug Benc/Getty Images
First off, good news for Miami: Jake Long is back and ready to play!
Bad news: Colombo and Carey are still starting on the right side.
More good news: it's not like the Pats newly revamped pass-rush has set the world on fire.
Albert Haynesworth could possibly be the first Belichick reclamation project to fall flat on its face. He's still overweight and he still lacks the athleticism and burst he had while he was a Titan.
Vince Wilfork is only getting older and is just a tad past his prime.
If there's a pass-rush for this Miami offensive line to gain some cohesion and chemistry against, it's this one.
Other things that would help would be the seemingly new found ability to scramble, which Chad Henne showed during the preseason. If he's able to roll out against this Patriots pass-rush, he can keep them honest and help stimulate.
7. Miami's Rushing Attack vs. Patriots Run Defense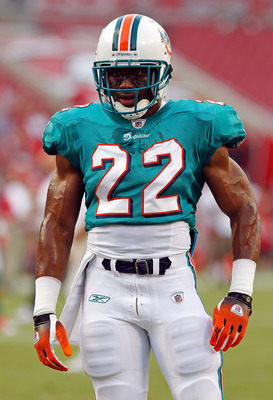 J. Meric/Getty Images
With rookie Daniel Thomas day to day with a hamstring injury, the Dolphins brought back Larry Johnson.
But Reggie will be the focal point for the Dolphins running game this season, starting on Monday night.
The Patriots finished 11th against the run last season, but with their defensive line, will have a tougher time this season against the run, especially along the perimeter.
That's Bush's forte. Expect plenty of tosses, swing passes and a lot of Reggie Bush, come Monday Night.
8. Miami's Receivers vs. New England's Secondary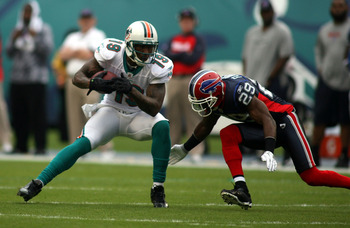 Marc Serota/Getty Images
In four games vs. New England, Brandon Marshall has 24 catches for 288 yards and two touchdowns.
New England last season ranked 30th in pass defense (yet finished first in the league in interceptions).
You can pass against this team. Devin McCourty, despite his seven interceptions, is a mismatch for New England against Marshall. Leigh Bodden is another decent corner, however is also a mismatch against both Marshall and Brian Hartline.
Marshall will be double-teamed, meaning it will be up to Hartline, Bess, Fasano and Reggie Bush to step up and haul in some catches in order for the Dolphins to be successful—especially against the Patriots safeties Patrick Chung and Sergio Brown.
Chung especially killed Miami during last year's game in Miami when he intercepted a ball and returned it 51 yards for a touchdown, along with a blocked field goal that led to another touchdown.
9. Patriots Fans Taking over Sun Life Stadium
This was after the Dolphins-Pats game from 2009, and while the Dolphins won the game, look at the amount of red, white and blue you'll see.
Part of the reason why the Patriots (and Jets) are such hot tickets for the 'Fins isn't just the long rivalries with both teams, but also because of the number of New England and New York transplants living in South Florida.
It also doesn't help matters much that the Dolphins will have some attendance problems this year, and thus far have only sold out two games (Monday's game and their 12/11 matchup with Philadelphia).
So I'll estimate that between the tickets brought directly from the Dolphins and the tickets currently on the secondary market (Stub Hub has plenty of seats to this game still available for as low as $49 and as high as $785), Sun Life Stadium will be anywhere between 35-45 percent Patriots fans.
Dolphins coach Tony Sparano has even piped in crowd noise into practice, something usually only done for road-game preparations.
So how do the Dolphins combat this? Scoring quickly. I usually believe in deferring the opening kickoff and taking the ball in the second half, but in this case, Miami should elect to get the ball first, then get down the field and score quickly to take the Patriots fans at Sun Life Stadium out of it.
Scoring often would help too. If Dolphins fans hate Jimmy Buffett's stupid "Fins" song, Patriots fans being forced to hear it four or five times will drive them insane. So the Dolphins need to score so the song gets played early and often.
Dolfans themselves should get into the action too: after every Miami touchdown, pay tribute to the late great former Dolphins tight end and broadcaster Jim Mandich and yell "Awwrite Miami!" after every Dolphins score. The fans should continue this for every game this season.
Then, next week against Houston, can we please go back to the original Miami Dolphins Fight Song?
I know to many Dolfans, Patriots fans are annoying (apologies to any Patriots fans reading this, but you understand where I'm coming from; I know you find Dolphins fans annoying too, and that's fine by me), especially when the Patriots are winning. So shut them up. Not by challenging them to a fight, but by cheering the Dolphins every chance you get.
10. Chad Henne, Plus My Prediction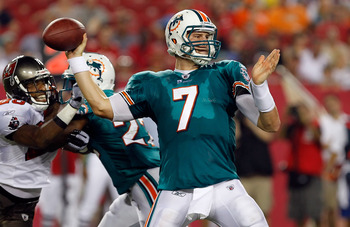 J. Meric/Getty Images
Of course, Henne's performance will determine how well Miami plays.
I started believing in him after the 2009 Dolphins vs. Patriots game in Miami, when Henne led the Dolphins on a final drive which led to a field goal and a Miami 22-21 victory.
By the way, Henne's numbers for that game: 29-of-52 for 335 yards, two touchdowns and one interception.
Henne won't have as many passing attempts this time around, but I could see him getting somewhere along the lines of 22-of-32 for 343 yards, three touchdowns and one interception.
But will it be enough against New England? No.
The game will be closer than you expect, but in the end, expect the Patriots to come out of Miami with a victory, while Miami will have a moral victory as they'll only have one turnover, Brady will get sacked five times (and hurried about eight more) and throw an interception of his own, while the Patriots running attack will be neutralized.
It will all be for naught for Miami, for Brady will still manage to lead New England to a victory.
New England 32 Miami 28.
Thomas Galicia is a Miami Dolphins Featured Columnist. Follow him on twitter @thomasgalicia. For more of his opinions, visit www.thomasgalicia.com, nominated by CBSMiami.com for "Miami's Most Valuable Blogger" in the sports division.
Keep Reading

Miami Dolphins: Like this team?