Saints vs. Packers: Was Jordin Sparks Best NFL Could Get for National Anthem?
September 9, 2011
Andy Lyons/Getty Images
I love me some American Idol.
I love me some Phillippi Sparks. 
So in theory, I should love to see Jordin Sparks singing the national anthem to kick off the 2011 NFL season, right?
Not so much.
I feel bad for the NFL in a way. Their pregame spectacular got preempted by President Obama. Jobs, schmobs—nobody wants to see Maroon 5 sing on the SyFy channel.
In fact, Maroon 5 is just about the only good thing I could find in the whole pregame show. Shocking coincidence that he's on NBC tonight. I mean, his show only saved the network.
From there, we had Kid Rock forced down our throat. Mark my words: That "Born Free" drivel will be a Chevy commercial within months.
That will finally free Bob Seger from the chains of commercialism and instead cage up a no-talent hack who's proud to sell out for some cash.
OK, I digress. Why do I hate the lovely Jordin Sparks so much?
I don't. But the whole "Hey, she's Phillippi Sparks' daughter, so let's put her on every NFL special we can" thing is just getting old.
Jordin Sparks used to have a career. She sang a song that I couldn't get out of my head for weeks.
I'd walk around town randomly yelling "So you better go and get yer armah." And now, so will you.
Then something weird happened. Simon Cowell and the Idol folks forgot how to market her. All the momentum she had built with "Battlefield" was wasted. 
Fame is fickle. One second, you're being loved by 40 million fans. The next minute you're recording music videos with Big Time Rush.
Not that I have anything against BTR. My boy loves it, and it's easier to watch than Dora the Explorer. But let's be real: On the career scale, this is about one step above singing at a Cracker Barrel on amateur night. 
Sparks has lost a lot of weight since that BTR appearance. She can sing a mean national anthem; I will give her that. But this is just about the only spot that we see her in nowadays.
I'm not the only one that noticed.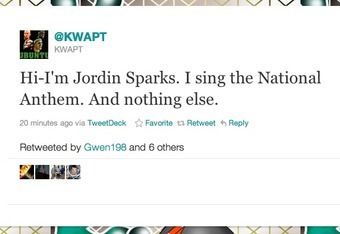 Some of you like that kind of stuff.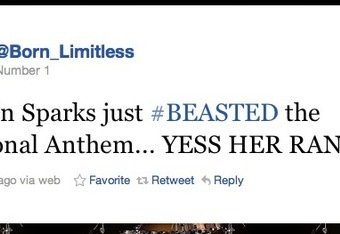 At least, I think #BEASTED is a good thing.
She owned that moment, for sure. But if she was really famous enough to even earn that moment, you'd think folks would know how to spell her name.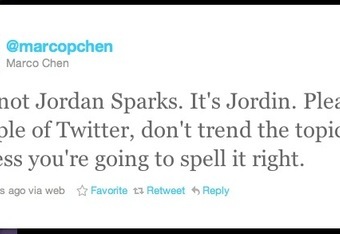 Well, at least Lady "Edge of Glory" Gaga wasn't on yet another sports broadcast. 
Oh, wait...