San Francisco Giants: 5 Players the Giants Should Ditch Before 2012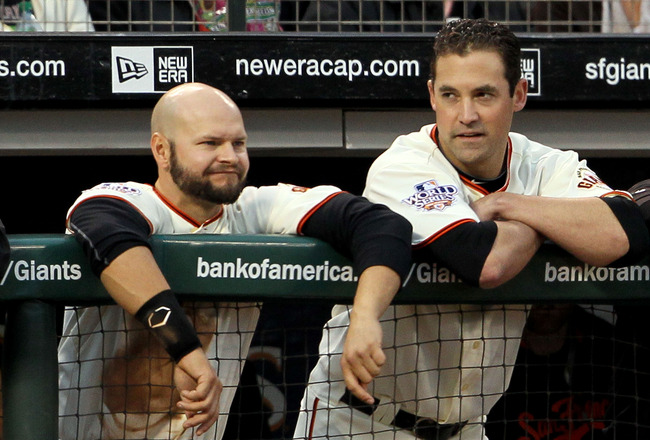 Justin Sullivan/Getty Images
The San Francisco Giants postseason dreams are a lost cause in the NL West. 2012 promises the return of Freddy Sanchez and Buster Posey, but it is certain that several current Giants will not be wearing the orange and black next season.
The Giants struggles can be blamed mostly on the lack of offense; they rank last in the majors in runs scored.
Many of the heroes that lead San Francisco to a championship in 2010 have failed to recreate their former success. As the 2011 postseason seems to have eluded the defending champs, they will look to improve on weak areas of the roster.
That may mean trade talks for players like Jonathon Sanchez, Barry Zito and Aubrey Huff. For Cody Ross and Pat Burrell, it is unlikely that free agency will land them back in San Francisco.
The Giants should not waste their time on these five players in 2012.
Jonathan Sanchez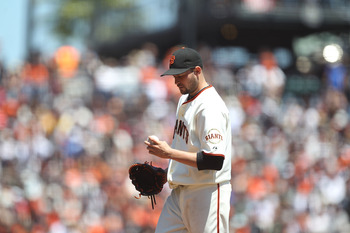 Jed Jacobsohn/Getty Images
Jonathan Sanchez was a critical part of San Francisco's starting pitching staff in their 2010 championship season.
While he was a dangerous left-handed threat when he had his best stuff Sanchez proved his inconsistent nature time and time again.
In 2011, Sanchez is 4-7 with a 4.26 ERA. He has struggled with his command more than ever and missed significant time in the season due to injury.
Sanchez is currently sidelined by an ankle injury and likely will not be available to pitch again in 2011.
The 28-year-old is arbitration eligible coming off of a disappointing season. It is highly unlikely that San Francisco will re-sign the struggling southpaw, despite lacking a solid option for a fifth starter.
The Giants may not be able to get anything significant in a trade for Sanchez, as his value has been severely damaged by his inability to perform this season, but they should not re-sign him at any cost.
Barry Zito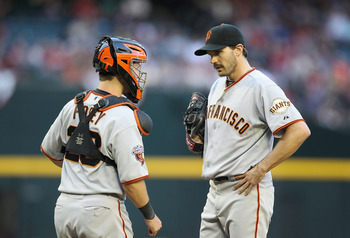 Christian Petersen/Getty Images
Barry Zito is also coming off of a disastrous season that may be the end to a disappointing stint with San Francisco. He and Jonathan Sanchez both failed to successfully fulfill the fifth slot in the starting rotation.
Zito is 3-4 with a 5.62 ERA for the Giants in 2011. He is still owed $40 million over the next two seasons.
Zito is the highest-paid player on the team and has little to show for it. In the Giants' championship season, he did not even make the playoff roster.
San Francisco needs to cut their losses and get rid of this guy because there is not hope for a beneficial return to the team.
If the Giants can find a team that is interested, they will benefit from absorbing a large portion of his contract, as opposed to having their money slowly wasting away off the field.
Cody Ross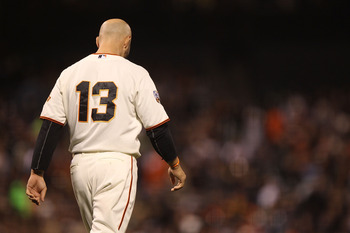 Jed Jacobsohn/Getty Images
Cody Ross has failed to replicate the success that made him a hero in 2010. He is batting just .233 with a .322 OBP and has not made the contribution necessary to call for the Giants to re-sign him.
The team is better off saving their money to make deals that will be more likely to benefit them.
Spending to re-sign players like Carlos Beltran rather than keeping marginal contributors like Ross will make or break the defending champs' chances in 2012.
Pat Burrell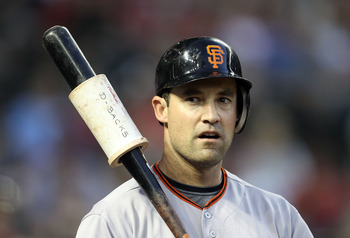 Christian Petersen/Getty Images
Pat Burrell provided power off the bench that was key to the Giants postseason run in 2010. However, he is batting just .233 with seven HRs in 86 games played for San Francisco.
Burrell spent time on the disabled list with a chronic foot injury this season. It was only weeks ago that he was making the choice between retirement and a rehab assignment.
He has been fighting through pain and seeing playing time due to Nate Schierholtz' recent injury.
However, the 34-year-old will likely choose retirement after the season as San Francisco will not re-sign him for 2012.
Aubrey Huff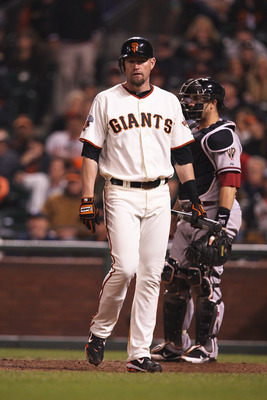 Tony Medina/Getty Images
Aubrey Huff was truly part of the core to the lineup that won the Giants a World Series. He hit .290 with 26 HR's in 2010.
The Giants' front office made the mistake of rewarding Huff with a hefty two-year $22 million contract through 2012, despite obvious signs of a statistical regression.
Huff got off to a slow start in 2011, hitting just .211 in April. He is currently hitting just .243 with 12 home runs.
San Francisco should consider putting Huff on the market in the offseason. Regardless of how much they could get in return for the 34-year-old, they would definitely benefit from putting Brandon Belt in an everyday role.
Brandon Belt has been shuttled back and forth between Triple A and San Francisco all season. He has shown glimpses of the player that he has been destined to be, and 2012 is the time for Belt to meet the expectations that he has been given.
Keep Reading

San Francisco Giants: Like this team?