Fantasy Football: Possible Running Back Committee Hurts LaGarrette Blount
September 8, 2011
Chris Graythen/Getty Images
Mark Dominik, the Buccaneer's General Manager, has spoken the words that no fantasy owner wants to hear regarding LaGarrette Blount.
Dominik's statement to Pro FootballTalk Live where he said,
"I think you'll see a little bit more of a committee approach with LeGarrette being obviously the main back for our football team"
Dominik further stated,
"But I think you're going to see on this team Kregg Lumpkin, you're going to see obviously Earnest Graham also... I think you're going to see three of them separating the catches LaGarrette getting most of the reps."
If this is an indication into the game plans of the Buccaneers after they decided to make Blount a feature back, it may send shock waves through the fantasy world, and give Blount owners a major headache.
Heading into the 2011 season, Tampa Bay had parted ways with Cadillac Williams to allow Blount to step forward as the team's main ground pounder after finishing strong in the final half of the 2010 season.
Blount had been considered a top ten running back going into this fantasy draft, but after these statements from Dominik, serious questions arise.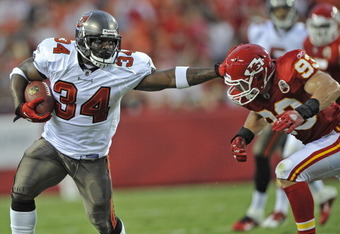 Peter Aiken/Getty Images
After a mediocre preseason as far as rushing, Blount's role in the Tampa offense seems to have been downgraded from feature back to favored back.
On a positive side, Blount's receiving numbers have improved and the team considers him an option for Josh Freeman to throw to out of the backfield.
If a committee system winds up arising in Tampa, Blount's carries, yardage, and effectiveness will be drastically reduced leaving fantasy owners scrambling to handcuff or find another back via trade or waiver.
This announcement also ensures that if the committee approach is fostered by the Bucs, Blount's role in third down situations could take a hit as well with the emphasis being red zone and goal line carries.
In order for Blount to avoid being trapped in this micro managed role, he must establish himself firmly by having a big game against Detroit on Sunday.
This is a situation worth watching. 
If you have drafted Blount already, monitor this situation closely as it could lead to a disappointing start in certain matchups.
If you are thinking of drafting Blount, it may be wise to rank him lower than you currently do on your draft sheets.
As for this Blount owner, I'm concerned with the news out of Tampa.