Cleveland Browns 2011 Season Preview: We're Talking Playoffs!
September 9, 2011
Matt Sullivan/Getty Images
"The secret of getting ahead is getting started."
-Mark Twain
Before we get too carried away, travel back with me in time to exactly one year ago.
Do you remember how good Jake Delhomme looked in preseason? We were already etching his name into the NFL Comeback Player of the Year Award trophy.
Well, that didn't exactly happen.
I also wrote in last year's preview that Colt McCoy wouldn't see the field for two years and had the following statement about Peyton Hillis: "Hillis has looked like a stud so far and a guy who carry the load in the cold and windy days late in the season. But he is a back-up running back. That is what he has always been and always will be."
Oops.
But hey, everyone makes mistakes when making predictions. No one saw Hillis' 2010 season coming. Sports Illustrated's Peter King predicted in 1995 that the Browns would go to the Super Bowl. And we all know how that finished.
So with that glowing endorsement of myself and ability to forecast the future, this is my 2011 Cleveland Browns Preview.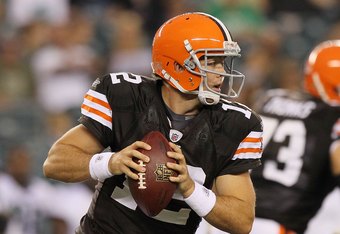 Jim McIsaac/Getty Images
I included the comment about Delhomme for a reason. That was temper enthusiasm. We all know that while preseason games are important, they don't really mean anything.
So while it was nice to see McCoy have great performances against Green Bay and Detroit, it doesn't mean that success will translate to the regular season. It sure didn't for Delhomme.
My theme for last year's preview column was "Cautious Optimism." And I should have that as the theme for this year too.
But I don't. And you know why?
It's because "The secret to getting ahead is to get started." And I am sick and tired of rebuilding and saying that we're developing and this team needs time.
I'm done with that. It's time to start winning football games.
Winning starts with the draft. And all indicators so far is that Tom Heckert had his second successful draft this past spring.
Four of those draft picks (Phil Taylor, Jabaal Sheard, Owen Marecic and Jason Pinkston) will probably start on opening day with another three (Greg Little, Buster Skrine, Jordan Cameron) getting lots of playing time.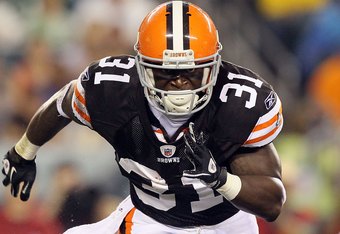 Jim McIsaac/Getty Images
I'll get more into each of these guys when I break down the positions.
But I want to talk about the great job that Mike Holmgren and Heckert have done in only two offseasons. They have revolutionized the way that this franchise is run. They epitomize the term "professional."
The only person since the Browns have come back that can come close to that is Carmen Policy. Since then it's been a comedy of errors for guys running this team.
Butch Davis is a very good college coach but he had no idea what he was doing when evaluating pro talent.
Phil Savage seemed like a good talent evaluator at times but had the personality and social skills of a gorilla being threatened with castration. I don't know that the term "professional" is in Savage's vocabulary.
Then there was the one-year debacle of the Eric Mangini/George Kokinis era. Have we ever actually figured out why it was exactly that Kokinis got axed?
The point here is that not only is Heckert not a complete hack, he's a very good general manager.
So let's look at the team that he's got going for us this year.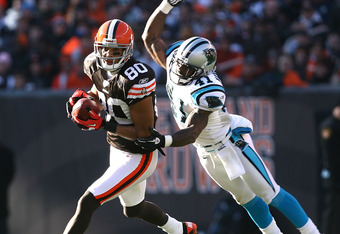 Matt Sullivan/Getty Images
Quarterback
I can't shake the feeling that McCoy is going to have a very special year. I've loved him ever since I watched the QB Camp thing on ESPN with Jon Gruden before the 2010 Draft. I loved his confidence and the way that he took command and it seemed like he knew his stuff.
I know that that was a TV special and they edit those to make everyone look good. Even Jimmy Clausen didn't look bad, but ask Carolina fans what they think now. All the same I started drinking the kool aid then and shower with it every morning now. (Is that weird?)
Everything you hear from other players in camp seems genuine and not contrived that the crap that guys were pulling out of their butts when Derek Anderson and Brady Quinn were "battling it out" for the starting job a couple summers ago.
Getting back to Colt, I think he's poised for greatness. I believe in Colt McCoy. I think he's the franchise guy finally. And I'm willing to get carried away and get excited. It's about dang time we had a quarterback worth getting excited about
The backup situation is good with Seneca Wallace. I feel confident that he can get the job done if need be. However, I have no real idea who the other two guys are but I hope that we will never see them...ever.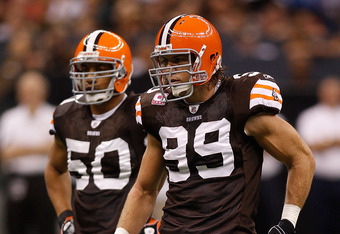 Chris Graythen/Getty Images
Running Back
Screw the Madden Curse. That's all I've got to say on the matter. I think that the Peyton Hillis/Montario Hardesty two-headed monster is going to kill this year.
Hillis will start out the year strong getting most of the carries and Hardesty will be brought along slowing. But around the middle of the year we could see the touches ratio shift a little bit into Hardesty's favor as he starts to get his legs. This will all be just in time to grind out those final four or five games of the season against Baltimore and Pittsburgh.
I'll even go as far as to say that Hillis and Hardesty will make up the best running back combo in the NFL this year.
The success of the running game will be essential to allow McCoy to grow and develop as a passer. It will allow him to see more looks with seven guys in the box instead of a half-dozen DBs.
One of the biggest keys to the recent "success" of the Browns running game was the play of fullback Lawrence Vickers. Well he's gone now and has been replaced by rookie Owen Marecic.
I have a buddy from California who is a big Stanford fan and had nothing but high praise for Marecic. The guys looks like a complete maniac, sort of like a crazier version of Hillis. That's exactly what I want from my lead blocker.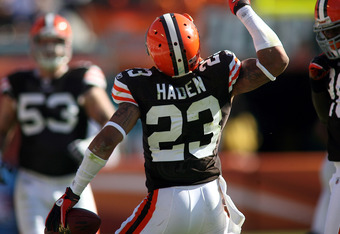 Marc Serota/Getty Images
Offensive Line
I think we'll realize pretty quickly just how good Eric Steinbach actually was.
This area of the team, which I thought was a major strength, now looks very vulnerable.
I'm not worried about Joe Thomas (who deserved every penny and more of that new contract) or Alex Mack. But Tony Pashos at right tackle is struggling with nagging injuries and Jason Pinkston is a rookie fifth-round pick getting thrown into the fire and we still aren't sure how solid Shawn Lauvao is in only his second year.
They all looked very suspect during the preseason against Detroit and Philadelphia.
I hope that they'll be able to hold up enough so that Colt doesn't get killed and that they can produce enough of a push for the RBs.
I need to move on before I start worrying too much.
Tight End
Normally I would just lump these guys in with the wide receivers. But not this year; it may be the strongest group of the team.
There aren't many teams in the league who can keep four starter-quality TEs on the roster.
I love all the various things that Ben Watson does for the offense. He's not a super sexy player but he does everything well.
Evan Moore, on the other hand, is the hottest player on the team right now. No one seems to have bigger upside than this guy. I even heard him being mentioned as a possible Pro Bowler. I don't know that I'd go that far, but I do enjoy what he brings to the table. He is a very skilled pass catcher who just might be McCoy's new best friend.
And if there are injuries I'm very confident in Alex Smith and Jordan Cameron stepping in without missing a beat. I'm very excited about Cameron's potential; the dude is an athlete. Can't wait to watch him once he learns how to play football.
Wide Receiver
This might be the most debated position on the whole team. Some people think we have no good receivers while others think we're just fine.
I'm with the latter. I'm actually excited about the receivers on the roster at this point. Mohamed Massaquoi will be solid as long as he says healthy. Greg Little will be a star eventually, but probably not this year. It takes receivers longer to get adjusted to the pro game than most positions.
The West Coast Offense was made for guys like Joshua Cribbs. I think he's going to have a breakout season this year. So much so that I picked him up on my fantasy team and am starting him week one (I don't play fantasy football very rationally...or for money).
My dark horse of this unit is Brian Robiskie. I thought he really came along well late in year last season and shown some nice things in preseason. He also has shown the ability to get open deep. He got past Nnamdi Asomugha in the Eagles game but got hosed on a pass interference call. Same thing happened against Baltimore in week 16. I really like Robiskie and think that he'll have an impact on the team this year.
Defensive Line
I'll start by saying that there is almost no depth at all in this spot. If one of the starters goes down I'm not sure what we'll do.
With that said, I love the idea of this unit playing together for the next 10 years. They are going to be very good in time.
We already know that Ahtyba Rubin is a great player. He's sure get more national attention now that we're running a 4-3 defense. And with Phil Taylor lined up next to him I'm not sure who will ever try to run up the middle. It's just not happening.
As for the ends, they are young but have tons of potential. Jabaal Sheard looks like a steal in the second round much like T.J. Ward did last year. And Jayme Mitchell, though not super flashy, looks very solid.
I'm excited about watching these guys play every week...as long as they're healthy.
Linebacker
We are going to need our linebackers to play well if we want to have a good defense this year.
It all starts with D'Qwell Jackson in the middle. The biggest question is "can he stay healthy." He's missed so much time the past couple years with injuries—this is a major concern. I also wonder if he'll be the playmaker that he wasn't in the 3-4.
He's a tackling machine; that's without a doubt. But he hasn't had many interceptions; forced or recovered fumbles; or, most troubling, tackles for loss. He says that he's excited about the new role of being the lone guy int he middle. He needs to live up to it.
The outside guys will be the rock solid veterans that they are. Scott Fujita and Chris Gocong both have loads of experience and will be very good (as long as they're healthy).
Two backups are also very solid in Titus Brown and Kaluka Maiava. I have tons of confidence in Maiava and think that he'll be a starter in the near future. He just looks like a beast out there. Did you know that he learned how to tackle by going wild boar hunting in his home of Hawaii? Well he did.
They would go with nothing but a knife. How crazy is that?
Defensive back
#teamDBswagg
I love seeing that on just about every tweet from Joe Haden and T.J Ward. It's hard to believe that those two guys are only in their second year in the league. They play and act like seasoned veterans already.
They are gong to be the foundation that this defense is built upon ultimately. I believe that Haden will begin getting recognition as an elite corner. And Ward may begin to take reign as the best safety in the AFC North.
Those are some bold statements, but I'll stand by them.
As for the rest of the unit...we'll see.
Sheldon Brown may be getting old and will likely get picked on a lot.
We have no idea if Usama Young can even play or how good he is. All I want from him is to be a  hawk out there in the center of the field.
Mike Adams will get a lot of playing time and is very reliable. I have no issues with him at all.
The other two corners who will see time are Buster Skrine—an electrifying rookie—and former Eagle Dimitri Patterson. Both guys will do well in nickel and dime situations.
Prediction Time
In the boldest statements, I believe that the Browns will start off the season 7-0.
I just don't see any teams along that stretch that we're not better than. That will give this team confidence heading into the second half of the season.
I think that the Browns will finish with a 10-6 record (I could even go as high as 11 or 12 wins; this schedule is so weak) and make the playoffs.
Once you get in, who knows what can happen? Wild card teams go deep into the playoffs every year and you only have to go back to last year to find a team that won the Super Bowl in Green Bay.
I might be going out of a limb here but I really believe in this team. I think that if they can stay relatively healthy, they'll be a team to be reckoned with.
Playoffs baby!
Here we go Brownies! Here we go! Whoof! Whoof!
You can follow me on Twitter @ClevelandFlack.