Tale of the Tape: Vontaze Burfict vs. Patrick Willis
September 8, 2011
Linebackers who can take over a game from the middle of the field do not come along very often. We are fortunate to have one in the 2012 draft class.
Arizona State's Vontaze Burfict has been compared to LaVar Arrington, Ray Lewis and Patrick Willis. He just might be a combination of them all. Burfict has terrorized Pac-12 offenses since he decided to sign with Arizona State over USC—a move that has the Sun Devils back in the national picture.
Scouting a middle linebacker is never easy considering the number of teams running a 4-3 defense versus a 3-4 system these days. What we can look at are general traits that would work well in both systems, with the final deciding factors set by size, strength and the ability to beat blockers to the ball.
How does Vontaze Burfict compare to the best middle linebacker in the NFL today? Here's our breakdown of Burfict versus Patrick Willis. 
Grading Scale Requirements
All college players who are scouted during the regular season are graded on a fixed scale. Players must hit requirements before I write a scouting report—minimum three games viewed live or on film, at least a redshirt sophomore and they must be in my top 200 players. Each player is graded overall and per the traits that make up his position. For example, wide receivers are graded on hands, speed, route-running, size, etc.
The Grading Scale
| Grade     |  Draft Profile          |  Description                             |
| --- | --- | --- |
| 10 | No. 1 overall pick | Elite, once-in-a-decade player |
| 9.5-9.9 | Top 5 Pick | Exceptional, difference-maker early |
| 9.0-9.4 | Top 10 Pick | Excellent, rookie starter |
| 8.5-8.9 | Top 25 Pick | Special, rookie starter |
| 8.0-8.4 | Top 32 Pick | First-rate, rookie starter/contributor |
| 7.5-7.9 | Top 50 Pick | Very good, rookie starter/contributor |
| 7.0-7.4 | Top 64 Pick | Very good, rookie starter/contributor |
| 6.5-6.9 | Top 75 Pick | Good |
| 6.0-6.4 | Top 100 Pick | Average |
| 5.5-5.9 | Top 125 Pick | Average with issues |
| 5.0-5.4 | Top 175 Pick | Average with issues |
| 4.5-4.9 | Top 250 Pick | Borderline NFL talent |
| 4.0-4.4 | Priority Undrafted FA | Below average |
| 3.5-3.9 | Street Free Agent | Marginal |
| 3.0-3.4 | Camp Body | Marginal |
| 2.5-2.9 | AFL/UFL/CFL | Inferior |
| 2.4 < | Reject | Unworthy |

Blitz
Burfict: 10 | Willis: 8.7
I firmly believe that Vontaze Burfict could play either inside or outside linebacker, largely due to his ability to rush the passer. I cannot remember an inside linebacker who got through the offensive line with such burst and consistency that Burfict does. Maybe LaVar Arrington? Even that is doubtful. Burfict is a weapon when used to split the gaps and pressure the backfield. Willis was rarely used as a blitzer, as Ole Miss chose to instead let him sit and read, then flow to the ball.
Anchor Gaps
Burfict: 9.1 | Willis: 9.7
The first area where Willis whips Burfict is at his ability to shut down the run between the tackles. The two players are very different here, as Willis was used more as a traditional middle linebacker while Burfict is moved around and tries to confuse the offense with his alignment. Either way, no one shuts down the middle of the field like Willis did. His range, strength and tackling ability made him unique in this regard. 
Cover Drop
Burfict: 9.4 | Willis: 9.1
The best coverage middle linebacker I have seen in my days was Brian Urlacher, who almost played safety in the New Mexico State defense. Neither of these guys ranks up there with Urlacher, but both are solid in their own right. Burfict, by nature of his athleticism, is cleaner in his drop steps. He doesn't waste steps or stumble in his drop. What Burfict does wrong, though, is stand too tall. He must learn to play on the balls of his feet and get more bend in his legs. Willis was very good at dropping back into the middle of the field, but he was not always quick to come out of his drop to make the tackle. 
Inside/Outside Tackle
Burfict: 9.5/10 | Willis: 10/10
The No. 1 job of a linebacker is to tackle the guy with the ball. If you can't do that, you might as well go home. The one thing that separates Burfict and Willis from other top linebackers over the years is their athletic ability and production as tacklers. Other linebackers may have had more tackles, but no one makes the impact that these two can. Burfict is a menacing, terroristic tackler. He hits with so much force and absolute violence that you can tell it's killing the ball carrier a little bit each time. Willis, while not quite the assassin that Burfict is, was a solid, can't-miss tackler. Willis wouldn't hit you and make your future grandchildren cringe, but you knew you weren't getting away from him once he had you in his sights.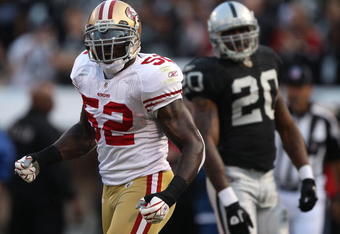 Jed Jacobsohn/Getty Images
Instincts
Burfict: 9.5 | Willis: 10
Some linebackers have the ability to feel where the ball is going pre-snap. Patrick Willis was one of those players who made you wonder if he somehow intercepted the offensive play call. While Burfict is no slouch here either, he's no Willis. Willis was rarely out of position. Burfict can be guilty of cheating on plays and will get fooled by misdirection or play action at times. 
Man/Zone Coverage
Burfict: 8.2/8.3 | Willis: 8.3/8.7
Arizona State loves to move Burfict around pre-snap, which limits his positioning for coverage off the snap. They also don't waste his pass-rushing ability by having him drop into coverage, something he needs to continue showing improvement in. Willis was the better technician when it comes to coverage, and his athletic ability made him a safe bet for locking down tight ends and backs on swing routes. Willis was the better coverage linebacker, but Burfict has better hands. You will see Vontaze drop back into coverage and make an interception, where Willis would knock the ball down or go for the tackle first. 
Play Diagnosis
Burfict: 9.5 | Willis: 10
Willis walks away from Burfict in his ability to read and diagnose the play immediately after the snap. Burfict is athletic enough to guess where the ball is going and recover, something he doesn't do often but will get caught cheating. Willis never cheated. He was a classic read-and-react middle linebacker who stuck to his keys and flowed to the ball. Both styles can work, but Willis was a more comfortable fit at MIKE 'backer due to his fundamentals. 
Production
Burfict: 10 | Willis: 9.1
Many may have forgotten that Patrick Willis was often banged up at Ole Miss, which limited his production and even his ability on the field. He's amazing now, largely because he's been healthy, other than continuing to play with a broken hand this past season. Willis had one exceptional year (2006) that led to his being noticed nationally. Burfict's coming out party was the 2010 season, where he earned Sporting News First-Team All-American honors. With already three sacks this year, Burfict is on track for another monster season. 
Recovery
Burfict: 9.7 | Willis: 9.3
The difference between Burfict and Willis' ability to recover when making a bad read is all about speed. Burfict is an exceptional athlete who has the speed to recover if and when he does make a bad read. All linebackers make poor reads and get fooled by the defense, but how fast they can recover and how well they can get through traffic to the ball carrier is the key to being successful. Burfict runs like a man possessed, which allows him to get to the ball much faster than the more stalking Willis did. 
Shed Blocks
Burfict: 8.5 | Willis: 8.3
The issue with both players as collegians is their ability to shed blocks and make the tackle at the point of attack. Burfict is better than Willis was at this, and you could chalk some of that up to Willis' many nagging injuries during his college career. Willis was seemingly always injured, which made it hard for him to go head-to-head with fullbacks and guards on every play. 
Size
Burfict: 10 | Willis: 9.5
One issue I had with Willis before the 2007 NFL draft was his height. If running a 4-3 defense you could worry about Willis seeing over his defensive tackles to find the ball and read his keys in the offensive backfield. At 6'3" and 250 lbs, Burfict has the ideal size you want for an inside or outside linebacker. He's tall, lean and chiseled. 
Style
Burfict: 10 | Willis: 9.7
The major complaint about Burfict is that he plays out of control. That doesn't bother me at all. Players like Ndamukong Suh have proven that an aggressive style of play can work in the NFL. It can also overpower offensive linemen who are not used to players going full speed at all times. Willis did not have the mean streak of Burfict, choosing instead to patrol the field with a quiet, stalking confidence. LaVar Arrington made a name for himself by jumping over offensive linemen to sack the quarterback when he was at Penn State. Burfict does the same—leaping over, running by or flattening anyone who gets in his path to the quarterback. 
Tackle in Space / Tackle in Traffic
Burfict: 10/9.0 | Willis: 9.8/9.3
When Willis was patrolling the middle of the field at Ole Miss, he was known for his ability to shut down the football from sideline to sideline. His ability to make sure tackles was the stuff of legend. Burfict, believe it or not, is better in space. Burfict's ability to close on the ball in a hurry and has a violence in which he drives through the ball carrier. Burfict may not tackle with ideal technique, but he is able to bring enough force and speed—like a rocket—into the ball carrier. You can nit-pick both player's technique, but the results are the same.
Overall
Burfict: 9.8 | Willis: 9.6
Patrick Willis remains one of my favorite players to scout of all time. I first saw him live in 2006 at Missouri, and immediately I was hooked. Willis was my No. 1 player for the 2007 draft—ahead of guys like Adrian Peterson, Joe Thomas and Calvin Johnson. Burfict, at least right now, is a better prospect. The violence and aggression that he plays the game with are phenomenal. Sometimes you want your middle linebacker to be an ass-kicking freak of nature—that's Burfict to a tee. He scares the offense, and intimidation is a strong asset to have in the NFL. Burfict is currently the No. 2 overall player on my big board, and barring injury he will stay there all season.