Boston Red Sox: Keys for Making Another World Series Trip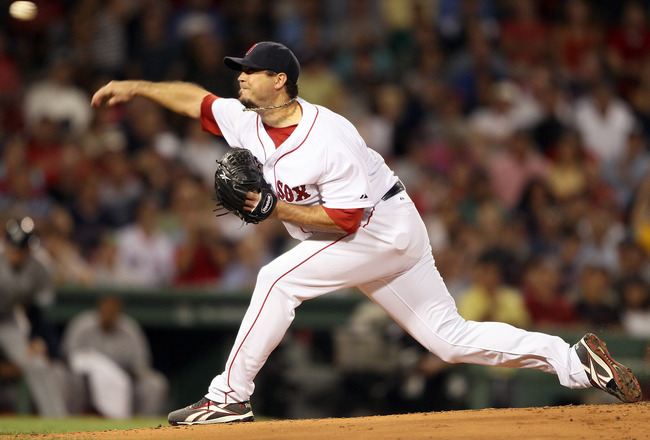 Beckett has big game pedigree
Elsa/Getty Images
If the Boston Red Sox have any serious thoughts about making a deep run in the postseason, the recent ankle injury to Josh Beckett has to be minor. After Josh Beckett and Jon Lester, the Red Sox rotation has been mediocre at best.
The woeful shortcomings of the Sox rotation-not-named-Beckett-or-Lester notwithstanding, Beckett gives Boston players and fans a psychological boost of confidence because he has the "been there, done that (twice)" cache of an LCS MVP (2007) and World Series MVP (2003).
Even with their potent offense, the Red Sox transform from an elite team to a very ordinary one—from an AL favorite to an AL also-ran.
Carl Crawford Must Do His Best J. D. Drew Impersonation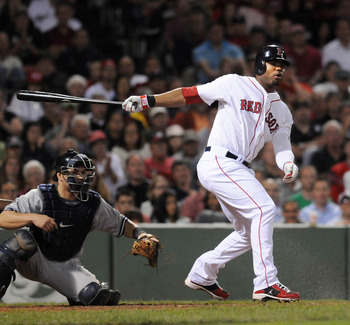 Carl Crawford must have an outstanding October
Darren McCollester/Getty Images
Before the start of the 2007 season, the Red Sox signed a lefty-batting outfielder to a lucrative contract.
That man was J. D. Drew, and in that season—in the minds of the majority of Red Sox Nation—Drew grossly underperformed the stature of his $14 million a year contract by batting .270, hitting 11 home runs and driving in only 64 runs.
But all of that—at least the 2007 transgressions—was forgiven when Drew sent a Fausto Carmona pitch into the Monster Seats in Game 6 of the ALCS. Drew's grand slam has come to be known as the "$14 million dollar slam," and the Sox would go on to eventually win the World Series.
Apparently, the Sox are hoping history repeats itself in 2011.
Before the start of the 2011 season, the Sox brass gave yet another left-handed outfielder a gigantic contract, and yet again that outfielder has failed to measure up to the size of that contract in year one.
This time the overmatched outfielder in question is Carl Crawford, who as of the morning of September 7, 2011 has only compiled a paltry .250 batting average, 11 home runs, 53 RBI's and most egregiously only 17 stolen bases. Not quite what the fans on Lansdowne Street were expecting out of their $20-plus million left fielder.
If Crawford can produce one or two big plays this postseason, similar to Drew's slam in 2007 en route to a World Series victory, I have a feeling that his .155 April and (currently) .190 September will be water under the bridge.
However, if Crawford's inconsistency at the plate continues into October, the Sox have no shot at winning the World Series—with legions of Sox fans wanting to jump off the Tobin Bridge.
John Lackey Must Be Better Than Lackluster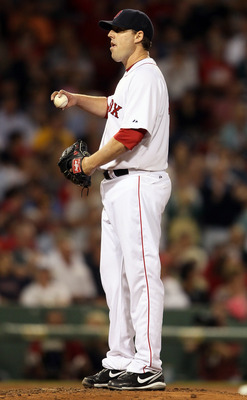 6.11 ERA for a potential No.3 Starter in the Playoffs is not the formula to win a World Series
Elsa/Getty Images
In 2010, John Lackey's first season with the Red Sox was by all accounts a bad one. He went 14-11 with a 4.40 ERA and 1.419 WHIP, and that's even after the Sox gave him run support to the tune of 7.07 a game.
So what does it say for the Sox chances if EVERY SINGLE Sox fan is praying for the 2010 version of Lackey over the current one?
As of today, Lackey's ERA is over six and he has yet to look comfortable on the mound for consecutive starts this season. If he can't be even league average–and nothing he's done this year suggests that he can–the Red Sox will not win the AL pennant, never mind the World Series.
Keep Reading

Boston Red Sox: Like this team?