AFC North 2011 Predictions: Pittsburgh Steelers Ready for Another Title Run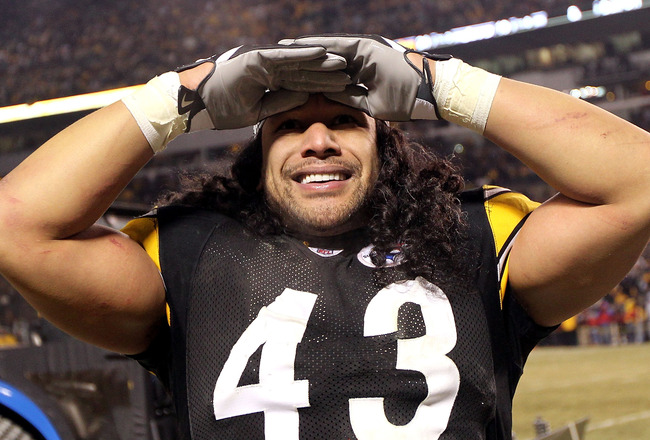 Nick Laham/Getty Images
The AFC North has been a split division for the better part of a few decades. Though the Cincinnati Bengals has made the playoffs twice since 2005, it had stretched back to the 1990 season that had their previous post season experiences. The Cleveland Browns have one playoff appearance since 1999.
The Pittsburgh Steelers and Baltimore Ravens have taken turns ruling the AFC North roost since 2000. The Ravens have seven years of playoff appearances since then, which includes one Super Bowl win.
The Steelers, who won four Super Bowls in the 1970's, have been to the playoffs seven times since 2001. This includes two Super Bowl victories in three appearances since 2005.
While the Bengals appear to still be bungling, Cleveland is showing positive signs as they rebuild under new management. The Browns might not yet be ready to challenge for a division crown, but they certainly will give Pittsburgh and Baltimore a tough time as they progress.
This may be yet another year of the Ravens and Steelers battling alone for the AFC North title, but the fact is that these are two of the best teams in the NFL. What makes this rivalry better is the fact that neither team likes each other much and looks forward to inflicting damage when they collide twice a year in the regular season.
Pittsburgh not only holds an edge in their regular season history, but they have beat Baltimore in each of their three playoff meetings. There is a very good chance these two teams will meet once again when the 2011 regular season concludes.
1. Pittsburgh Steelers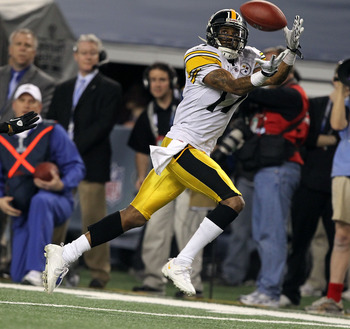 Al Bello/Getty Images
Though the Steelers lost in Super Bowl XLV, the fact that they played in their second title game in four seasons just further cemented a legacy of being an elite NFL team.
The defense is the face of this organization, much like it has been for the past 54 years for the franchise. Pittsburgh finished first in the NFL in points allowed and rushing defense in 2010, as well as second best in total yards allowed.
Running the ball against the Steelers is one of the most difficult chores for NFL offenses. The unit got only better with the return of 13-year veteran Aaron Smith at defensive end, a team leader who has played just 11 games the past two years due to injuries.
While Pittsburgh has long been known for their frugality, they opened up the vaults and lavished young linebackers Lamar Woodley and Lawrence Timmons with hefty contract extensions. Linebacker has long been a key position for the Steelers, and the young duo join 2008 Defensive Player of the Year James Harrison, who has been named to the last four Pro Bowls, to give Pittsburgh perhaps the best unit in the league.
2010 Defensive Player of the Year Troy Polamalu joins Ryan Clark to give the Steelers a veteran safety duo in a secondary filled with experience. The secondary gives up the most yards on defense, but that is due to the fact opponents are usually unwilling to attempt to rush the ball much.
The four game suspension of quarterback Ben Roethlisberger hurt team continuity at the beginning of 2010. Even though the defense carried the team out of the gates at 3-0, it took Roethlisberger time to catch up to the rest of the offense.
Halfback Rashard Mendenhall had his second consecutive 1,000-yard season in 2010, while adding 13 rushing scores. His excellence gives the team wonderful offensive balance with the veteran receiving corp of Hines Ward, Heath Miller, and Mike Wallace.
If there is one unknown for Pittsburgh this year, it is the offensive line. This unit was beat up by injuries last year, so they return with just two starters from that team. Willie Colon would have started last year, but he was injured.
Jonathan Scott will man left tackle now that Max Starks was released. Scott's first four years in NFL was with two teams and had 14 starts, but the nine starts he had last year in place of an injured Starks impressed the team enough to go with him at this key position.
There are not many NFL teams that had the quality depth of the Steelers, let alone the quality defensive unit. There are few observers who do not believe that this team is a serious Super Bowl contender once again.
2. Baltimore Ravens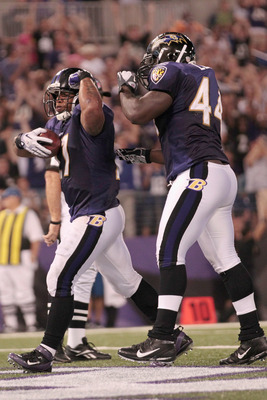 Rob Carr/Getty Images
Sometimes one mans trash is another mans treasure. When the Ravens offensive underperformed in the 2011 preseason, general manager Ozzie Newsome picked up two Pro Bowlers off of the waiver wire.
Bryant McKinnie ate himself out of a job in Minnesota, so the Ravens may be his last shot at being a starting left tackle in the NFL. Andre Gurode was let go by the Dallas Cowboys as a salary casualty, but he may start because Mat Birk is battling injuries.
While the offense relies heavily on versatile halfback Ray Rice, Baltimore picked up Ricky Williams to back him up. Both will have Vonta Leach, perhaps the best blocking fullback in the game now, leading the way.
Baltimore made a lot of changes in their receivers corp. They let veterans like Todd Heap, Derrick Mason, T.J. Houshmanzadeh, and Donte' Stallworth go. Lee Evans was acquired in a trade, giving the Ravens perhaps their best deep threat in team history.
Evans and Anquan Boldin will have three rookies backing them up at wide receiver, while Heap's position will be filled by second-year pros Ed Dickson and Dennis Pitna. How this group of young receivers perform could be the difference between a Super Bowl or a failed season.
The defense went through changes as well, even though future Hall of Famers Ray Lewis and Ed Reed stayed on board. They gave the starting nose tackle position to Terrance Cody, the strong safety position to Tom Zbilowski, and one cornerback position to Domonique Foxworth after clearing the positions through free agency.
The Ravens defense produced four Pro Bowlers last year after finishing third in points allowed. With their talent and experience, it is certainly feasible they are equally excellent this year.
Baltimore has made the playoffs seven times since 2000, but they have not reached a Super Bowl since 2000. Lewis has clearly stated he came back this year to win it again, and this team follows their leaders word best they can.
While having good depth at many positions, the one spot they are dreadfully thin at is quarterback. Joe Flacco never missed a game in his previous three years, but it is typical that quarterbacks get injured eventually. All that is behind him is a rookie whose best attribute is his legs.
If Flacco goes down, the Ravens will be in major trouble. If he continues to stay healthy, Ozzie Newsome has surrounded him with enough weapons to get this team back to the promise land.
3. Cleveland Browns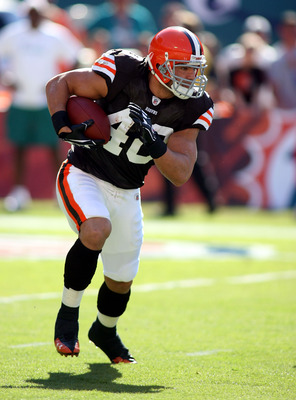 Marc Serota/Getty Images
Ever since Mike Holmgren became the president of the Browns last year, he has slowly began overhauling a team that has made the playoffs just once since being reborn in 1999. After watching the team go 5-11 last year, changes began.
The first move he made was overhauling the coaching staff by hiring a new head coach, who also serves as the offensive coordinator, and defensive coordinator. He also hired three men, from his San Francisco 49ers days, to be on the coaching staff.
The offensive line kept only Pro Bowl center Alex Mack and Pro Bowl left tackle Joe Thomas as starters. The defensive line has three new starters, and Cleveland has a new starting free safety.
Offensively, Cleveland got two pleasant surprises last year. Colt McCoy was a rookie quarterback forced into action after the two veterans ahead of him got hurt. He played so well that he will keep the starting job this year.
Peyton Hillis spent his first two NFL seasons as a reserve for the Denver Broncos, where he had 397 rushing yards. He exploded in the NFL in 2010 by pounding out 1,177 yards and 11 scores on the ground.
Cleveland has kept just three halfbacks and a blocking fullback on the roster this year, so they are gambling that Hillis can do the job yet again. His reserves consist of a rookie and a second-year player who sat out all of last year with an injury.
Holmgren is hoping the 2011 draft class does better than last year, where just three players helped the team.
This year the team has just nine players over the age of 30-years old, while in 2010 the team averaged 27.5-years old.
Holmgren needs time, but his track record shows he gets the job done. He has overseen two teams that reached the Super Bowl in his career so far. The Browns are headed in the right direction, something the famous "Dawg Pound" is certainly aware of.
4. Cincinnati Bengals
Jamie Sabau/Getty Images
The Bengals 2011 season already was in disarray before it began. Their star quarterback demanded a trade, refusing to play in the meantime, and their star wide receiver and clubhouse headcase was traded for a few low-round draft picks.
Now they are stuck with a rookie quarterback, so Cincinnati will have to rely on their running game most likely. Cedric Benson has a good chance of surpassing the career high mark of 321 carries that he had in 2010.
A.J. Green was the Bengals first draft pick this year, so the 6'4" receiver might end up being the primary target. While Andre Caldwell, Jordan Shipley, and Jerome Simpson show promise, the Bengals also picked up the explosive Brandon Tate off of waivers to help the receiving unit.
The offensive line will see two new starters on the right side, mainly because guard Bobbie Williams is serving a four game suspension for ingesting a banned substance. Andre Smith has been a huge disappointment since being the sixth overall draft selection in 2009, but the Bengals plan on starting him at right tackle.
The defense will be missing linebacker Keith River and reserve defensive back Adam Jones for the first six weeks of the season. They also lost a starting cornerback to free agency. Cincinnati will have a new middle linebacker this year, and a new starting strong safety.
Marvin Lewis has been the Bengals head coach since 2003. He was drafted for his defensive expertise, but the Bengals ranked 24th in points allowed in 2010.
With a rookie quarterback with suspect arm strength, it could be a basic game plan of running the ball and hoping the defense is stout. If these factors fail, it could be a miserable season for the Bengals.
Keep Reading

Pittsburgh Steelers: Like this team?