NFL Predictions: 2011 Will Be Jack Del Rio's Final Season as Head Coach
September 7, 2011
Sam Greenwood/Getty Images
Since Jack Del Rio took over the team from Tom Coughlin in 2003, he has guided the Jacksonville Jaguars to a total record of 65-63.
Del Rio has coached the Jaguars to only two playoff appearances during his tenure in Jacksonville, those being 2005 and 2007, both of which were short-lived playoff runs.
Since the last winning season, the Jaguars have not finished with a winning record despite having a team capable of competing.
With Del Rio's recent gamble in releasing David Garrard, the team now turns its attention to Luke McCown as the answer to their woes.
There was obviously a concern with Garrard's ability to lead the team in camp, and his issues with nagging back problems left the team with questions about his durability.  The choice to go with McCown may wind up being Del Rio's undoing, as it is a considerable gamble.
McCown has only appeared in 16 games during his five NFL seasons and has a less than desirable record.
McCown has never played in more than five games in a season and has amassed totals of only nine touchdowns and ten interceptions during his tenure in the league.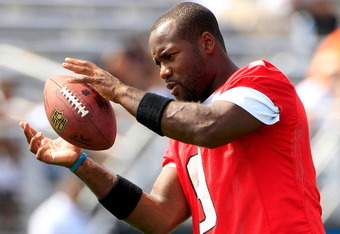 Sam Greenwood/Getty Images
Despite McCown playing well in the preseason, there is no clear benefit to starting him over Blaine Gabbert. McCown doesn't have much over the young rookie and Gabbert's ability outshines McCown's.
Jack Del Rio is no stranger to controversy and taking risks. However, I have to question his thought process at this point in time.  Del Rio does not have the luxury of waiting for his horses to come in.
Del Rio signed a contract extension in 2008 that inks him through the 2012 season.  This contract was his reward coming out of a 2007 campaign, which the Jaguars finished 11-5 but lost to the Patriots in the divisional round of the playoffs.
Since that time, the team has seen a steady decline in the level of performance, with the only highlight being an 8-8 season last year.
With the departure of wide receiver Mike Sims-Walker, the Jaguars find themselves thin in offensive positions, as they will rely even more so on Maurice Jones-Drew.
With the ill-timed loss of Rashad Jennings due to injury, the Jaguars find themselves at the crossroads of finding an identity.  Del Rio is hoping that identity can come from the revamped defense.
The unfortunate thing is that, for fans, it seems to be shaping up for another disappointing season for the Jaguars.  The release of Garrard was ill-timed, as the AFC South is considered to be an open division available for the taking.
Jack Del Rio has seemed to dash all hopes of the Jaguars competing this season, unless Luke McCown or Blaine Gabbert can carry this team on their backs.
Del Rio must face many challenging decisions over the next few weeks if his gamble has placed the Jags in a steep hole.
This seems like a last-ditch effort for Del Rio, as I expect the coach to be dismissed after this season.  It is an admirable attempt by the coach, but it will ultimately be one that will ruin this team in the long run.