Why a Start for Kyle Boller Would Destroy the Oakland Raiders
September 7, 2011
Jonathan Daniel/Getty Images
On Monday September 12th, 2011 in Mile High, Jason Campbell needs to make it perfectly clear that the season hangs on the balance of his health to his offensive line. He needs to stress protection and he needs to make them see that if he goes down with injury, our season is done.
Now, before you blow the comment section up telling me I'm wrong, think about it. Pause. Take a chill-pill, drink some water and think about what I just wrote. Think about the effect that Kyle Boller would have on our first team offense. Think about how bad Kyle Boller is and how Jason Campbell is just as important to our offense as Darren McFadden is.
Do you understand my logic now?
Since 2003, Kyle Boller has been in the NFL spending majority of his career with the Baltimore Ravens. Needless to say, Boller's career has been bad. I'm talking more interceptions than touchdowns bad.
I will be the first to tell you that I judge a player not by just the stats, but by how I see them perform. As I find myself watching a lot of Baltimore games, I noticed from the start that Kyle Boller was in over his head with a starting quarterback job. When he went to St. Louis, he was just as terrible as he was in Baltimore, but when he came to Oakland?
I hung my head, I will admit.
First, I knew Campbell and Bruce would compete for the starting job, and the loser of that battle would be number two. I knew that Boller would be number three on the depth chart, but I would rather have Shane Lechler throwing passes than Kyle Boller with his knack to find the correct man.. in the wrong uniform.
I could sit here and list his horrible performances, but NFL.com can do that for you. If you believe in Kyle Boller then you are either a true fan of his days in Cal or his family because every Raider fan I know does not believe in Kyle Boller or his ability to do anything at all. Well, he can throw interceptions, as he proved last year with the limited amount of snaps he had under center as well as in the preseason, but I will give him the benefit of the doubt and nullify the preseason.
At this point, I would much rather Coach Jackson rest the season on the broad shoulders of Terrelle Pryor than give Boller any sort of shot. Is Pryor going to throw for more touchdowns than Boller? Probably not, but at least if Campbell goes down (which I will surely pray does not happen) we will be entertained by Pryor's deep-ball and plays on foot.
Just to clear things up, no, I do not hate Kyle Boller. As a matter of fact, I do not even know the man. To get into the NFL, you need talent and Kyle Boller has found himself as a starter in Baltimore so he does have talent, some-where. Maybe his talent is more apparent on the practice field? Maybe Boller's talent is the ability to throw interceptions and cause the defense more exhaustion? I do not know and I really do not want to think about the sort of impact he would have as a starter on our team.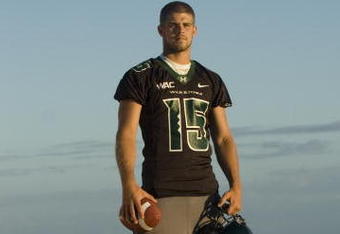 Lucy Pemoni/Getty Images
I read an article today and I agree with the writer that cutting Trent Edwards was a mistake. A very big mistake that may cost us if Campbell goes down and is not able to answer the ten count.
While the absolute truth is we have the fastest team in the NFL, our Wide-outs will not get a chance to make plays if the quarterback is not accurate enough to get them the ball. J-Camp will be OK, Terrelle Pryor has a huge question mark next to his name but Kyle Boller?
Does Kyle Boller have what it takes to save us in the event that Campbell goes down?
Absolutely.. Positively.. Not.
But then again, Colt Brennan may get a job with us again he DEFINITELY is an upgrade over Boller.