Carolina Panthers: Trio of Signings Will Immediately Bolster Starting Lineup
September 7, 2011
Streeter Lecka/Getty Images
In the past two days, the Panthers have re-emerged as one of the most active teams in the NFL in terms of pursuing talent in the free-agency pool. While their most recent signing haven't been as prominent as the agreements reached with DeAngelo Williams and Charles Johnson, they may be just as integral to the Panthers success this season. 
The first deal was made during the weekend. Guard Max Jean-Gilles was signed and was presumed to have the inside track on the starting job, with Geoff Schwartz and Mackenzy Bernadeau out due to injury—Schwartz, of course, is out for the season while Bernadeau will possibly make a return in the coming weeks. 
Jean-Gilles is a big mauling lineman, so he will fit in early on with the Panthers' group. He weighs in at over 350 lbs and can be a force in the running game. He isn't as athletic as fellow interior linemen, Travelle Wharton and Ryan Kalil, but he holds his own when he's needed to get a push on a specific assignment. He won't shy away from the league's largest defensive tackles and can be a force in the run game if the Panthers use him appropriately. 
The next signing came on Monday, as the Panthers announced that they would bring back Geoff Hangartner, who was a hot commodity when he signed with the Bills two seasons ago. "Hangman" is another large presence to add to the line, standing at 6'5".
Hangartner is very smart and excels where Jean-Gilles may be lacking. He is a technician and his mental advantage may give him an edge over the younger Jean-Gilles for now. He understands blocking schemes very well and you rarely see him make a mistake in pass protection or on pulls and combos. He played center for the Bills, so there may be some rust in returning to the guard position, but I expect him to shake it off quickly if he gets the starting nod come Sunday.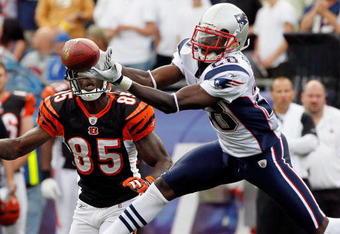 Jim Rogash/Getty Images
The third, and possibly highest profile move, was made earlier today. The team claimed cornerback Darius Butler, who was recently cut by the New England Patriots. This was another odd turn of events occurring in the Patriots' secondary—the first being the release of Pro Bowl safety Brandon Meriweather. 
Butler brings a lot of talent to the Panthers' thin secondary and he could be a staple in Carolina for a considerable time. His rookie season was much more impressive than his second, as his "sophomore slump" was well documented in New England and likely responsible for his release. Butler is not the most physical corner and can get picked on when facing the league's more intimidating receivers. 
However, he can instantly inject some life into the Panthers' secondary. He's a risk taker and he makes this group of corners three deep, which will be incredibly important when the Panthers take on Green Bay in Week 2. 
This group of three will breed competition and make a game-day impact, which makes this is rather impressive job by the front office, considering the top available players at this point are essentially leftovers from teams around the NFL. 
The only position of need left untouched now becomes defensive tackle. There are some solid veterans left on the market, so don't rule out a possible signing later in the week.