Carolina Panthers Week 1 Preview: 6 Keys to Success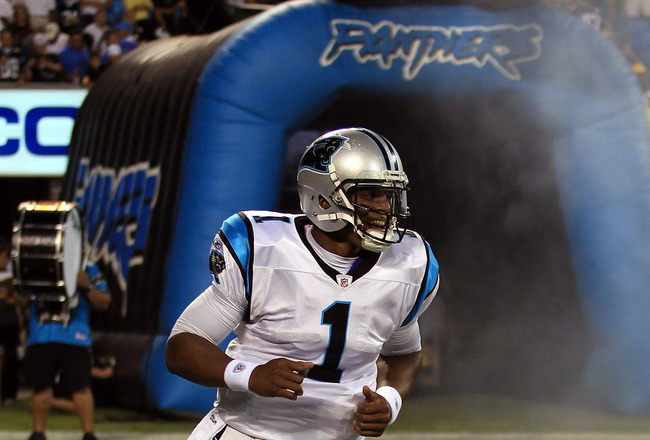 Streeter Lecka/Getty Images
Ron Rivera knows what a successful NFL team looks like. The Carolina Panthers organization knows what a successful team looks like. Steve Smith and Jordan Gross know what a successful NFL team looks like.
That is about where the terms "success" and "Carolina Panthers" diverge as a combination in the English language.
The Panthers are playing a winnable game against the Arizona Cardinals. While success for an NFL franchise means wins, coming off a 2-14 season the Panthers will have to look for other ways to measure success.
The Panthers success will be measured in small victories on and off the field, not success in the win column. These are the "wins" they need to be looking for during their matchup with the Cardinals on Sunday.
The Offensive Line Needs to Gel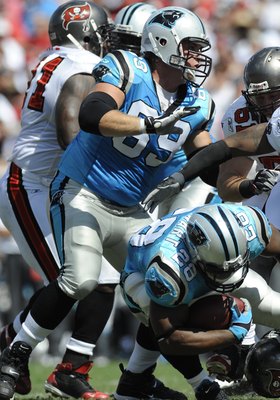 Al Messerschmidt/Getty Images
The offensive line looked horrible in the preseason. Injuries to Garry Williams and Geoff Schwartz caused the Panthers to have to adjust their offensive line very quickly.
Luckily, only the right guard position seems to be up for grabs with either Max Jean-Gilles or Geoff Hangartner likely to start. That does not mean that having them replace Schwartz will not effect the rest of the line.
Jeff Otah is coming off an injury so he may need extra help on the right side, and having someone who knows him would make Hangartner the more likely candidate to start.
The offensive line will need to become a unit if the Panthers expect to produce at all on the ground or allow Cam Newton some time to make things happen in the passing game.
Hold Beanie Wells and Chester Taylor Under 100 Yards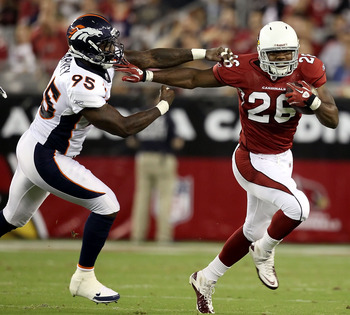 Christian Petersen/Getty Images
With two rookie defensive tackles, both who earned the starting role because no one else seemed to want to play up to a starting level, the Panthers run defense could be significantly impaired.
One of the biggest issues last season was the Panthers inability to find a decent starting defensive tackle. It doesn't look like they solved that problem, at least for the short term.
Sione Fua and Terrell McClain may very well turn out to be great starting defensive tackles in two years, but for now they are rookies and would probably have been better served getting rotational work.
There will be a big focus on these two to take up space on the line to allow the linebackers to make plays.
If they can do that, Beanie Wells and Chester Taylor will have a hard time getting going. If not, Wells and Taylor may look just as good as Reggie Bush looked this preseason against the Panthers.
Cam Newton Continues to Not Throw Interceptions And...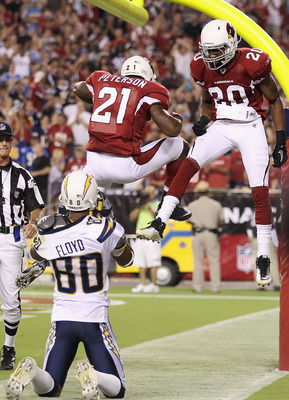 Christian Petersen/Getty Images
Cam Newton might have caught a break in his first NFL regular season start.
The Arizona Cardinals cornerbacks are extremely inexperienced. Patrick Peterson and A.J. Jefferson are the starting cornerbacks. Peterson was the fifth-overall pick in this year's NFL draft and Jefferson was on the practice squad last year in Arizona.
This is not to say Newton will have an easy day. The Cardinals safeties are Adrian Wilson and Kerry Rhodes, two very capable safeties who will be able to help.
If the Panthers run the ball well enough to draw up the safeties, Peterson and Jefferson may make just enough mistakes to allow Newton to make some plays.
Cam will need to make sure his ball placement is correct because Peterson was the top rated cornerback and on some lists the best prospect overall. Peterson may have progressed slowly this preseason, but he is certainly capable of making a play on the ball.
...Newton Improves His Accuracy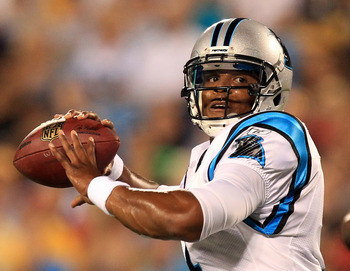 Streeter Lecka/Getty Images
Cam Newton proved his critics right by having a tough time making completions due to his inaccuracy this preseason.
While Newton is not the only one to blame for this, it does need to improve. The Panthers rookie quarterback had two games where his completion percentage was at 50 percent or better. One of those was against the Pittsburgh Steelers.
Despite throwing only five passes, Newton should gain some confidence. The Steelers defense is consistently is among the best in football and their reserves are sometimes better than many of the starters on other teams.
Cam will need to take advantage of his tight ends and running backs to ensure that the Cardinals defense stays honest and doesn't lock down the deep ball.
The Wide Receivers Step Up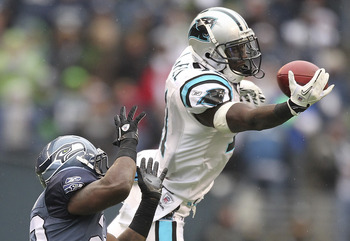 Otto Greule Jr/Getty Images
Steve Smith is on the declining side of his career. David Gettis is injured. Those were the starting receivers.
That means the Panthers are investing in several other receivers to step up. The Panthers have gone after former San Diego Chargers and building their receiving unit through the draft, but it hasn't looked like it has worked.
Brandon LaFell is the other starting receiver now and while he has caught two deep balls, the rest of the time he was basically invisible on the field during the preseason.
Armanti Edwards was a nice surprise, showing significant growth in the transition to receiver from last year. Edwards should be an effective slot receiver.
Legedu Naanee and Seji Ajirotutu were brought over from San Diego and may get a chance to start if LaFell does not produce out of the gate.
What might be most concerning is that the Panthers best receivers will be their starting tight end and the back up tight end.
One of the receivers needs to step up big time or the passing game is in trouble.
The Defense Shows Us They Were Joking in the Preseason
Mike Ehrmann/Getty Images
The Panthers defense looked terrible at time during the preseason. This is concerning since the defense has essentially the same personnel from last year.
Outside of the two rookie defensive linemen, Eric Norwood and Thomas Davis are the only "new" starters. Davis is coming off his second knee surgery, but looked great in the preseason. Norwood should be an upgrade over Everette Brown and Greg Hardy should also see some snaps opposite Charles Johnson.
Ron Rivera ran the No.1 overall rated defense in San Diego. The personnel in Carolina is much better. There is no reason for them to look as bad as they did. Hopefully, they were hiding some things.
Keep Reading

Carolina Panthers: Like this team?