Week 1 NFL Fantasy Football Rankings: Running Backs
September 7, 2011
Bob Levey/Getty Images
1. Arian Foster vs Colts (gave up ninth most fantasy points to a running back last season)
He ran all over the Colts during the first week of the season last year, piling up 231 yards and 3 TDs on 33 carries. If Manning doesn't go and the Colts offense sputters out of the gates, Houston's high powered attack could jump out to a lead. If that happens it will be off to the races again for Arian the Barbarian.
2. Jamal Charles vs Bills (3rd most FP)
3. Chris Johnson @ Jaguars (5th most FP)
In this case, getting a contract should actually mean more motivation for Johnson, who will surely want to justify his record contract as soon as possible. A date with last year's fifth most generous D is certainly a good place to start.
4. Maurice Jones-Drew vs Tennessee (14th most FP)
With potentially hazardous Rashad Jennings out of the picture because of injury, a healthy MJD will deliver against Tennessee. While injury concerns plague his season's outlook, they go away when the discussion is about one game.
5. Adrian Peterson @ Chargers (21st most FP)
6. Peyton Hillis vs Bengals (19th most FP)
Chris Trotman/Getty Images
If the Bengals are half as bad as everyone thinks, the Browns should jump out to a lead and ride their Madden cover boy the rest of the way. Recall how Hillis started last season.
7. Frank Gore vs Seahawks (7th most FP)
8. Darren McFadden @ Broncos (most FP)
The Broncos will be putting a bigger emphasis on defense with John Fox calling the shots, but this is still a very favorable matchup for one of last season's breakout stars.
9. LeSean McCoy @ Rams (20th most FP)
10. LeGarrette Blount vs Lions (6th most FP)
11. Steven Jackson vs Eagles (17th most FP)
There's no denying the Eagles pass-defense will be nasty this year. But for Jackson that's a good thing. New boss Josh McDaniels will still utilize the vertical game, but a good portion of the passes will go to S-Jax rather than Rams receivers covered by the Eagles all-star secondary.
12. Michael Turner @ Bears (26th most FP)
13. Beanie Wells vs Panthers (4th most FP)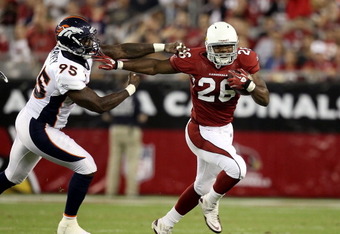 Christian Petersen/Getty Images
The Cardinals have a good chance to get an early lead in this game, which would mean lots and lots of touches for an apparently reinvigorated Beanie Wells.
14. Shonn Greene vs Cowboys (22nd most FP)
15. Ahmad Bradshaw @ Redskins (12th most FP)
16. Matt Forte vs Falcons (28th most FP)
17. Ray Rice vs Steelers (32nd most FP)
18. Rashard Mendenhall @ Ravens (29th most FP)
Rice and Mendenhall are obviously elite talents, and despite their brutal matchup against one another's defenses I would roll the dice with them over question marks like the next few players on this list. Go with the talent.
19. Knowshon Moreno vs Raiders (8th most FP)
Moreno and backfield mate Willis McGahee (29 on this list) will benefit from John Fox's new style of offense, and both could have big days against a Raiders team that struggled mightily against the run last year.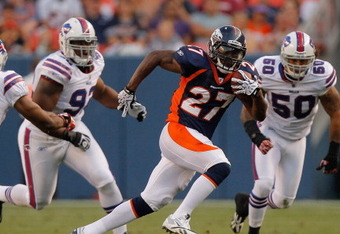 Justin Edmonds/Getty Images
20. Ryan Grant vs Saints (16th most FP)
21. Joseph Addai @ Texans (10th most FP)
22. Tim Hightower vs Giants (27th most FP)
23. Felix Jones @ Jets (31st most FP)
Felix will struggle running against a tough Jets D, but he could easily make up for it by catching passes. A constant home run threat, Felix's role in this offense is too big to drop him any lower on this list.
24. DeAngelo Williams @ Cardinals (2nd most FP)
25. Cedric Benson @ Browns (18th most FP)
26. Reggie Bush vs Patriots (13th most FP)
Despite the preseason hype, Bush will flounder against the Pats D. His primary game is catching passes out of the backfield, and new QB Chad Henne is a far cry from Drew Brees.
27. Jahvid Best @ Bucs (11th most FP)
28. Mike Tolbert  vs Min (25th most FP)
The Vikings D will be without ex-All Pro defensive tackles Kevin and Pat Williams (drug policy violations), who were two of the biggest reasons that Minnesota has been so effective at stopping the run over the past three years. Tolbert will be good for at least one score, and that puts him in the top 30 for this week.
29. Willis McGahee vs Raiders (8th most FP)
30. Fred Jackson @ Chiefs (15th most FP)