MLB Power Rankings: Every Team's Most Overrated Newly-Signed Draftee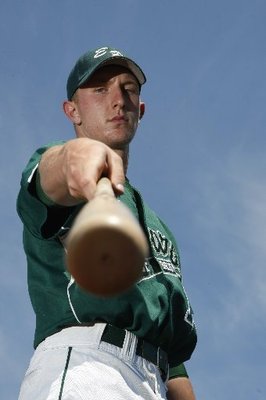 Labeled as the "next Mike Trout," New Jersey native Carl Thomore didn't look particularly sharp in his pro debut.
For proof of an overrated MLB draft prospect, you can look no further than Matt Hobgood, the Orioles' first-round selection (and fifth overall) from the 2009 draft.
What was once looked down upon as a money-saving pick has become quite a costly mistake for the O's front office, as Hobgood has continued to struggle, looking worse each time he takes the mound. After sputtering to a 3-7 finish in 2010, the right-hander took extra time getting himself ready for the 2011 campaign. But when he finally made his debut, he looked just as overmatched.
In 13 appearances this season, Hobgood went 0-6 with a 8.76 ERA and a 22-to-26 K:BB ratio—and trust me, he wasn't even as good as those numbers indicate.
The point to Hobgood's demoralizing story is that it takes some time to figure out who the real busts are from any given draft class. Some, like San Diego's $6 million train-wreck Donovan Tate, make themselves known earlier—but for the most part, most busts don't really make their mark for two or three seasons.
Take that into account as I detail each team's least-impressive, most overrated newly-signed draftee.
Some of these guys may go on to great things, but for right now, they look downright terrible!
Arizona Diamondbacks: Justin Bianco, OF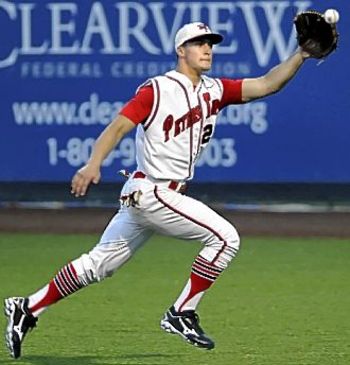 Two rounds after the D-Backs selected both Trevor Bauer and Archie Bradley, they pounced on outfielder Justin Bianco from Peters Township High School in Venetia, Penn.
As one of the youngest players taken by Arizona, it's no surprise that Bianco struggled in his first exposure to pro-ball, but the level to which he has taken his struggles has been astounding.
In 199 at-bats, Bianco struck out a whopping 81 times. His average of .206 was the lowest on his rookie Pioneer League squad among any player who had more than 11 games' worth of experience. On the rare occasion that Bianco actually got on base, he wasn't very effective, getting caught close to 60 percent of the time.
On the bright side, more than a quarter of Bianco's hits have gone for extra bases, he has 20 RBI and 24 run scored, plus he drew 22 walks. None of those offset the terrible start at the plate, but the thing that is most in his favor is the fact that he just turned 19 years old a few weeks ago.
Atlanta Braves: Nick DeSantiago, C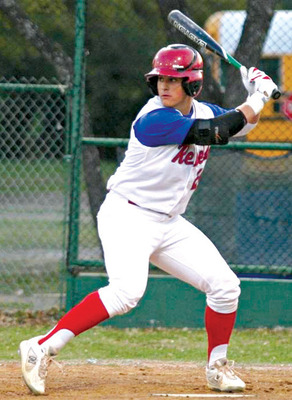 Clearly the Braves weren't under the impression that they were drafting a heir-apparent to Brian McCann when they selected Blinn JUCO backstop Nick DeSantiago with their fifth-round selection.
But I'm sure they thought they'd be getting a better hitter than the one who managed a meager .214 average in 46 contests with the Appy League Danville Braves.
Not only did the 20-year-old flirt with the Mendoza line for the duration of his debut season, but he also struck out in about 30 percent of his at-bats, managed just six extra-base hits (all doubles) all year and hit a paltry .233 with runners in scoring position.
Baltimore Orioles: Devin Jones, RHP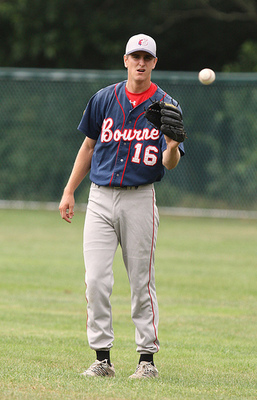 Like most Orioles fans, I wasn't sure what to expect from Jones, a right-hander who didn't do anything special during his junior campaign at Mississippi State.
As such, it didn't surprise me to see him greatly struggle against much younger hitters in the New York-Penn League, where he finished the year with an ERA over 6.00.
Out of the 14 games he appeared in, Jones was saddled with losses in four. He somehow managed to win two and save two, but even in both victories he gave up some runs.
In fact, there were only two contests in his last 10 that he didn't surrender runs in. Conveniently, those both ended with him picking up the save—better in relief much?
Of course, it's too soon to tell what kind of pitcher Jones will be, but the early results aren't too encouraging.
Boston Red Sox: Kevin Brahney, LHP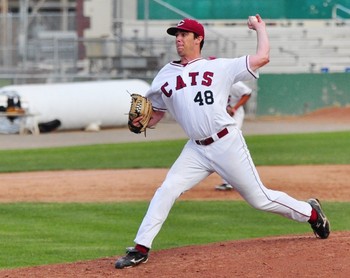 This season was night and day for Brahney, a 23-year-old who became the highest drafted member of the Chico State baseball program since 1999.
Before being selected in the 10th round by Boston, Brahney put together a fantastic season for the Wildcats, posting a 3.58 ERA and racking up 74 strikeouts in just 65.1 innings. He allowed just one home run, and batters hit a meager .236 against him.
Since signing, however, it's been an entirely different story. Brahney was assigned to the New York-Penn League, where he struggled to get outs on a consistent basis. He ended the 2011 campaign with a 6.67 ERA, and he gave up 36 hits and 23 runs in just 27 innings.
Surprisingly, he allowed all the damage without serving up a single home run in 17 appearances.
Chicago Cubs: Ben Klafczynski, OF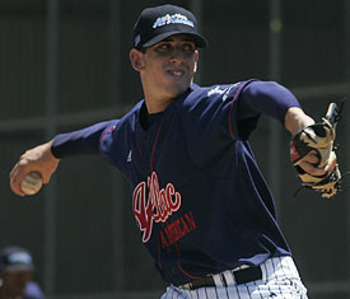 As a rule, college players are expected to have more successful debuts since the jump from their sport to pro baseball is less of a shock than the leap high school stars are expected to make.
That makes it all the more disappointing when college players fail to make a smooth transition.
Such is the case with former Kent State star Ben Klafczynski, who hit a combined .367 during his final two seasons with the Golden Flashes.
Since turning pro after being selected in the 20th round, Klafczynski has struggled greatly. He hit just .221 in 19 games with Boise in the Northwest League. The team thought a change of venue might improve his play and, as such, must have been disappointed when he hit only .243 with strikeouts ending one-quarter of his at-bats after a promotion to the Midwest League.
Chicago White Sox: Keenyn Walker, OF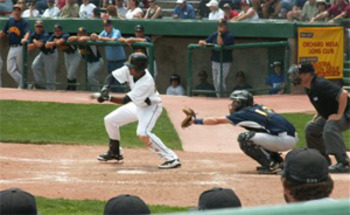 The White Sox have been widely panned for their drafting efforts the past few seasons, and interestingly enough, the most stinging barbs have come from inside their own organization as manager Ozzie Guillen and his son have had biting words for upper management.
You can make the case that both sides are right on the team's first selection from this year's draft, Keenyn Walker.
On the surface, Walker had a pretty solid year, hitting .257 over two levels, culminating with a 39-game trial with the Low-A Kannapolis Intimidators. He stole 21 bases and legged out three triples.
However, Walker is going to have to do more than show above-average speed to rise through the ranks in Chicago.
For starters, he needs help getting on base. While he had a solid OBP of .431 in the Pioneer League, that number dropped to .296 in the South Atlantic League.
To make matters worse, he racked up 81 strikeouts in just 54 games and in nearly 40 percent of his plate appearances!
And thanks to his speedy nature, the White Sox are likely going to want him to be a top-of-the-lineup presence, but you can bet they'll expect better than his .184 average with the bases empty from their table-setter.
Cincinnati Reds: Kyle McMyne, RHP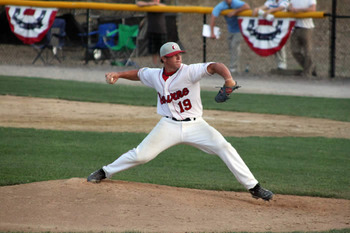 I know Villanova isn't necessarily a hotbed of baseball activity, but you think that playing in the collegiate ranks would have better prepared right-hander Kyle McMyne for pro ball.
Guess not.
The soon-to-be 22-year-old got shelled to the tune of an 8.00 ERA during 10 starts for the rookie Pioneer League Reds affiliate in Billings. He surrendered four long-balls in just 27 innings and surrendered 36 base hits.
During his final start of the year, McMyne lasted just two-thirds of an inning, and was removed after giving up five earned runs on four hits and issuing four walks.
Hardly the kind of results Cincy expected from a guy who posted the best K:9 ratio in the Big East.
Cleveland Indians: Jake Sisco, RHP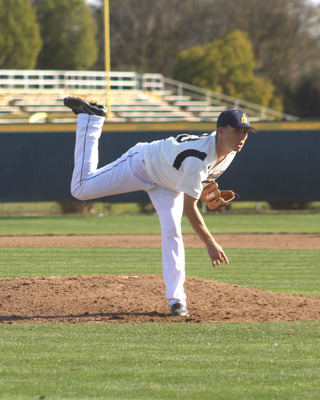 Sisco had a terrific year in 2011, posting an 11-1 record, recording an 1.66 ERA and earning Central Valley Conference Pitcher of the Year honors. He capped off the year by getting selected by Cleveland in the third round of this year's draft.
But for a guy who was ranked inside Baseball America's Top 200, you would have to think the Indians have been disappointed with his performance thus far.
In 12 outings, including eight starts, Sisco bombed. Pitching in the rookie Arizona League, he served up 40 base hits in just 34.1 innings. He didn't surrender any home runs, which means his stuff is still plenty good, but the fact that hitters batted more than .300 against him is quite alarming.
Sisco finished his debut season with a 2-4 record and a 5.24 ERA.
Colorado Rockies: Carl Thomore, OF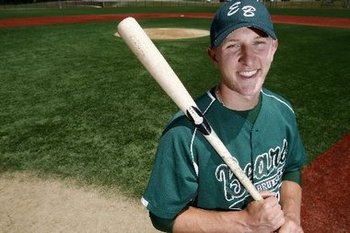 Ever since New Jersey native Mike Trout exploded onto the scene as a late first-round draft pick a few years ago, amateur scouts have been scouring the state looking for the next great Jersey prospect.
The Rockies had high hopes for their second-round pick, the multi-talented prep outfielder Carl Thomore who self-admittedly patterns his game after Pete Rose, but as of yet they haven't seen results as promising as those that Trout put forth in his debut.
Through 42 games with the Casper Ghosts of the rookie Pioneer League, Thomore hit a meager .191 with 51 strikeouts in 152 at-bats.
On the plus side, he did notch 11 extra-base hits, including three home runs and eight doubles. And he did finish the season with hits in four of his final six contests, including a 3-for-5 effort in which he doubled twice and drove in three runs.
Still, he has a long way to go to meet those Trout comparisons.
Detroit Tigers: James McCann, C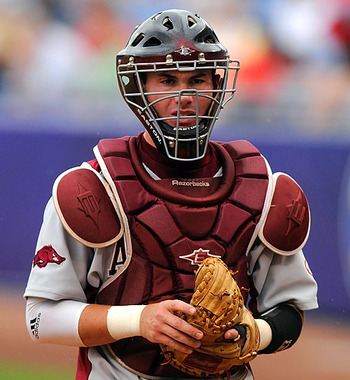 The Tigers have had a devil of a time looking for a catcher to live up to their offensive standards. Current starter Alex Avila is plenty talented and has an All-Star nod under his belt, but he's never going to be confused with Johnny Bench.
As such, Detroit decided to go after a guy they saw plenty of potential in with their first selection in this year's draft, tabbing Arkansas Razorbacks backstop James McCann.
McCann has always shown solid defensive prowess, but it wasn't until his junior year that he started to look the part at the plate, hitting .306 with six homers, 38 RBI and earning SEC Conference tournament honors. Combined with a strong showing in the Cape Cod League the summer before his final year at Arkansas, the season earned McCann a spot in the second round, where Detroit snatched him up.
Because he signed so late, McCann only managed to squeeze in 14 games, but he looked overmatched in almost all of his appearances. He hit .146 between the Gulf Coast League and the Low-A Midwest, and struck out in nearly 30 percent of his at-bats and went hit-less in his final 22 plate appearances.
Florida Marlins: Charlie Lowell, LHP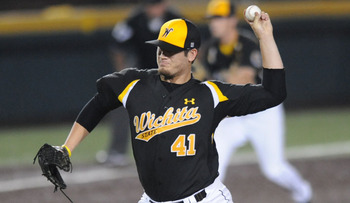 Left-hander Charlie Lowell was supposed to bring a veteran flavor to the Marlins' system, which usually prides itself on going after young, projecting talent.
Lowell lettered in baseball four times at Wichita State and three times in basketball, also giving the Fish an incredibly athletic pitcher. After three successful seasons, Lowell saved his best for last, posting career-highs in wins (10), ERA (2.79) and strikeouts (124). He anchored a Shockers staff that recorded more than half of the staff's 39 victories.
The Marlins called his name in the sixth round, then proceeded to watch him get shelled in his first two outings with the team's Gulf Coast League squad. This kind of thing is frequently normal, as it takes some guys a few outings to find their footing. The same thing happened to A's first-rounder Sonny Gray, who has since reached Double-A.
The difference between Gray and Lowell, however, is vast. While the former throws in the mid-to-high-90s and features a devastating curveball, the latter sits in the low-90s and has a big, loopy curveball that gets away from him with consistency.
And whereas Gray is the very picture of maturity, there have been concerns about Lowell.
Houston Astros: Christopher Lee, LHP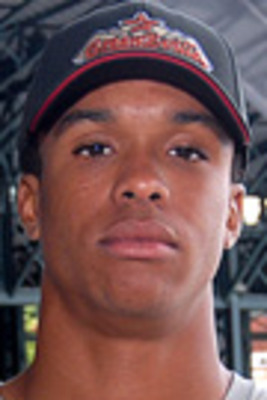 After going after some pretty polished talent with their first few picks of the draft, the Astros went for a lesser-known, high-risk, high-reward kind of player when they tabbed Christopher Lee out of Santa Fe Community College in the fourth round.
Lee looked sharp during 12 outings in 2011 for SFCC, but still has plenty of strides to make to be anything more than a developmental guy. His fastball looked great during the spring (90-94 mph), but his velocity dipped, and he struggled after signing.
He got tagged for 34 runs on 54 hits in just 48.2 innings, good for a 5.18 ERA. He also picked up the loss in five of his 13 starts and issued a good amount of walks (34). Lee seemed to make some progress during his final few starts, allowing just one earned run over his final 12 innings, but that wasn't enough to salvage a rough debut campaign.
Kansas City Royals: Cesar Ogando, LHP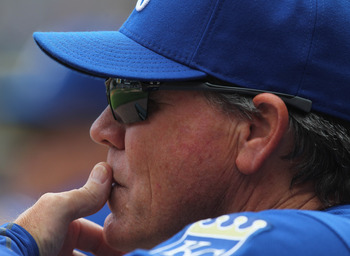 Jonathan Daniel/Getty Images
The majority of the Royals' top draft picks signed too late to get a chance to make their pro debuts, but of the draftees that did, by far the most disappointing showing goes to sixth-round pick Cesar Ogando.
Selected from Caribbean University, Ogando was one of the highest selected prospects from Puerto Rico, but so far has had little luck translating his skill to results. In a 12-outing cameo for the rookie Arizona League Royals, Ogando was hit hard.
In 31.2 innings, he allowed 50 hits, gave up 40 runs (37 earned ) and walked more batters (24) than he struck out (23). Ogando served up four home runs and ultimately ended his campaign with the worst line in the organization this year: 0-4, 10.52 ERA, .370 average against.
Los Angeles Angels: Austin Wood, RHP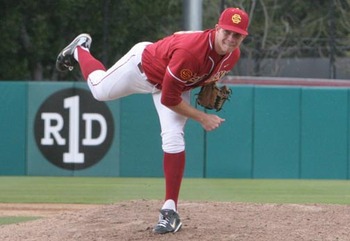 Big things were forecast for USC right-hander Austin Wood after he dazzled scouts on the Cape during the summer of 2010. He was on his way from St. Petersburg JC to Southern Cal and was expected to have a great campaign in 2011, possibly one that catapulted him to first-round consideration.
Instead, he put together a terrible season, posting an ERA over 5.50, racking up seven losses and issuing nearly as many walks as strikeouts.
Wood fell all the way to the sixth-round where the Angels scooped him up, hoping they can develop him in to the kind of pitcher everyone saw in the CCBL during 2010. Even back then, though, he showed below-average control and command, which makes you think he might already be a lost cause.
Wood only pitched two-thirds of an inning with rookie league Orem, but he got shelled there too, giving up two earned runs on two hits.
Los Angeles Dodgers: Pratt Maynard, C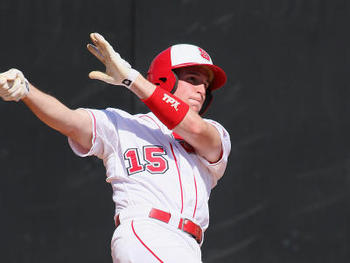 Scouts expected big things from Maynard during his junior campaign at N.C. State. Many expected him to blossom into the next big ACC catcher, following in the footsteps of Tony Sanchez (Boston College) and Yasmani Grandal (Miami).
And while he put together a fine season (.335, 19 doubles, five HR and 40 RBI) and won ACC First-Team honors, it still wasn't enough to put him in the same class as the other two first-rounders. Maynard slipped to the third-round where the catcher-hungry Dodgers scooped him up.
Maynard signed relatively quickly and went to work in the rookie Pioneer League, where he appeared overmatched at times. He struggled to keep his average above .230 and managed just five extra-base hits all season long. He too, like so many players on this list, struck out in nearly 40 percent of his at-bats.
Milwaukee Brewers: Drew Gagnon, RHP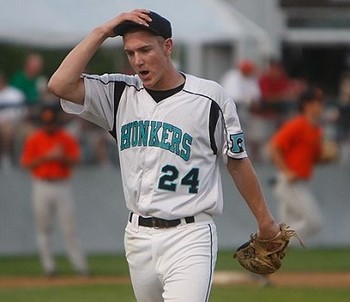 The Brewers' top three picks (Jed Bradley, Taylor Jungmann and Jorge Lopez) didn't come to agreements until the final days leading up to the signing deadline, and while all three were drafted to give legs to the fading pitching depth in Milwaukee's farm system, the Brewers were hoping that some of their later-round selections would be doing that while they negotiated with the top three.
In Drew Gagnon's case, they weren't so lucky.
After a solid junior campaign at Long Beach State in which he posted a 2.81 ERA despite losing 10 games, Gagnon was selected by the Brewers in the third round.
He got put to work immediately in the rookie Pioneer League and was hit hard. Gagnon lasted more than four innings in just one start and surrendered at least one earned run in all but two of his outings. In one start, he gave up four earned runs in 1.2 innings and in another surrendered six in 2.2.
Minnesota Twins: Levi Michael, SS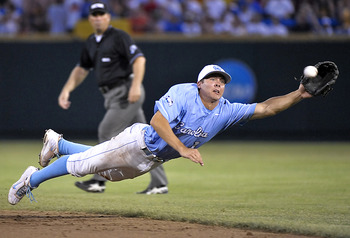 This may seem an odd selection, considering Michael didn't sign early enough to even make one appearance for the Twins, but therein lies the reason for his selection.
The Twins have made a habit of drafting guys who will sign quickly and get to work. Aaron Hicks (2008) and Ben Revere (2007) signed less than a month after being selected, while Alex Wimmers lasted until two weeks before last year's deadline.
Combine that with the fact that I'm not completely sold on Michael as a shortstop or a big-league regular, and the pick makes you wonder what exactly the Twins were thinking.
New York Mets: Joe Tuschak, OF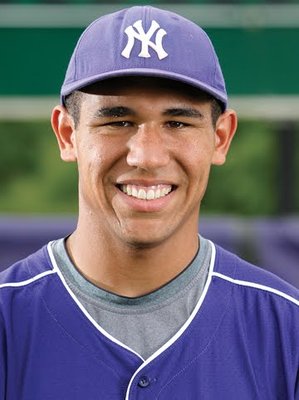 I know it's hard to pick on high school prospects since so many of them are barely 18 or 19 years old by the time they sign, but for some selections, some critiquing is warranted—especially among the highly-drafted or highly-touted types.
The Mets were stoked about adding Joe Tuschak out of Dillsburg, Penn., in the sixth round, but they have to be exactly the opposite after seeing him turn in to a singles-hitter during rookie ball.
Tuschak played on the lowest rung of the Mets' farm system (the GCL), but managed to look too fresh for even that circuit, hitting just .204 with only two extra-base hits in 32 games. He showed decent plate discipline, drawing 15 walks and posting an OBP nearly 100 points higher than his slugging percentage.
With the bases empty, Tuschak was incredibly unimpressive, hitting .136.
New York Yankees: Dante Bichette Jr., 3B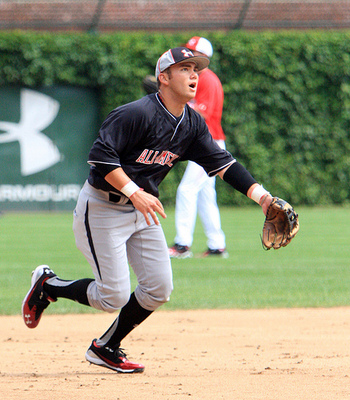 Granted, Dante Bichette Jr. had arguably the best debut of any player drafted this past June, but despite the numbers, there isn't too much for Yankees fans to get excited about with the son of the former big league slugger Dante Bichette Sr.
Bichette was always viewed as an advanced hitter, dating back to his Little League days, so it's no wonder he was able to hit .342 in the Gulf Coast League. I get the Yankees wanting him to build some confidence and not put too much pressure on himself, but I personally would have started him out in the NYPL, seeing as how advanced his batting eye is.
In seven at-bats in the NYPL, by the way, he managed only one base hit.
Defensively, Bichette is no Gold Glover. He played third base, but will likely be restricted to a corner outfield spot long-term.
Sounds like a guy who's definitely overrated, but will inevitably be sucked into the New York publicity machine and hyped as the next great Yankees superstar.
Oakland Athletics: Nathan Kilcrease, RHP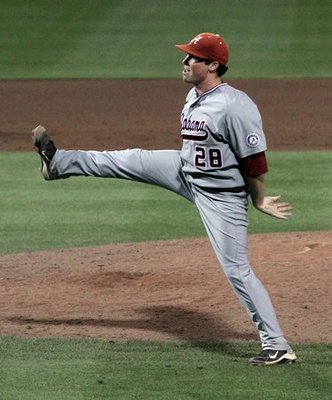 Yes, it's true that undersized pitchers have a better shot than ever these days, with the successes of Tim Lincecum and Roy Oswalt providing all the proof you'll ever need.
Still, it seems incredibly unlikely that 5'6", 170-pound Nate Kilcrease, formerly of Alabama, will be able to develop into as great a pitcher as those other two pitchers.
Granted, Kilcrease was a frontline starter at Alabama, but even then he was succeeding against the odds. In his first taste of pro ball he looked solid, posting a 28-to-5 K:BB ratio and a 2.67 ERA in 30.1 innings in the New York-Penn League, but no doubt, as he continues to rise through the minors, his flaws will be be exposed.
Philadelphia Phillies: Harold Martinez, 3B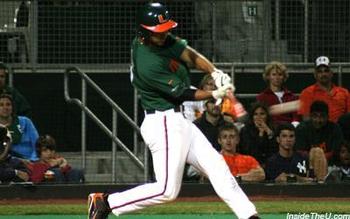 After a banner sophomore season that saw Martinez slug a team-leading 21 home runs, he too was a casualty of the new BBCOR bats that the NCAA introduced to make the game less dangerous (AKA less powerful) before the 2011 season.
As a result, Martinez struggled to hit for power and ended the season with just three long-balls, one of the more noticeable casualties of the equipment change.
Since the new bats also have the advantage of being more like the wooden bats of professional baseball, it only stands to reason that Martinez would have the same struggles playing in the minors and, maybe one day, the major leagues.
That theory proved correct for 67 games in the New York-Penn League, where Martinez only managed to drive two balls out of the park. He also struck out more than a quarter of the time.
Pittsburgh Pirates: Dan Gamache, 3B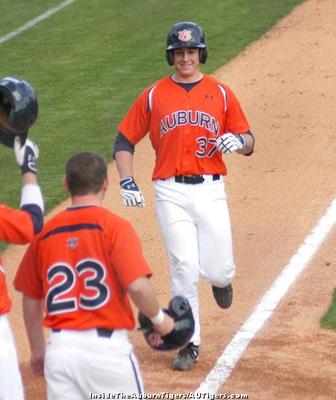 Gamache put together a fine college career at Auburn, but doesn't figure to have much of a future professionally due to his true lack of a position and his average-to-below-average abilities all across the board.
He's one of those guys who earn the term "organizational player," and is best suited as a utility guy up and down the minor leagues.
That said, I'm sure the Pirates expected more out of him in his debut.
Gamache beat up on Gulf Coast League pitching, but struggled when promoted to the NYPL. He hit .231 with four extra-base hits and strikeouts in nearly one-quarter of his at-bats.
St. Louis Cardinals: C.J. McElroy, OF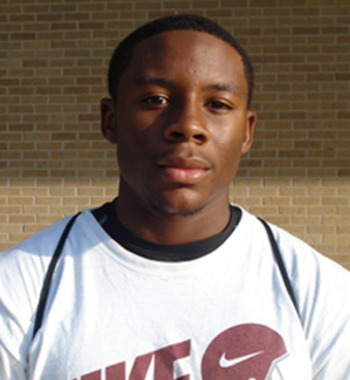 Along with the "college players are supposed to play well in rookie ball" motto that we've already established, another line of the prospect constitution reads as follows:
Two-sport prospects offer a much higher ceiling, but almost always fail to live up to the billing.
For every Carl Crawford who makes it after being a two- or three-sport star in high school, there's a handful of Donovan Tates; guys who pan long before they can make it to the big leagues.
All of that makes McElroy's tough start (.228 average in 23 games) look even worse. The son of former big leaguer Chuck McElroy, C.J. was set to attend the University of Houston to play both baseball and football before the Cardinals came calling in the third round and offered him too much money for any sane person to pass up.
San Diego Padres: Austin Hedges, C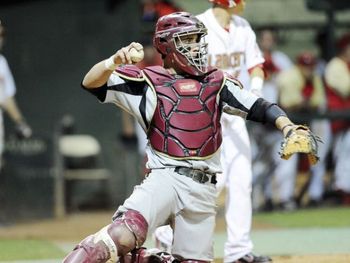 Don't get me wrong, it was a big deal that the Padres managed to sweet-talk Austin Hedges out of a very strong commitment to UCLA, but in the grand scheme of things, I think it might have been for the best if he had set foot in Palo Alto.
Defense has never been a question with Hedges, who was rated by some as the top defender to come along in at least two decades.
Rather, his offense has been the subject of many a debate.
Instead of taking a few years to hone his hitting technique in a much lower-pressure environment, Hedges will now submit himself to the gauntlet known as the minor leagues and millions of Padres fans' expectations.
In case you were wondering about some other catchers who were all defense and teams hoped their bats would catch up, here's a list: Kyle Skipworth, Neil Walker, Michael Ohlman and Caleb Joseph.
San Francisco Giants: Kyle Crick, RHP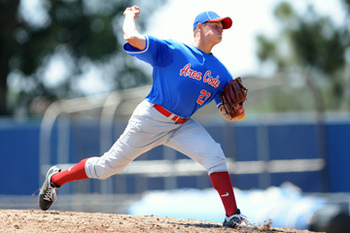 Maybe it was nerves, maybe it was a fluke or maybe it was the added pressure of the fact that the Giants signed only four of their top eight selections from the 2011 draft.
Either way, supplemental first-rounder Kyle Crick had a very inauspicious debut for the Giants' rookie Arizona League squad. Pitching in relief, the 19-year-old showed terrible control, walking eight batters in nine innings. Crick got hit pretty hard when his pitches did find the strike zone, allowing a .321 average against him and finishing the season with an ERA approaching 6.50.
Crick's two appearances before his scoreless season finale were the worst. He lasted only two-thirds of an inning in one, and one-third in the other. He gave up a combined five earned runs, walked three and struck out none.
Crick also happens to be another two-sport star, turning down a scholarship offer to play baseball and football at TCU.
Seattle Mariners: Danny Hultzen, LHP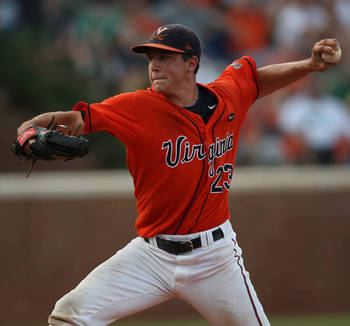 Just about every single player who signed with Seattle, at least in the top-20 rounds, had a pretty impressive debut—leaving me to single out the one guy who didn't make an appearance, left-hander Danny Hultzen.
By holding out until the final minutes before the draft signing deadline, Hultzen all but guaranteed he won't be on the big-league roster come next season.
He did, however, manage to secure a guarantee that he'll get to join the club in spring training, although they likely won't want to push him into a starting role this early.
I too am not completely sold on Hultzen as a top-of-the-rotation ace and consider him a bit behind Gerrit Cole, Dylan Bundy, Trevor Bauer and possibly even Archie Bradley.
Tampa Bay Rays: Grayson Garvin, LHP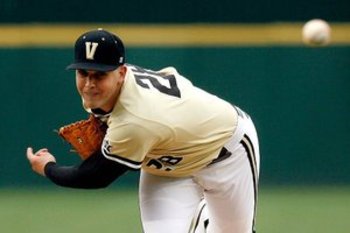 Here I go again, picking on a guy who didn't even throw a pitch professionally this season.
More so, Garvin deserves a little credit for taking home SEC Pitcher of the Year honors in a league that witnessed stellar performances by Sonny Gray, Hudson Randall, Nathan Kilcrease, Kevin Gausman and Karsten Whitson.
Still, Garvin is—and always will be—a finesse lefty. He rarely pitches in the low-90s with his fastball, and his breaking stuff isn't sharp enough to compete with big league hitters.
Texas Rangers: Zach Cone, OF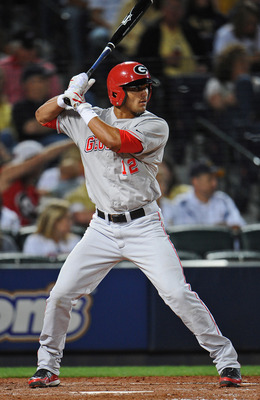 I'll salute the Rangers for going against the industry consensus and taking Kevin Matthews with their first-round selection, but I can't in good faith give them any kind of credit for going after Zach Cone with their second pick.
Cone has all the tools to be a superstar, including amazing raw power, blazing speed and incredible defensive prowess, but the holes in his swing don't appear to be getting any smaller.
So without some great strides in his game, I don't see a very bright future.
Cone sure played like I write in a short cameo for the short-season Spokane Indians: badly. He had an average just over .200 and 57 strikeouts in 224 at-bats.
Toronto Blue Jays: Joe Musgrove, RHP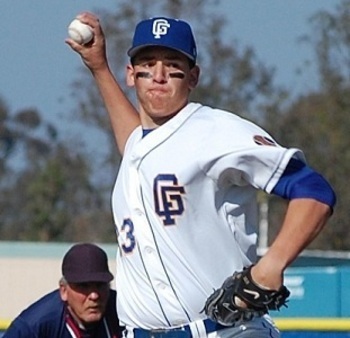 There's no denying that Musgrove put up some pretty decent results in limited action this summer, but I can't shake the comparison to beleaguered Orioles bust Matt Hobgood.
Both pitchers have big league-ready bodies that, without the strictest level of attention, can get out of control in a hurry, and both have so-so stuff that plays up because of their above-average fastball.
(Hobgood's fastball fell of the face of the earth and led to his downfall.)
Hopefully the same fate doesn't await Musgrove, who was a money pick more than anything in the supplemental first round.
Washington Nationals: Matt Purke, LHP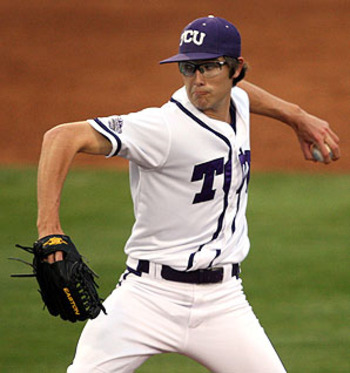 The Nationals felt good enough about Matt Purke's rehabilitation process that not only did they offer him a $4 million deal as a third-round pick, but they also upgraded the agreement to a big league deal, meaning they'll lose their rights to him if he isn't in Washington in four years.
If I was GM Mike Rizzo, I think I would at least like to have seen him pitch a little before making a hasty decision like that. Purke was unwilling to pitch in the Cape Cod League this summer, but somehow got more money than Anthony Ranaudo, who had to audition for the Red Sox there in 2010 before earning first-round money.
If I had the choice, I'd take the player who I know for a fact is healthy and has pitched against live competition over a pitcher with a questionable slingshot delivery.
Keep Reading