Philadelphia Phillies: 6 Reasons Cliff Lee Should Win NL Cy Young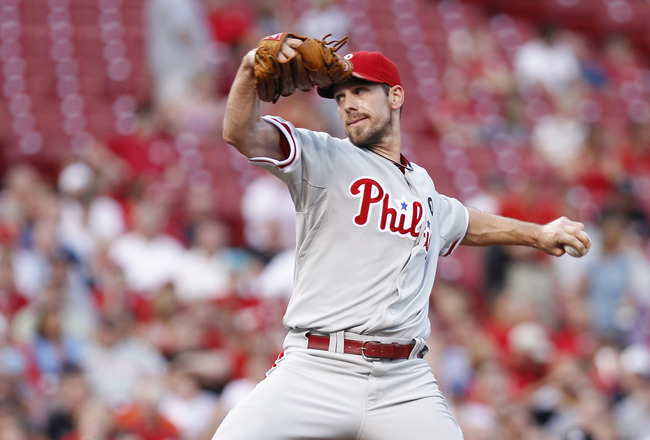 Joe Robbins/Getty Images
With just about three weeks left in the MLB regular season and nine total pitchers in the hunt for the NL Cy Young Award, Cliff Lee is just one of a few pitchers who I feel should win the illustrious honor.
Today, I would like to run through six total reasons why Cliff Lee should win over fellow teammates Roy Halladay and Cole Hamels, as well as, the other six or so candidates in the hunt.
Let's take a look, shall we?
By the Numbers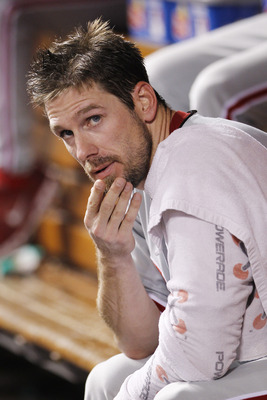 Joe Robbins/Getty Images
Cliff Lee has been having one helluva season posting a 16-7 record with a 2.47 ERA, a 1.031 WHIP and a stellar 9.0 K/9 rate.
Those numbers are comparable to fellow pitchers Roy Halladay (16-5, 2.49 ERA) and Cole Hamels (13-7, 2.63 ERA) but are a bit better than the competition that is currently following him.
Clayton Kershaw, Johnny Cueto, Tim Lincecum, Ryan Vogelsong, Matt Cain and Ian Kennedy are all the immediate considerations behind Lee at the moment, and none of them are posting numbers quite as good as Lee, with perhaps the exception favored to Kennedy's 18-4 record.
There are a few other pitchers right now in the NL who some may feel need to mentioned, but statistically, these are the current NL "leaders" which is why I am naming them.
But stats alone aren't enough.
History Defined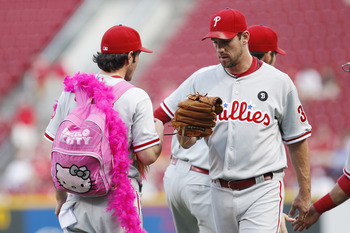 Joe Robbins/Getty Images
How Cliff Lee kept his composure as he passed Stutes here is way beyond me.
Cliff Lee has already made history this season by being the only pitcher since Randy Johnson in 1998 to pitch six shutouts in one season, which is jut simply remarkable.
Since Aug. 1st, Lee has turned himself into one of the Cy Young favorites by allowing just two runs in 48.2 innings, which is good for a unbelievable 0.37 ERA, and he is showing no signs of slowing down as the Phillies head toward the postseason.
But not even historical accomplishments are enough are they?
Adversity Conquered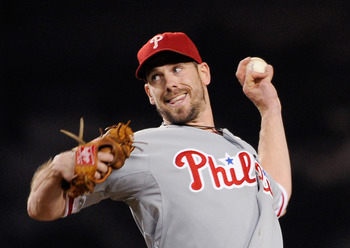 Kevork Djansezian/Getty Images
Lee's dominance on the mound isn't just defined by his pitching ability, and his Cy Young consideration isn't just supported by the aforementioned slide topics.
It has also been Lee's perseverance through some tough adversity that has elevated him as a favorite to win it all.
Lee overcame a rough month of May by going undefeated in June and did it again, by overcoming a horrible July to again go undefeated in August.
Some could argue an issue of inconsistency, but if that argument were presented, then the CONSISTENT ability to overcome such adversity should also not go unnoticed.
After all, this is what being an elite pitcher is all about isn't it?
Quality Starts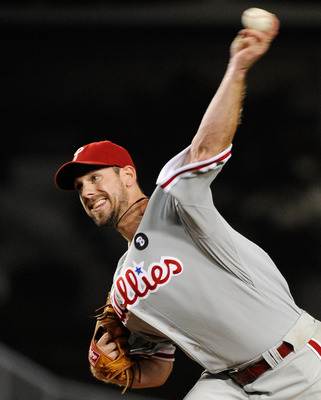 Kevork Djansezian/Getty Images
From August to Lee's most recent battle against Atlanta, Lee has had nothing but quality starts, and if we widen the full season, Lee has had quite a number of quality start since opening day.
Twenty-one to be exact!
In the majors, a quality start is defined as such: a statistic for a starting pitcher defined as a game in which the pitcher completes at least six innings and permits no more than three earned runs.
Team Value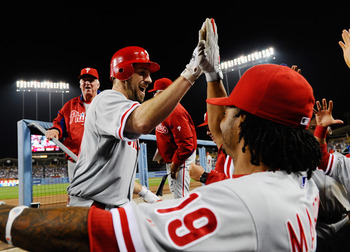 Kevork Djansezian/Getty Images
What makes a pitcher valuable? Well, the initial response would be what he does on the mound on a consistent basis, which is about right.
But what makes a player valuable?
This question is a much broader one, filled with so many aspects that one cannot just name a few elements, and when the player is a pitcher, it is even more difficult to pinpoint.
If we stick to the basics, Lee's presence on the mound always gives the Phillies a chance to win on any given night.
If we expand to, let's say, his offensive value, then we also see that Cliff Lee offers value at the plate as well.
This season, Lee is hitting .212 with two home runs and seven RBI.
The Quiet Man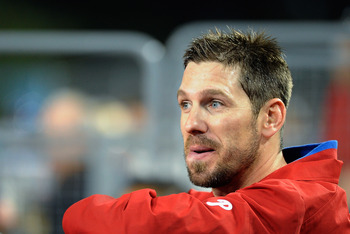 Kevork Djansezian/Getty Images
From both a personal aspect and a professional aspect, I have presented five reasons as to why I believe Cliff lee deserves to win the Cy Young Award.
And while some of the aspects may not always factor in, they are still noteworthy.
Cliff lee is the quiet man on the mound. When he struggles, he simply shrugs it off as if it were nothing more than a mosquito bite.
When Lee excels, he modestly goes through his innings, again, as if nothing spectacular is happening.
But the quiet man on the mound is also the vocal teammate in the dugout and clubhouse. His veteranship and leadership qualities are priceless and somewhat irreplaceable.
He leads by example only. He uplifts precision and consoles with overachieving when applicable.
Cliff Lee isn't just a mainstay in the Phillies organization; this is the player and individual he has always been.
As one of the top candidates for the Cy Young, he is definitely worthy winning the award, and he is one of the best Hall of Famers in the making in today's game.
Keep Reading

Philadelphia Phillies: Like this team?