2011 NFL Preview: The Latest Cincinnati Bengals News Heading into Week 1
September 6, 2011
Jim McIsaac/Getty Images
The first game of the year is literally days away, and the 2011 Cincinnati Bengals are (following some intriguing waiver claims) finalizing their depth chart in preparation for the Battle of Ohio.
One question that was answered on Saturday, was why the Bengals have been aggressively looking for guards this preseason (Lutui, Jean-Gilles).
Bobbie Williams' suspension for violation of the league's Performance Enhancing Substances policy made the Bengals incredibly thin on the right side, with just Clint Boling and Otis Hudson behind him.    
And it looks like yet another rookie will start in Week 1, as Geoff Hobson of Bengals.com has reported that Boling has been given the nod to start at right guard heading into the season opener at Cleveland on Sunday. And he is excited for the opportunity:
 "I feel comfortable with the assignments and the playbook. I just need to have a great week of practice, fix the little things and get ready for Sunday," Boling said. "Going into camp my ultimate goal was to play and start and now I'm being presented with the opportunity to go out there and compete." 
It will no doubt be seen as somewhat of a gamble, but Boling has shown real talent in the preseason, and in training camp, and these four games could be a snapshot of the future, as Bobbie Williams is undoubtedly in his twilight years.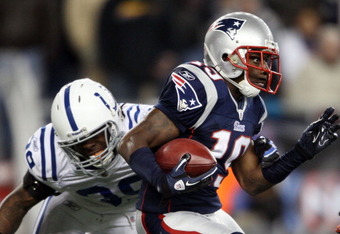 Elsa/Getty Images
Offensive line coach Paul Alexander certainly believes in Boling's ability, commenting:
"Boling is going to be real good. He's real smart. He got a lot of practice with the ones because we knew this was on the horizon."
The addition of former Philadelphia Eagles center-guard Mike McGlynn, could provide a replacement for Boling if things go south quickly, with Alexander commending McGlynn's ability to pick up an offense "in about 24 hours".
In other news, I was sad to see Quan Cosby cut. He endeared himself to Bengals fans during his short stint in Cincinnati, and held the franchise record for punt returns with an average of10 yards per return. His replacement by former New England Patriot Brandon Tate may have proved bittersweet, and Bengals.com reported that Marvin Lewis is excited about Tate's abilities not just as a kick returner, but as a receiver also: 
Lewis said newly-claimed wide receiver Brandon Tate is going to return punts as well as kicks, but said the major reason Tate interested him is the 600 snaps he played at receiver for the Patriots and showed big-play potential with an 18-yard per catch average and three touchdowns.

Lewis said it was a tough cut in exchanging Tate for Quan Cosby, but "We went to another reliable player who had tremendous hands and ability to make big plays. Quan's been very steady and strong and is a great person but this kid is a player we know on Sundays offensively gives us a little more of a threat." 

 
And in other news:
 Cedric Benson is out of jail and back with the team, having only had to serve five days of his sentence. Benson is looking forward to getting back to work and to putting this all behind him:
"When it's done it's done. Time served," said Benson, who says as far as he knows he's available for the Bengals this Sunday.

"I'm not fit for jail; no one for that matter," Benson said. "When you experience that, you realize how much you don't want to experience that again. It was a nice little wake-up call so to speak."
With the news that waiver claim TE Mickey Shuler flunked his physical, the Bengals are left with just Jermaine Gresham and Colin Cochart at tight-end, who together only have a combined 15 games under their belt. We could (and should) see a move here in the coming hours.
The usually quiet and reserved Andre Whitworth has slammed the league's drug testing policy following Bobbie Williams' suspension, believing Williams' offense to have been minor and not steroid related: 
"That's not fair," Whitworth said. "To me if you get busted for steroids you should be banned for the season because you've cheated to get an athletic advantage. If you get busted for other minor things, there should be a minor offense."

Whitworth had hoped it would be cleared up in the latest collective bargaining agreement, but it "got put on the sideburner with all the other issues in the CBA," he said. "I really wish people would look at that and say there needs to be a level system."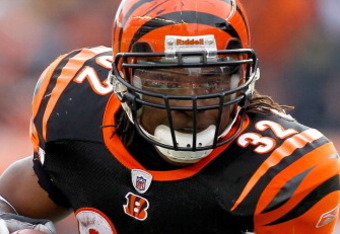 Matthew Stockman/Getty Images
ESPN took time out of their busy schedule to slam the Bengals once again today, by placing Cincy at the bottom of their NFL Power Rankings heading into Week 1. It comes as no surprise after they named the Bengals the worst franchise in U.S. sports earlier this year. 
It was also confirmed via CincyJungle.com that former Missouri center Tim Barnes is headed to Cincinnati for a workout. Barnes was signed by the Baltimore Ravens, but didn't make the final roster. Accustomed to snapping in shotgun, Barnes will have to work hard to succeed at the next-level, but many of his issues are correctable which could see him make the Bengals roster. 
Expect more moves to come in the next 24 hours as time begins to run out, and check back tomorrow for my preview of Bengals/Browns.