Baseball Between Us: Journalist Mike Luery Tries His Hand at Publishing
September 6, 2011
I got to meet a lot of interesting people at the national SABR conference, so I thought I would begin a series of interviews with those nice enough to come on with us. Mike Luery was one of those interesting people I came across. Like me, he was attending the SABR conference for the first time. We quickly discovered we had something else in common: both of us were self-published. Instead, in Mike's case he really was self-published. He formed his own company and truly published the book himself.
Mike currently works with CBS out in Sacramento as a reporter, but he has also spent time with NBC as a bureau chief. His position in the legitimate press enabled him to land an interview with Scott Boras for his website http://www.baseballbetweenus.com. While I fully recommend reading that interview, I was more interested in his book and his experiences with the publishing process.
Baseball Between Us is due to come out in the spring of 2012. It chronicles the past several years where he and his son Matt traveled the country viewing each of the 30 MLB parks. The book promises to be part rankings, part travel guide, but more importantly, part father-son tale. Baseball has always lent itself to these stories about the connections between generations. As a newer parent, I was particularly interested in hearing about that portion of the story.
Scott Barzilla: How did you come up with the idea of seeing every ballpark and did you have the book in mind all along?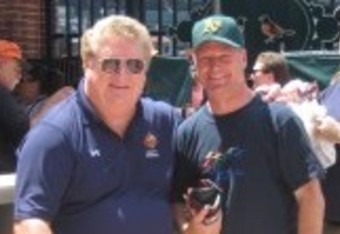 Mike Luery: As for the first question, I've always loved travel and baseball. So I figured a father/son road trip might be the best way to break the ice with my teenager. In June of 2005, we flew from Sacramento to Detroit to see the Tigers play. Then we rented a car and drove to Chicago for a White Soxgame—then on to Milwaukee to visit the Brewers. That's when all hell
broke loose—not on the field, but in our hotel room, where my teenaged son was waging a sleep-in.
"Matt, it's time to get up," I said.
Silence.
"Matt, we need to get going if we want to make breakfast; the hotel restaurant stops serving at 11. Plus we've got to make Minneapolis today. It's 336 miles away."
Silence.
"Don't pretend you don't hear me!"
No response.
Then, I realized Matt was completely plugged into his iPod. All I could see was a pair of white earbuds leading to this Stinkbug under the covers. My wife Carol and I had dubbed Matt the "Stinkbug" early in his life because of his post-natal predilection for burying his face in the pillow while planting his butt high in the air. He looked like some sort of prehistoric creature, a reverse praying mantis of the human kind—hence the moniker "Stinkbug," which we employed whenever he behaved badly.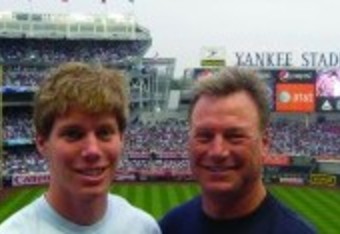 And now was one of those times. It was a war over waking up—and Matt was winning. It was a fight that would be repeated multiple times along the trip. We sparred over when to rise and when to sleep, and along the way we fought over music on the radio. I wanted to rock, he wanted to rap. We hated each other's music—that is, if you can even call rap "music". I soon realized I had the ultimate weapon in the war of words with my son—I would write everything
he said into my journal—along with his daily doses of misdeeds.
And at age 16, there were plenty of them. We traveled and fought our way through Minnesota and on to North Dakota, where something magical happened. In Fargo, we visited the Maury Wills Museum and bumped into Maury Wills, who just happened to be broadcasting that day with the Fargo/Moorhead Redhawks. Maury was gracious enough to talk to us for half an hour and signed a baseball for Matt. Then he said, "Matt, come on over here and put your arm up on my shoulder like we're old friends, while your dad takes our picture."
Click.
It was then and there I felt something truly special was happening, and I realized that this was an experience I wanted to share with baseball fans everywhere. That's when I first got the idea of writing a book.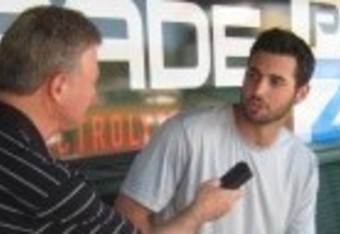 SB: How do you think the experience effected your relationship?
ML: As for how the trip affected our relationship—it started with the typical father/son fights over who controls the remote in the hotel room. Music on the radio also became a war zone. I wanted to crank up the Allman Brothers; he wanted to drown it out with some rap artist who was worth only Half A Dollar—or Fifty Cent, or whatever his name is.
Over time, Matt grew to appreciate my music. I can remember when Matt turned 21 and we drove to an Angels game in Anaheim—and that's where it happened. I plugged in my iPod to provide Matt with a musical mix of Jimi Hendrix songs. I turned  up the volume for "Love or Confusion," letting Jimi's guitar overdubs fill the car with the psychedelic sounds of the
'60s.
Then I shuffled the iPod to "Are You Experienced." Jimi's reverse guitar licks reverberated through the car woofers. Matt was blown away by the music. "Dad, this is great!" he shouted over the dueling decibels. All I could do was nod and smile as the music rocked us all the way to the ballpark.
After all those years of fighting, father and son were finally in harmony.
SB: What was the biggest surprise you came across along the way?
ML: As for surprises, Matt writes in the epilogue, "Some of my favorite unexpected discoveries were the beautiful hills surrounding Cincinnati; the stock of early 20th century architecture in Kansas City and St. Louis; serene lakeside neighborhoods east of Detroit and across the U.S.-Canadian border; Mt. Washington in Pittsburgh; a chain of islands a ferry
ride away from Toronto; desert hiking in Phoenix; and a crowded Lake Michigan beach (complete with sand dunes) in Indiana. One by one, my preconceived notions and judgments were shattered as we traveled, and I learned a whole lot of American history in the process."
SB: Were there any challenges you encountered that you hadn't anticipated?
ML: My biggest challenge along the way was getting lost. Constantly. As Yogi Berra once said, "If you come to a fork in the road, take it." Well, we ended up taking the wrong road, the wrong train, the wrong path to the ballpark in nearly every Major League city. In Boston, I led a contingent of Luerys—Matt, my brother Russ and his son Shane—as we walked the
wrong way down Brookline Avenue, in the opposite direction of  Fenway Park.
"Everyone's going the other way, Dad," Matt said mockingly.
"That's because we're taking a shortcut," was my smart-ass response, even
though I knew something didn't feel right. The sign ahead confirmed myworst fears.
"Welcome to Brookline," it said.
"You idiot," my brother bellowed.
Wrong Way Mike had done it again.
Yes, getting lost just comes naturally to me. At least Matt got a good laugh out of it, which helped us get even closer. It was good for him to see that even a dad makes mistakes, too.
SB: As a fellow self-publisher, do you have any pearls of wisdom that could help others thinking of taking it on?
ML: Self-publishing is another challenge. I never set out to be a self-publisher. But after more than two dozen rejections from agents and traditional publishers, I began to see things in a different light. I learned that traditional publishers don't want to take a risk on a new author. Unless your name is John Grisham or Steven King, they really want nothing to do with you. So I formed my own company, Sleuth Publishing, to get my book into print. At least the publisher will talk to me.
But as the president, I've had to hire my own editor, cover artist and interior designer. Next I had to learn how to solicit RFQs (Request for Quotes) from printers and find a web guru who could create a vision of the book for the Internet. I made a lot of rookie mistakes along the way. (Hint: don't start creating work orders until you've fully developed a concept you really like. False starts can be costly.)
I also discovered that bookstore buyers place their orders six months in advance—which can
be a big problem if your baseball book is released in the middle of the football season.  I'm still learning the hard way as I go along, but if all goes well, the book will be available in stores, e-readers and Internet portals starting March 1, 2012—just in time for spring
training.
SB: What were your impressions of SABR before the convention? Did they change afterwards?
ML: As for SABR, I just attended my first convention, so I didn't know what to expect. But from the moment I arrived in Long Beach, I was impressed with just how friendly everyone was. SABR members would go out of their way to introduce themselves and make you feel at home just by talking baseball. I have as many great memories as an ESPN highlight reel: interviewing super agent Scott Boras and meeting Padres GM Jed Hoyer.
One of my favorite moments was watching Wes Parker of the Dodgers share war stories with SABR members, who hovered around him by the dozens. Wes loved holding court. He was funny, entertaining and exceedingly candid as he described what it was like to play for the Dodgers from 1964-72. I am transcribing that interview now and will be posting a blog later this week.
In summary, the SABR convention was one of the best vacations I ever had—a chance to hang out with fellow baseball fanatics and engage in endless banter over the most important things in life. I'm talking about ERAs, WHIPs and OPS, and of course contentious debates over which players should start on your favorite baseball team of all time.
For me, a lifelong Yankee fan, it's easy to name that lineup: Lou Gehrig at first, Robinson Cano at second, Derek Jeter at short and A-Rod at third. I've got an outfield that no one can beat: Ruth, Mantle and Dimaggio with Reggie Jackson as DH.
I'll put Yogi Berra behind the plate, and on the mound my four starters are Whitey Ford, Catfish Hunter, Ron Guidry and Andy Pettitte. In the bullpen is Mariano Rivera, along with Goose Gossage.
It's a team that could win 140 games a year. Of course, some people would argue that Bill Dickey should be the catcher or maybe Jerry Coleman at second and Tommy John on the mound. But that's the beauty of baseball: you can fall asleep each night creating your perfect lineup of the world's greatest players—and you get to be the manager!
I'd like to thank Mike for joining us here today. From experience, I can say that self-publishing is a scary and exciting process at the same time. You can have no way of knowing how your book will be received, and since you take on most—if not all—of the costs yourself you have more risk. I certainly wish him the best of luck and fully recommend Baseball Between Us when it comes out. Just listening to these few stories already has me waiting for more.