Lance Briggs's Contract Dispute Highlights Something We All Do
September 6, 2011
Jonathan Daniel/Getty Images
Lance Briggs is a healthy example of a player-franchise contract dispute. Due to an oddly structured deal that dips in the fourth season and then increases again for the fifth and sixth, Briggs will be making less in 2011 than he did in 2010. And this, reasonably, doesn't sit well with him (or agent Drew Rosenhaus).
Briggs is a good example because he's going to be a team player about the disagreement. He wants to make enough noise to get the Bears' attention but he's not going let it affect his participation in practice or games. Even Lovie Smith has said that he doesn't see any affects of the disagreement. All Briggs is basically saying is:
"We need to talk about this, guys—sometime in the near future."
I like this as an example because, typically when you start talking about player holdouts, the fact that they're abandoning your team and screwing up the preseason coaching and game-planning (and fantasy drafting) overshadows the real question:
Do players have the right to bring contract disputes up in the first place?
NFL teams don't trick players into signing contracts; each player knows what he's getting into, some would argue. Your word should be your bond. You agreed to the deal, see it through.
But at the same time, the league has the upper hand in a very major way, others would counter. At any time, the Bears can kick Briggs to the curb by cutting him. His contract may read as a "six-year deal," but to the Bears, it's actually a "zero- to six-year" deal. Every offseason we see franchises lay the axe to bum contracts.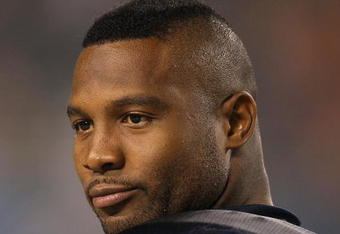 Jonathan Daniel/Getty Images
Not that Briggs's deal is one. Quite the contrary, even. He'll only make $3.65 million this season (yes, "only" is a relative word), which is a steal considering the force of nature he and Brian Urlacher have become in the Chicago midway. Why shouldn't he turn around to the Bears and say, "Hey, you can jerk me around if you want. Yet I'm one of your best employees—now I'm jerking you around?"
Chris Johnson pulled it off. Why shouldn't everyone else?
I think if you're okay with it, you have to be honest with yourself that you'd support breaking any contract where one party, since signing on, is getting hosed. As much as we love to pound our fist and say that our word is our bond, too often are we okay with it being a bond right up until the point that that bond is just a little too…bonding.
We figure out how to finagle out of cell phone contracts or play dumb when there's a late charge on a credit card payment. Any "good consumer" can weasel in and out of agreements to get what they want. It's no different in principle, just way smaller numbers.
Lance Briggs doesn't like the plan he signed up for. That he wants out of his contract (or to restructure it) may make headlines, but it doesn't make him unique. We'd do ourselves some good to at least recognize that when we want to pound our fist about it.