Philadelphia Phillies: The Ten September Call-Ups Fans Are Most Excited To See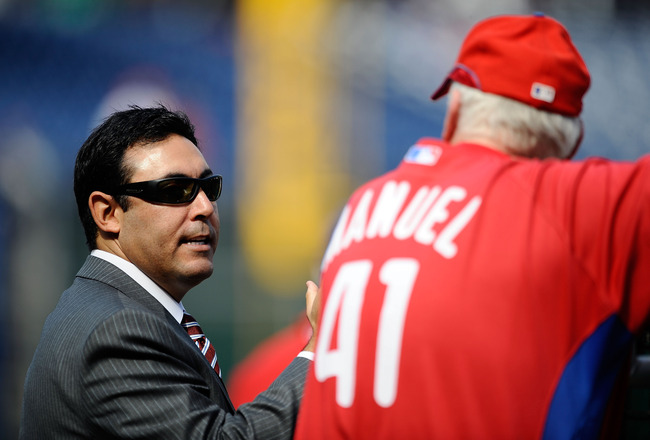 Jeff Zelevansky/Getty Images
As of September 1st, every Major League team was allowed to expand its playing roster from the normal regular season limit of 25 players to an expanded roster of 40. The annual September call-ups are viewed as an opportunity for teams that are out of contention in their divisional races to get a good look at some of their top minor league prospects and see how they fare at the major league level.
For teams that are still in the race, it is a chance to bring up some young players to give some of their veteran everyday players a chance to get a game off now and then as they prepare hopefully for a play-off run. While the Philadelphia Phillies definitely fall into the latter category, it is curious that they have yet to make any September call-ups.
Part of the reason is that the Phillies' triple-A minor league team, the Lehigh Valley Iron Pigs are in the play-offs for the first time in their four year existence. Phillies GM, Ruben Amaro Jr. hopes to be able to let the Iron Pigs play out their season unless the Phillies find themselves with any unexpected urgent needs.
That being said, the minor leagues season will be over soon one way or the other so Phillies fans should get ready to see some familiar, and not so familiar, faces on the field and in the dugout. To help you keep track of all the comings and goings here are the possible top ten exciting players coming soon to a ballpark near you.
10. Been There Done That
Christian Petersen/Getty Images
Tied at number 10 are two familiar faces, relievers Mike Zagurski and Scott Mathieson. Now don't get me wrong. It's not that we don't like Mike (and Scott) but both have had their share of call-ups over the years so the excitement of seeing them has dulled a bit.
Mathieson pitched well in his short time with the Phillies this year and has a 3.28 ERA for Lehigh Valley. As for Zagurski, he, too, has had his chances at the big league level but has never performed well enough to stay. He is also a lefty which makes his odds of getting the call even stronger.
The overworked and injury-depleted Phillies bullpen could definitely use some extra arms about now. Although these first two names might not get Phillies fans too excited, there are some guys in the bullpen who will welcome them with open, if a bit tired, arms.
9. Another Familiar Face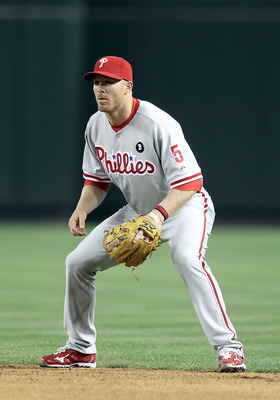 Christian Petersen/Getty Images
Pete Orr is another familiar face who is a lay-up to be a call-up. With the injury to Jimmy Rollins and the need to give both Chase Utley and Placido Polanco some rest down the stretch, Orr's flexibility in the infield will come in handy. Since Orr has already spent some time with the Phillies this season his presence also won't create too much buzz.
8. Will He Catch a Break?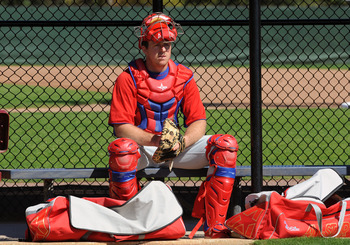 Al Messerschmidt/Getty Images
Now the catcher position is interesting. Earlier in the year when Brian Schnieder and then Carlos Ruiz both got hurt, the Phillies called up Dane Sardinha. But the odds on favorite now to get the call is Erik Kratz.
Kratz is a three-time mid-season all-star selection for the Lehigh Valley Iron Pigs and this year he has been hitting for both power (15 home runs, 51 RBI) and average (.288) He's also tied for the team lead in multi-hit games with 30. But even more important is his stellar handling of the Iron Pigs strong pitching staff. He has also thrown out 29.2 percent of would-be base stealers.
And if that's not enough, during Spring Training the word was that the Phillies pitchers all respected Kratz and enjoyed working with him. If he does indeed get called up Kratz will be a newcomer to keep an eye on.
7. Relief Is on the Way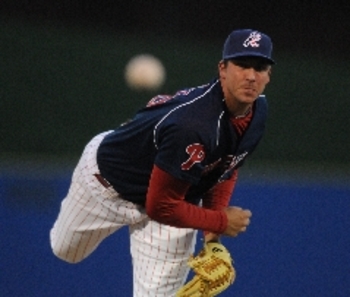 broadstreetmarching.com
A newer face to Phillies fans would be right-handed reliever Justin De Fratus. He has long been thought to be a strong contender for a spot in the Phillies bullpen.
He has 56 strikeouts in 41 innings with the Iron Pigs (he started the season in Reading) with a 3.73 ERA and 4 saves. With the Phillies need for some bullpen help, now might be a good time to see how De Fratus fares against major league hitters.
6. More Relief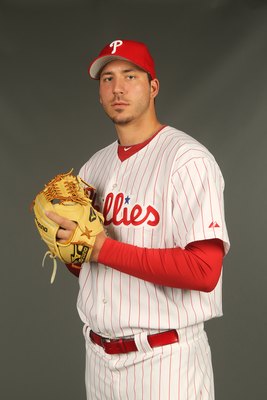 Nick Laham/Getty Images
Another possible call-up for the bullpen is reliever Phillippe Aumont, one of the players acquired by the Phillies in the first Cliff Lee deal in 2009. At 6'7", he is a power pitcher with closer stuff but he has yet to pull it all together. So far with Lehigh Valley (he started the season in Reading) he has pitched in 18 games, notched 37 strikeouts and has yet give up a home run. The big right-hander's fast ball has been clocked as high as 97 mph. A call-up to the majors would give Aumont (and Phillies fans) a chance to see how his strikeout ratio holds up against the big boys.
5. Major League Tested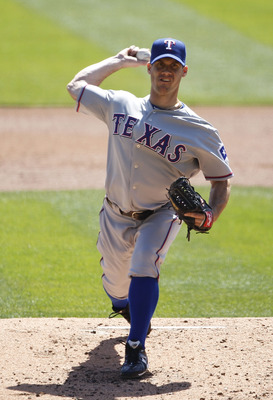 Leon Halip/Getty Images
Right-handed starting pitcher Dave Bush is an MLB pitcher who the Phillies recently signed to a minor league contract. He made 17 appearances for the Texas Rangers this season and was 0-1 with a 5.79 ERA before the Rangers released him on July 6.
Bush has looked sharp so far in three starts with the Iron Pigs posting a 2.65 ERA. With the Phillies tough end of the season schedule, no days off and several make-up double headers, Bush could be a welcome spot starter down the stretch giving the Phillies starting rotation a welcome break.
4. Outfield Insider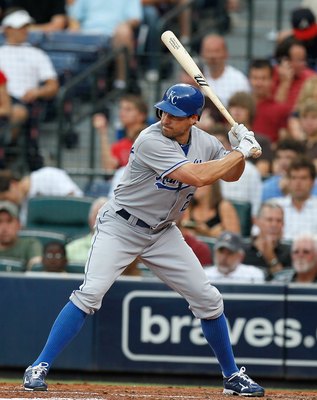 Kevin C. Cox/Getty Images
Scott Podsednik is another former major leaguer who the Phillies signed to a minor league deal back in May. The speedy outfielder can play all three outfield positions although he has primarily played in left and center.
Podsednik had a solid 2010 season during which he played for both the Los Angeles Dodgers and the Kansas City Royals batting .297 with 35 steals. An experienced major league bat off the bench would be a welcome addition for the Phillies during the stretch run but there is one problem. Currently, the 35-year-old Podsednik is in Clearwater rehabbing a recurring foot injury. He is optimistic about his progress, however, and promises that if he gets the call, he'll be ready to play.
3. Shortstop of the Future?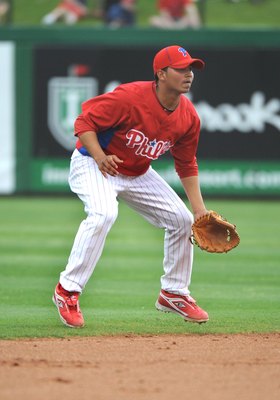 Al Messerschmidt/Getty Images
Freddy Galvis is certainly one of the more intriguing possible Phillies call-ups. The 21-year-old shortstop could be the home-grown heir apparent to Jimmy Rollins, if the Phillies don't resign their all-star shortstop currently in the final year of his contract.
Galvis has had a strong year in both Reading and Lehigh Valley. He is batting .297 in his 32 games with the Iron Pigs and he has an excellent glove. A call-up to the Phillies for Galvis would be a much anticipated first chance to see the young shortstop perform at the major league level. He would also help a Phillies infield that has had its share of injuries.
2. Power off the Bench?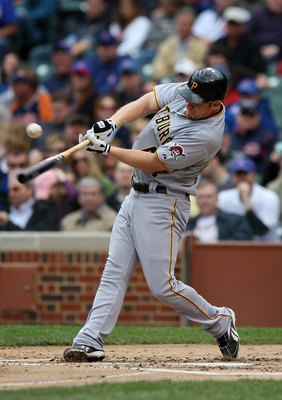 Jonathan Daniel/Getty Images
Outfielder Brandon Moss is another Iron Pig with major league experience having logged time with both the Boston Red Sox and Pittsburgh Pirates over the past several years. He has had a terrific year for the Iron Pigs and is their leading run producer with 23 home runs and and 80 RBI. If called up, he could be a late inning pinch hitter with power off the bench for the Phillies, something they definitely have been lacking.
1. Domonic Who?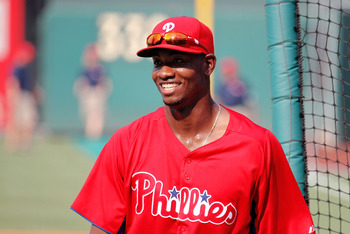 Len Redkoles/Getty Images
Yes, Domonic Brown has also had more than his share of call-ups. In fact, he was the projected starter in right field for the Phillies when the season began. Due to a combination of injuries, subpar performance and the trade deadline acquisition of Hunter Pence, Brown has spent the final months of the season with the iron Pigs.
Brown has struggled since his return to Lehigh Valley hitting .217 and making some mistakes in the field that at times seem to indicate a lack of hustle. It has been quite a fall for the young outfielder who Baseball America rated their Number 1 prospect in 2010. With all of this swirling in the background a call-up for Brown, should the Phillies choose to do so, could be filled with on-the-field and off- the-field drama.
Of course, all of these possible call-ups are just that, possible. As of this posting the Phillies have still not called up a single player. The Iron Pigs won the Wild Card in the International League and will begin a five-game play-off series on Tuesday. If Ruben Amaro Jr. sticks to his plan of allowing the Iron Pigs to play out their season before making any call-ups it could be at least another week before the Phillies (or their fans) see any new faces at the Bank.
Keep Reading

Philadelphia Phillies: Like this team?