Washington Nationals: 5 Things to Look for in Stephen Strasburg's Return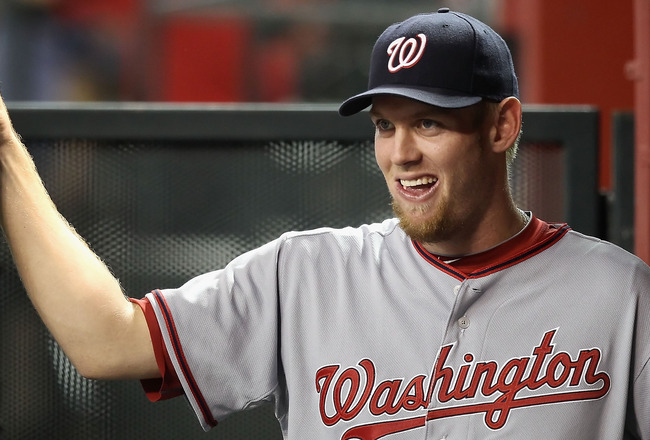 Christian Petersen/Getty Images
Stephen Strasburg will make his long awaited return to the major leagues on Tuesday. The most hyped pitching prospect in the history of baseball has defied belief to return less than a year after Tommy John surgery.
The Nationals drew some criticism from baseball analysts across the country for deciding to bring Strasburg back to the majors at all this season. Washington's motives for rushing Strasburg back were questioned by some who saw the move as a ploy to increase attendance.
Washington Nationals management is obviously not that misguided. Strasburg and the Nats feel he is fully recovered. He has had no major setback on the rehab trail. With the minor league season coming to an end, the only natural step in Strasburg's continued rehab is a few turns in the Washington Nationals starting rotation.
The Nationals will cap Strasburg's innings this season at 50. He has already thrown 20 in the minors. There is less than a month remaining in the season, and Strasburg will make three to four starts from here on out. The innings cap should not be a problem.
The buzz surrounding Stephen Strasburg has not been dulled by Tommy John surgery. It may actually have increased as we anxiously await his return to glory.
The first step in that return has been completed as Strasburg blazed through the minors once again. Step two begins tonight. All eyes will be trained on Stephen Strasburg tonight in the baseball world. Read on for your guide to tonight's start.
Will the Weather Cooperate?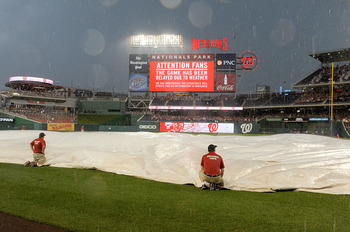 Greg Fiume/Getty Images
Mother Nature could throw a big monkey wrench into the Washington Nationals welcome back party for Stephen Strasburg.
There is no way the Nationals will risk injury to the face of their franchise in the face of a rain delay. He will not warm up if a rain delay is imminent. Such a precaution has become commonplace across the major leagues.
Where the issue with the weather gets tricky for the Nationals is if rain is falling, but it is not enough to cause a delay. Will they allow Strasburg to pitch from a wet, potentially slippery mound?
With a crowd in excess of 40,000 and the eyes of the baseball world on them, the Nationals cannot afford to give into the pressure and send Strasburg out to pitch on a sloppy mound. If there is any precipitation falling, expect them to bump Strasburg's return back a day.
There will be plenty of unhappy ticketholders from tonight's game, but the Washington Nationals need to do what is best for Stephen Strasburg.
Is Strasburg Still a Strikeout King?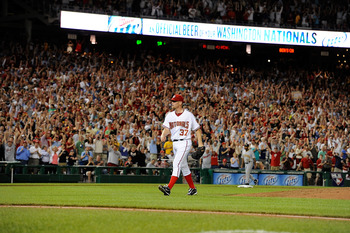 Greg Fiume/Getty Images
Baseball fans will never forget Stephen Strasburg's major league debut. He piled up 14 strikeouts in seven innings, all the while making the Pittsburgh Pirates look helpless at the dish.
Strasburg has quite the reputation as a strikeout pitcher. He has, however, made a commitment to pitch to contact more frequently as he returns to the majors.
Pitching to contact will drive down the big righty's pitch count. The results may not be as spectacular, but it will allow Strasburg to pitch deeper into games.
As he faces the Dodgers tonight, do not expect a repeat of his double-digit strikeout debut of a year ago. Strasburg's stuff is so good that he afford to pitch to contact, as solid contact will be hard to come by.
Will he be able to stick to his new approach on the mound as the adrenaline surges tonight?
How Long Will He Go Tonight?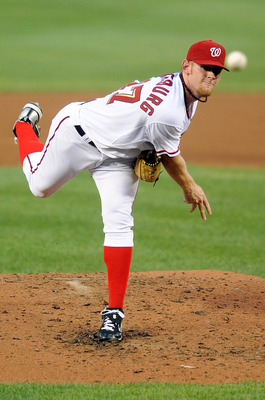 Greg Fiume/Getty Images
As previously stated, Strasburg has about 30 innings left to pitch, and three or four starts to use them in. That does not imply that he will be gunning for a complete game tonight.
The Nationals have stretched Strasburg out gradually during his rehab, with six innings the longest he has gone in a game. Do not expect him to exceed that mark by much in his first start.
His pitch count was limited to 85 in his last start at Double-A. That number should not increase by much the rest of the season. With 85 pitches at his disposal, Strasburg should pitch easily into the sixth inning.
How Will He Pitch to Matt Kemp?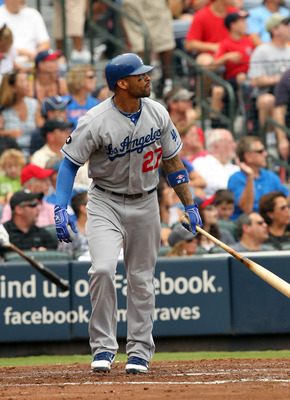 Joe Murphy/Getty Images
This is the most exciting pitcher versus hitter matchup to watch tonight. It will be power versus power as Stephen Strasburg pitches to Matt Kemp.
Kemp is finally realizing his potential this season. Strasburg has not faced a hitter like Kemp in the minors. Will he attack Kemp, or be content to pitch around the slugger and deal with the rest of the Dodgers relatively weak lineup?
Hopefully Strasburg challenges Kemp. The result could be spectacular no matter who wins the battle.
Can Strasburg Still Put It All Together?
Greg Fiume/Getty Images
At times last year, Stephen Strasburg was unhittable. With his fastball touching 100 MPH and his curveball biting sharply, hitters were at his mercy.
He has had no problem touching the upper 90's with his fastball in the minors. His breaking pitches, however, still need a little work. Pitchers coming back from Tommy John are able to return to throwing breaking pitches later in their rehab. Strasburg needs these pitches to be the complete ace he was before surgery.
Even minor league hitters touched Strasburg up when all he was throwing was a fastball. Major league hitters will do the same. Keep an eye on Strasburg's pitch selection tonight. Yes, a 99 MPH fastball is impressive, but its luster is diminished if there are no breaking pitches to complement it.
Keep Reading

Washington Nationals: Like this team?