Tiki Barber: 5 Teams That Should've Taken a Risk on the Running Back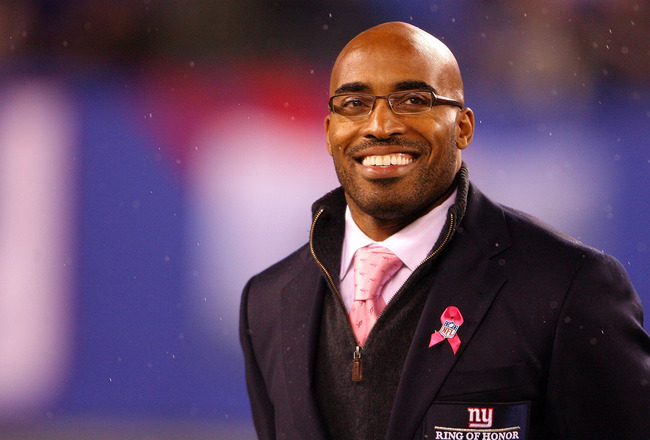 Andrew Burton/Getty Images
It is hard to believe that it has already been five years since Tiki Barber ran for 1,662 yards, in his final season with the New York Giants.
Unlike most professional athletes, Barber retired while he was still a very productive player.
Then he announced that he was coming out of retirement in hopes of playing in the 2011 season. This certainly raised some eyebrows around the league and granted him his fair share of media coverage.
However, even after being invited to work out for Miami, Barber was left without a chance to make a roster.
While it is more than likely that Tiki's skills have declined, he could have been a contributor to several teams around the NFL.
Here are five teams that should have taken a shot on Barber.
Miami Dolphins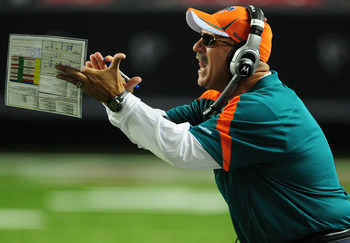 Scott Cunningham/Getty Images
Clearly Miami considered the idea of bringing Tiki Barber in to their backfield.
With the uncertainty the Dolphins have at running back they should have given him more of a chance.
The Dolphins drafted Daniel Thomas out of Kansas State in hopes of him becoming their running back of the future, especially with the departure of Ricky Williams and Ronnie Brown from the team.
They also traded for Reggie Bush from the New Orleans Saints.
However, there are several questions that remain.
Thomas is still just a rookie that has yet to prove he can be productive at the NFL level. While Bush is a nice weapon, he hasn't proven that he can be a full time back...or even stay healthy for a full season.
Barber would have been able to take carries and give Thomas a chance to grow as a back. Barber would have also been a great receiving option for Chad Henne.
Now they will have to hope that Bush and Thomas can exceed expectations, otherwise the running game for Miami could be in rough shape.
Arizona Cardinals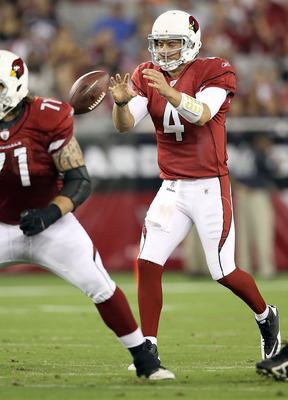 Christian Petersen/Getty Images
The Arizona Cardinals are still trying to get back to their Super Bowl form after losing Kurt Warner to retirement.
They had a rough season at quarterback last year, but traded for Kevin Kolb this offseason in hopes of getting back to that vertical passing game.
Their running game is currently highlighted by Chris "Beanie" Wells, who has yet to really take off as a runner.
Tiki Barber would have fit perfectly in to their team as a complimentary back. Barber would have given them another solid option to turn to besides Wells.
His receiving ability would have been a huge asset to Kolb, who will still be learning the ins and outs of the Cardinals playbook.
With LaRod Stephens-Howling and Alphonso Smith as your other two running backs, it is hard to imagine that Tiki Barber wouldn't have been at least worth a shot.
Detroit Lions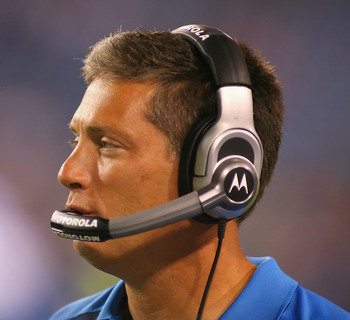 Rick Stewart/Getty Images
The Detroit Lions are a popular dark horse pick this year to have a break out season.
They have tons of young talent on both sides of the football. This was going to include their backfield, as they were planning on coming in to the season with Jahvid Best and rookie Mikel LeShoure.
That plan went out the window when LeShoure went down for the season with an Achilles injury.
Best has also shown vulnerability to injuries, as he has been banged up several times over the course of his rookie season—and again this preseason.
Even with former Browns running back Jerome Harrison, the Lions could have used more depth.
Barber would have been a great veteran option that could have given them that extra insurance, if Best gets too banged up.
If the Lions do break out and make a run at the playoffs they could use guys in the locker room that have been there before.
Barber would fit that role perfectly.
New York Giants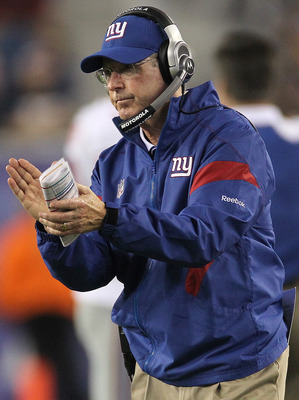 Jim Rogash/Getty Images
Who better to bring Tiki in than the team he last played for?
The Giants have a solid amount of depth already at the running back position with Ahmad Bradshaw and Brandon Jacobs, but would be able to use Barber in roles that best suit his skill set.
The pressure wouldn't be too high on Tiki to be a huge contributor and the Giants would have a running back that would learn quickly.
There wouldn't be any issues transitioning him back in to the offense and he could potentially give them a very versatile backfield.
While Tiki Barber wasn't always the most popular guy in the locker room, he was a big enough contributor that he would have been worth giving a look.
Tampa Bay Buccaneers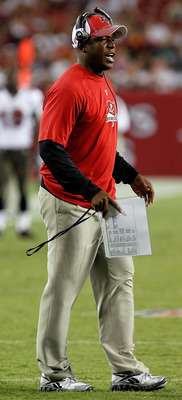 J. Meric/Getty Images
Another young team that has the chance to make some noise in the NFC this year.
The Tampa Bay Buccaneers surprised everyone around the NFL, with a 10-6 record in one of the toughest divisions in football.
With a young quarterback in Josh Freeman, it would be best to give him as many options offensively as possible. Fortunately for Tampa Bay, LeGarrette Blount broke out in his rookie year and showed tons of promise for the future.
Still, their depth at the position is minimal. Earnest Graham is the back up and while he has been serviceable, they could do better.
With his brother Ronde already on the team, Tiki would have an easy transition into the locker room. He would be an asset on offense while not having to take on the tough, in between the tackle runs.
This could be the ideal situation for Tiki as well. He has a chance to play on a winning team with his brother.
If any team is still going to give Barber a call, it would be Tampa Bay.
Keep Reading