Dallas Cowboys: A Case For Aaron Maybin
September 5, 2011
Rick Stewart/Getty Images
The 2009 NFL Draft will forever be remembered as forgettable by Cowboys fans. To date, Dallas still retains a kicker named David Buehler, chosen in the fifth round, and very little else. I like to call it the "Backup Draft." Even Buehler requires help from another kicker who can actually put the ball between the goal posts for three points from time to time.
Numerous blunders by self-nominated Owner/General Manager Jerry Jones, such as the Roy Williams trade in 2008, have left the Cowboys very top heavy at some positions and razor thin at others. Inside linebacker would be among those places where the Cowboys had better make a move and soon.
Bradie James has proven to be an average to good inside linebacker. This is a shame because he is basically the only guy at his position the Cowboys have really hit on since switching to the 3-4 some six years ago. But remember that this 3-4 thing requires two inside linebackers as opposed to just having a middle linebacker in a 4-3.
The Cowboys have either ignored the other spot or just plain phoned in efforts to fill it in recent years.
Remember Kevin Burnett, Jason Williams, Bobby Carpenter or Akin Ayodele?
My personal favorite was Zach Thomas.  When he was signed by the Cowboys during the '08 offseason it was my own brother who sounded concerned. Trying to rationalize this strange idea I remember stating that Thomas, especially at his age and limited size, would be used only in the nickel. I thought that sounded pretty good since we already knew that Carpenter could not hold the fort in that role or any other.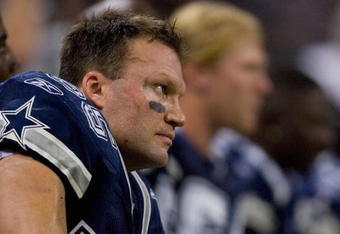 Dilip Vishwanat/Getty Images
Nope. Dallas started Thomas in 2008 and he retired following that season. Can you blame him?
Back to that 2009 NFL Draft. I recall Aaron Maybin being selected by Buffalo with the 11th selection. It took the Bills just two seasons to decide that Maybin was not what they were looking for. After finishing this year's training camp with the New York Jets, Maybin was released after just a couple of weeks wearing green and white.
Should the Cowboys jump in and sign Maybin?
Absolutely.
A team with as many holes as the Cowboys have really can't afford not to.
I have heard Jones say time and time again that taking risks is the right thing to do so long as the reward outweighs the penalty if you end up on the losing side.
Signing Maybin presents no risk at all, especially on the financial end. He signed with the Jets for the league minimum and would do the same with Dallas. Why not put a fraction of that inflated Andre Gurode salary to good use? If things do not work out then at least you have not spent multiple premium draft choices or sustained public relations disaster.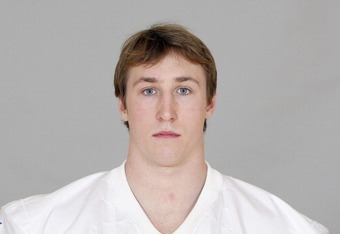 Handout/Getty Images
A solid discussion against signing Maybin might include the fact that he played defensive end in college and was expected to improve Buffalo's pass rush. This is the only reason he was chosen as high as he was. Tweeners usually backfire, especially in the 3-4 defense where the NFL generally looks to college ends to convert to outside linebacker in the popular scheme that has taken over much of the league.
I never understood the logic of selecting a guy who's never played pro football in the first round only to ask him to change positions. This seems like a very, very risky proposition.
Asking Maybin to move inside to either back up Bradie James or one day play alongside Nittany Lions teammate Sean Lee hardly seems like a reach. Maybin is big enough and athletic enough and he does have some pass rushing skills.
If there is one thing we have been hearing about new defensive coordinator Rob Ryan's defense it is that it is highly unconventional and unpredictable. Maybin would fit this role pretty well since no opponent would have any idea what the hell he would be doing from one down to the next.
The Cowboys already like playing, by far, the smallest nose guard in the NFL in Jay Ratliff. Drafted as a defensive end in 2005, Ratliff hardly brings the expected build or tools to his position facing the strongest part of the opposing offense front. But there is some gain in that Ratliff can penetrate sometimes and wreak havoc in the opposing backfield.
The Cowboys drafted Randy White to play linebacker. He ended up a tackle and now resides in Canton, Ohio in the Hall Of Fame.
See what I mean?
If going against the grain is what Dallas wishes to continue to do then Maybin could be a nice addition.
The Cowboys presently have three inside linebackers on the roster heading into Week 1 against none other than the very team that just released Maybin on Sunday. For the league minimum, I take this risk in a heartbeat.