2012 MLB Free Agency: 10 Big Names Who Will Re-Sign This Offseason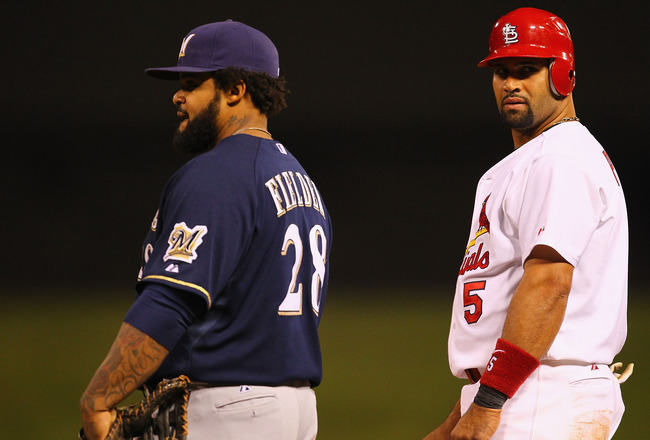 Dilip Vishwanat/Getty Images
With both the waiver and non-waiver trade periods behind us, all speculation has turned to the 2012 free agency period.
While it's fun to speculate which teams will land Major League Baseball's hottest free agents, in many cases the home team ends up retaining their star player.
That is the case for the 10 players on this list, as they are all vital components to their current clubs in the present and in the future.
Here are 10 big names who will re-sign this offseason.
Five Big Names Who Will Find a New Home
J. Meric/Getty Images
Before we jump in to the top 10 players who will return to their current teams next season, here is a look at five players who I believe will find a new home during the offseason.
1. C.J. Wilson
As much as the Rangers need Wilson's arm at the top of their rotation, the Yankees will outbid themselves until he ends up in pinstripes.
2. Jose Reyes
Considering the Mets are clearly rebuilding and a long way away from being a legitimate contender, it would make absolutely no sense to lock up Reyes in a mega-deal that would potentially expire before the team even becomes competitive.
3. Heath Bell
Although Bell and the Padres claim to be open to the idea of a contract extension, this is the closer's first and only chance to land a big deal on the market. You can bet he will sign with the highest bidder.
4. Roy Oswalt
While the Phillies would love to keep Oswalt in their rotation with Halladay, Lee and Hamels, the chances of the team exercising his $16 million option are slim to none.
5. Francisco Rodriguez
The Brewers acquired K-Rod as a five-month rental and that's all. Being the youngest closer on the market could help Rodriguez land the most lucrative among all closers on the market.
Michael Cuddyer: Minnesota Twins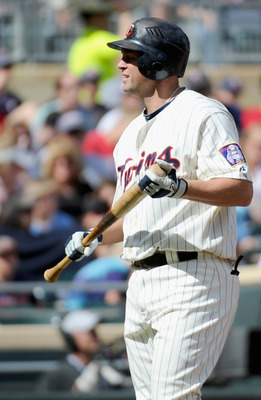 Hannah Foslien/Getty Images
Michael Cuddyer has spent his entire 11-year career with the Minnesota Twins. If the team wanted to let him go, they would have sent him to one of the many interested parties before the July 31st trade deadline.
Coming off a season that saw him make his first All-Star appearance at 32 years old, Cuddyer will be looking for the last big contract of his career.
Cuddyer is invaluable to the Twins and has always been an underrated player throughout his career. He is respected in the locker room off the field and he can play right field, first base and third base on the field.
The Twins will do whatever they can to retain his services.
Jimmy Rollins: Philadelphia Phillies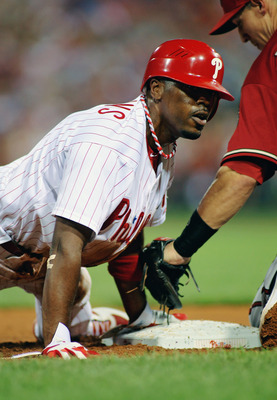 Len Redkoles/Getty Images
As the heart and soul of the Phillies, the team will do everything possible to ensure Jimmy Rollins spends the remainder of his career in Philadelphia.
The 32-year-old Rollins has been marred by injuries over the last two seasons which has hindered his offensive production, although he seemed to regain his power-stroke before going down last month.
The former NL MVP is wrapping up the final year of a very team-friendly contract that saw him max out at $8.5 million per season. He will probably be handed a similar annual amount in an extension.
The only downside of the deal is that it all but ensures Roy Oswalt will not be back in Philly next season.
Mark Buehrle: Chicago White Sox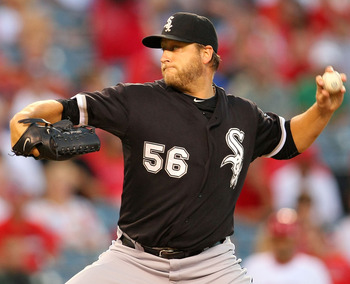 Victor Decolongon/Getty Images
Similar to Rollins, Mark Buehrle is the face of the Chicago White Sox and they want nothing more than to lock him up for the remainder of his career. Lucky for them, Buehrle doesn't want to play for anyone else anyway.
While retirement talk has made some headlines this season, it would make Buehrle one of the few players to leave the game well before their time. Plus, he loves the game too much to walk away so soon.
Buehrle, who will turn 33 years old before the start of next season, has been a fixture with the White Sox since he was 21 years old.
He owns a career 3.84 ERA and has been one of the most consistent pitchers in baseball over the last decade.
Jose Valverde: Detroit Tigers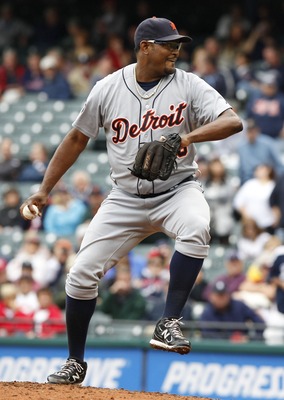 David Maxwell/Getty Images
The Detroit Tigers hold a $9 million option on Jose Valverde's services for 2012. While I don't believe they will pick up the option, I do believe he will be back in Tiger Town next season and beyond.
With an abundance of capable closers heading into free agency this offseason, the price value of all relief pitchers will drive way down. It is the perfect opportunity for the Tigers to lock him up to a four- to five-year deal for around $7 million per season.
If the Tigers wait until next season, Valverde will headline the class and his value will rise.
Valverde leads all of baseball with 42 saves this season and has compiled a 2.75 ERA in two seasons with the Tigers.
David Ortiz: Boston Red Sox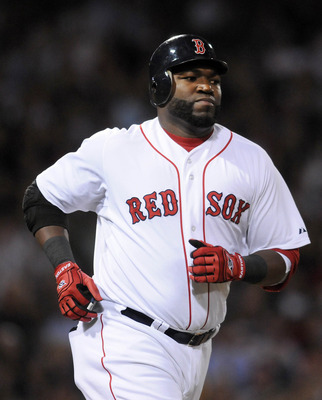 Darren McCollester/Getty Images
There isn't much that needs to be said here.
Not only is the market for a soon-to-be 36-year-old designated hitter rather bare, but the Red Sox wouldn't let David Ortiz walk either way.
Ortiz is approaching another 30 home run, 100 RBI season, and he even has his batting average well above .300 this year.
He is in line for a deal around three years, $21-24 million from the Red Sox.
Jonathan Papelbon: Boston Red Sox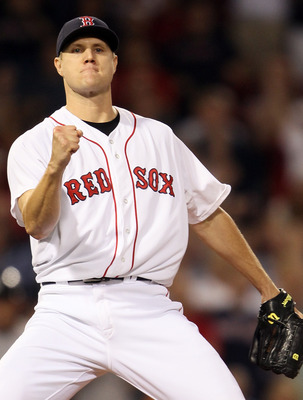 Elsa/Getty Images
Jonathan Papelbon is the next Red Sox player heading towards free agency, but just as they will with Big Papi, the Sox will find away to keep Papelbon in Beantown.
Yes, the Red Sox have Daniel Bard "waiting in the wings" to assume the closer's role, but Papi is too good to let walk away. This is especially true in a free-agency period where a solid half-dozen closers will be on the market.
After a down year in 2010, Papelbon has regained form in 2011 with a 2.75 ERA and a 0.934 WHIP.
Carlos Beltran: San Francisco Giants
Tony Medina/Getty Images
The San Francisco Giants expected a lot out of Carlos Beltran after sending top pitching prospect Zach Wheeler to the Mets for the slugger in July.
There is no doubt that before acquiring Beltran, the Giants believed they'd be able to lock him up this offseason.
With offense as the only concern in San Francisco, putting Beltran in between Buster Posey and Pablo Sandoval could spell dominance for the Giants over the next few years.
Beltran will be 35 years old this offseason, so he'll be looking to sign the last big deal of his career.
CC Sabathia: New York Yankees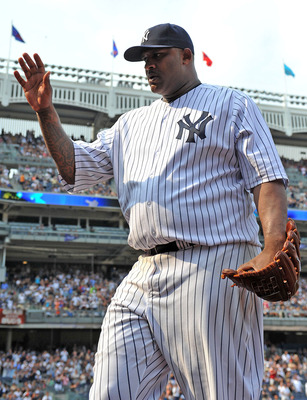 Christopher Pasatieri/Getty Images
This is another re-signing that hardly deserves mentioning.
The New York Yankees are probably the only team that can afford the four-year, $92 million deal that Sabathia will be opting out of after the season.
In typical Yankees fashion, the team will continue to bid against themselves to ensure CC will spend the next seven years in pinstripes.
Considering Sabathia has gone 59-22 with a 3.17 ERA during his three-year stay in New York, it's almost hard to blame the Yankees for bending over backwards for his services.
Albert Pujols: St. Louis Cardinals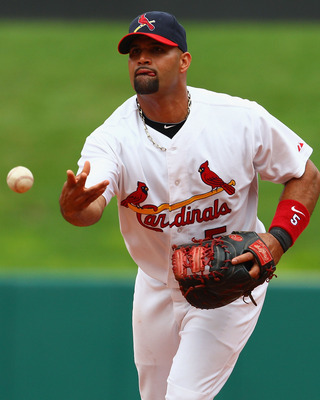 Dilip Vishwanat/Getty Images
Albert Pujols is potentially the biggest name to hit the open market this offseason. Although it's been fun to speculate as to where Prince Albert would end up next season, was there really ever any doubt that he would return to St. Louis?
Pujols is wrapping up the worst statistical season of his career at 31 years old. That doesn't mean teams won't be interested in signing him, but I think now the Cardinals will end up offering him the most money.
The three-time NL MVP still has plenty of shelf-life remaining, and the Cards know they will be contenders year in and year out with Pujols manning first base.
Prince Fielder: Milwaukee Brewers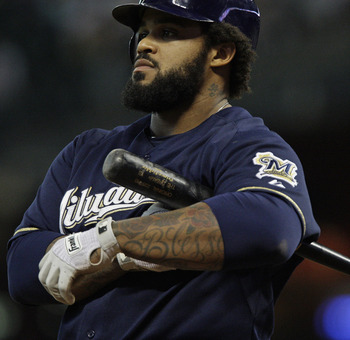 Thomas B. Shea/Getty Images
While Pujols may have been considered the biggest potential name on the market before the season had begun, Prince Fielder is now the King of the 2012 free-agent class.
Fielder is four years younger than Pujols and continues to improve all aspects of his game every season. Simply put, Fielder has much more upside.
That being said, with teams like the Red Sox and Yankees being without need of a first baseman, both Fielder's and Pujols' market value immediately take a dive.
The Brewers, on the other hand, can solidify their future by bringing Prince back to town. While he may have to take a slight discount depending on his suitors, the most important thing to Prince is winning. A deep run to the postseason this season will only increase the possibility of Fielder returning to Milwaukee for the next half a dozen years.
Jeffrey Beckmann is a MLB Featured Columnist for Bleacher Report. Follow Jeffrey on his new Twitter account for all of his latest work. You can also hear him each Friday at 1 p.m. EST on B/R Baseball Roundtable.
Keep Reading