NFL Roster Cuts: 3 Big Names Who Will Struggle to Find New Homes
September 5, 2011
Jonathan Daniel/Getty Images
The last week of the preseason is a tense time for everyone in the NFL. That's the time when the mass roster cuts happen. If you aren't on the chopping block, a close friend of yours on the team is and will be cut.
It's even more tense for players that know they will have trouble catching on. For many, being cut will be their last act as an NFL player.
Here are three players that will spend more time on the scrap heap waiting to be picked up than they would like.
Tommie Harris
Playing time and productivity have both dipped significantly for the former Pro Bowl defensive tackle.
The fact that the Bears, a team that covets veterans who have been with the team for a while, let him go tells you that he was struggling.
He landed with the Colts, a team desperate for defensive talent. As big a sign as it was that the Bears let him go, it's an even bigger sign of his downturn in production that a team as devoid of defensive talent as the Colts would outright cut him after the preseason.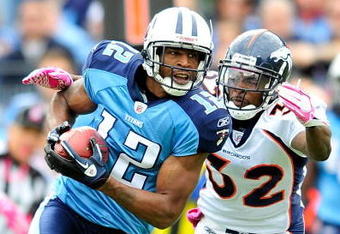 Grant Halverson/Getty Images
Justin Gage
Gage is a receiver that has put together a surprisingly long career given that he has never been more than a bit player.
The run appears over, though, as the Titans have cut him loose.
The Titans have given Gage chances to be a starting receiver, and it's never quite worked out. He did have one season where he had 55 catches, but his production steadily declined from there.
Generally, decent receivers are easy to find, and with that being the case, most teams would rather take a chance on a younger player with more upside.
Igor Olshansky
The former Chargers defensive tackle was just cut by the Dallas Cowboys.  
Olshansky was a big part of some good Chargers teams and he was pretty productive statistically, considering defensive tackles don't usually put up stats.
Olshansky likely won't want to come cheap, so that might hurt his value right out of the gate. He has enough of a track record of success to get signed again, but it will take some time.