Rashad Jennings' Injury Makes Room for Recently Waived Chester Taylor
September 4, 2011
Ronald Martinez/Getty Images
Jacksonville is in a very difficult position at the moment with the unfortunate injury to running back Rashad Jennings.
Considering Maurice Jones-Drew's recent return from knee surgery, the Jacksonville Jaguars face the very scary possibility of having a severe deficit at the running back position if MJD is re-injured or cannot handle the workload.
Although Jackosnville's draft pick Deji Karim is next in line to become the successor, the concerns are if the young back is capable of handling the NFL this soon.
With uncertainties with David Garrad's longevity due to his back, coupled with the inexperience and questions if Blane Gabbert could be ready to start at quarterback, the only reasonable thing to do for Jacksonville is to look to the bargain bin of recently cut players to help stop the bleeding.
In such an emergent situation, it would be sensible for the Jaguars to try to bring in a proven back to serve as Jones-Drew's backup and provide a bridge between his experience and that of the rookie prospect's.
With the recently waived players from final cut downs, the one name that jumps off the page to fill this type of role would be Chester Taylor.
Taylor played for nine seasons and has served as a starter at times, but is most familiar with the role of a backup, as he has served for NFL elite backs such as Adrian Peterson and Matt Forte.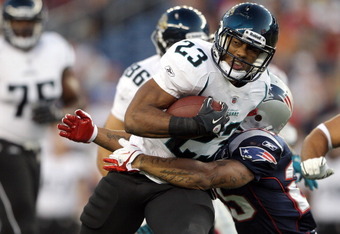 Elsa/Getty Images
The experience that he would bring to Jacksonville as well as the understanding of the role that he would be utilized in makes this choice a logical one.
Chester Taylor is not looking to start, and knows that his roles, and perhaps time, in the NFL is limited. Either way, Taylor would be a welcome addition with this understanding coming into the organization.
The benefits to Taylor also extend to his ability to catch passes out of the backfield as he has had success throughout his career doing so.
Taylor has racked up over 2,000 yards receiving and scored six touchdowns in this fashion.
Although Taylor's production has declined in Chicago he still is a capable player that can regain his form and post numbers similar to those from his Minnesota days when he was secondary to Peterson.
With the concerns about the offense in Jacksonville, adding Taylor would give the team something to work with and his role with the Jags could be spread to many different aspects of the offensive scheme.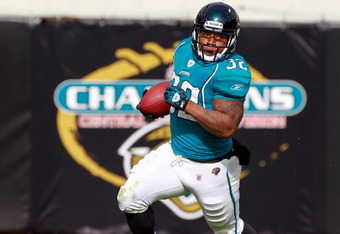 Sam Greenwood/Getty Images
Maurice Jones-Drew needs to have a competent reserve that can relieve him to avoid overworking him thus protecting him from becoming overwhelmed as the season progresses.
The other option for Jacksonville is to stay put and forge ahead as is.
I don't think that this is a wise decision because of the risks involved. 
There is a clear need for depth in the backfield, and although there are other players available such as Clinton Portis, Larry Johnson and such; Chester Taylor hasn't had a considerable layover and would be ready to play come the start of the season.
If Jacksonville is smart, they'll jump on this opportunity as Chester Taylor has just fallen into their lap.