Green Bay Packers Cut Roster: Ruining Dreams and Careers One Player at a Time
September 4, 2011
Matt Ludtke/Getty Images
Greetings from the slightly cool Frozen Tundra, friends!
Well, another preseason has come and gone, and the Green Bay Packers are ready to rock and roll. As am I! With the preseason at a glorious end, that means yesterday, while hanging out with my BFF/former drinking buddy Charity, I heard a wail rise from the East. The skies darkened and rain began to drench the sorrow-drenched earth. It could only mean one thing, my friends.
The Packers cut their roster down to 53 very fortunate men. That could be the one thing that explained the wails, right?
Ahh, yes, the Green Bay Packers released their "thank you for your interest in the Green Bay Packers, but please allow us to show you where the airport is" list last night and while I was out "carousing," I could not review it until this morning. While I only drank one beer during the "carousing," I've found that one beer, and one beer alone, can make you turn into a feisty wildebeest when reviewing the cuts to the Packers roster.
Aren't you glad I woke up in such a good mood? So, let's get to it, shall we?
The Green Bay Packers have elected to cut Brandon Underwood from the roster. While I have not seen any reasons as to exactly why this happened, other than not performing up to par, I'm thinking this all relates to the "Packers people" comment that was made by the organization.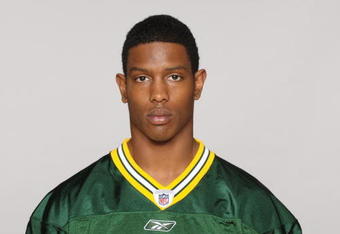 NFL Photos/Getty Images
As I have written in the past about Mr. Underwood's high jinks (i.e. partying with women of "questionable character" in the Dells, getting into a physical altercation with his wife over a Super Bowl necklace), his release causes me a slight tickle of concern. He got into a little trouble here in Green Bay, where players find themselves held up to high standards. If another team picks him up, and he should be because he is a good player, what is going to stop him from making even worse decisions?
Best wishes to you, Mr. Underwood.
 Along those same lines, Ricky Elmore was released, as well. Reports indicate that Elmore had a little bit of "sassiness" to him. Well, we like a little sassy in Wisconsin, but not too much.  We are a "stoic" people, here in Wisconsin, and don't really handle "drama" too well.
What a wealth of riches the Packers have to release Elmore, as he, too, seemed like he would be a beast on the football field. He had interesting hair, too. As the Packers seem to have an eccentric line-up of hair-dos, Elmore's would have fit right in.
However, considering that the Green Bay Packers have Frank Zombo, all other linebackers in the league should probably take notice. In case you missed it, Zombo injured his shoulder during practice in a collision with John Kuhn. He played against the Arizona Cardinals but later released information stated that he had a broken scapula. As I am not a doctor, I had to double check what in the heck a scapula was.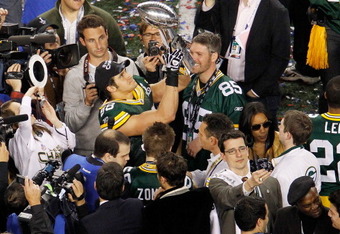 Tom Pennington/Getty Images
Yup. Zombo played against the Cardinals with a broken shoulder blade. Let me repeat that: he played a preseason game, with a broken shoulder blade.
We need to keep Frank Zombo. And possibly clone him, as it seems he is immune to pain. All other Packers, please take note of this: if you think to yourself "Hey, I'm just not feeling it today and I'm not going to give 110 percent," you just need to look over at the sidelines and see your buddy Frank standing there.
The only comparison that I can make is this:  My Grandpa, Jiggs, was working outside a few years ago, cutting down brush with a chainsaw.  Well, he zipped the saw through his boot and proceeded to almost completely cut off one of his toes.  While a normal man would stop and check things out, Jiggs continued his brush cutting.  Once that was completed, he returned to the house and asked to be taken to the emergency room.  In a tough man competition between Frank Zombo and Jiggs, I would probably place a good wager on Frank due to the age difference.  However, Mr. Zombo, if I may be so bold to suggest that you do not make any sudden movements towards Jiggs during this competition, as he has been known to bite and fight dirty.
FYI:  We took away Jiggs' chainsaw once we realized that he was trying to cut off body parts  at a rate of one every two to three years a few years back. While we truly believe Jiggs was not a danger to others, every time he got the saw out, the family feared a "Wisconsin Chain Saw Massacre" type movie of the week.  And who needs that kind of worry?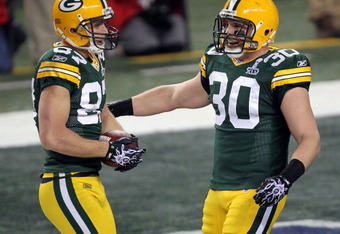 Mike Ehrmann/Getty Images
In addition, John Kuhn must be made of steel. Seriously, you hit someone so hard that you broke a solid bone. I would want you to be on my side in a bar fight, good sir! Not that bar fights happen in my corner of Wisconsin or anything, but you would be my first choice as the dude that I'd stand behind saying, "Yeah! What John Kuhn said!" while Manpig throws additional taunts.
And, during the whole altercation, I can picture at least one of the patrons screaming "KUHHHNNN!!!" repeatedly.  It may or may not be my little Manpig.
Enough said.
Anyway, congratulations to the players that made the 2011-2012 Green Bay Packers. And those of you who were cut, good luck! Please remember your time in Wisconsin as a good experience, except for the whole being cut from the Super Bowl Champions thing.
On to the Saints!