Player Spotlight: Mohamed Massaquoi and His Role in 2011
September 4, 2011
Handout/Getty Images
With Colt McCoy leading the team, and the ability he has shown to operate in the West Coast offense, the Cleveland Browns are hoping that the long dark period of Browns football is finally over.
With the excitement and expectations surrounding the team, there still stands an uncertainty of how the receiving corps will perform.
As the Browns embark on the 2011 season, the receiving corps consists of several players with strong ability but a track history of mediocre performance, mostly due to ineffective quarterbacks leading the offense.
What is admirable is the Browns' coaching staff's disposition showing the trust, faith and desire to work with the talent they possess and having the faith that they will emerge as capable players.
The Browns' 2011 draft choice of Greg Little added depth, and despite having a promising camp, the Browns decided that Little would be best suited deeper in the charts to allow him to mature.
Although I believe he could be a potential starter in Cleveland, Little should still have an impact in his limited role, which leaves the bulk of the duties to Mohamed Massaquoi.
Massaquoi is the type of receiver who has the ability to be a great player but for the past two seasons he has been active, has had extremely low production.
Massaquoi has only averaged 35 receptions, 554 receiving yards and scored a total of five touchdowns in his 31 games as a Brown, mostly due to an anemic offense in Cleveland.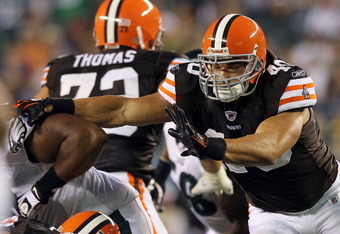 Jim McIsaac/Getty Images
Massaquoi has shown flashes of his ability to be a reliable receiver in games against Miami, Cincinnati, Detroit and Pittsburgh between his 2009 and 2010 seasons, where he averaged 107 receiving yards in those four contests.
Although Massaquoi had remained silent through most of his games in those years, these are examples of his ability to be effective and the reason why the coaching staff are willing to wait and see if he will break out this year.
Despite his foot injury, Massaquoi has benefited from the preseason by intensely watching the team execute its game plan, and said that it has helped slow down the game for him. 
He also added that despite the benefit of actually being on the field and getting the reps, he hopes to make an impact for the Browns this year.
What Massaquoi needs to do is establish himself as Cleveland's go-to guy, as I don't feel Joshua Cribbs is capable of bearing the primary workload, which also contributes to the team's reliance on Peyton Hillis and Benjamin Watson.
With Massaquoi back on the field and able to make his presence felt, that will relieve some of the burden from his fellow teammates, which can only benefit the team overall.
In order for "Massi" to truly benefit the team, he needs to raise his production levels.  If he is able to average five receptions a game, that would put him on pace for an 80-reception year.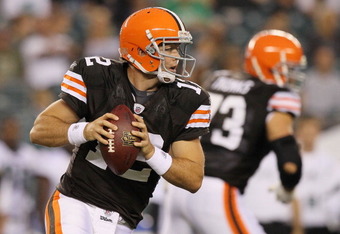 Jim McIsaac/Getty Images
Realistically, he would most likely see his numbers rise from his 35 receptions to about 50 which would be a good progression, one that he can handle, and not detrimental to the offense as he will have supporting receivers such as Cribbs, Little and Robiskie showing improvement as well.
Massaquoi should also see his yards after catch improve as this system should afford him opportunities to run routes that will contribute to this.
With that said, I wouldn't be surprised to see his touchdowns improve.  Massaquoi should be able to arrive at six to eight scores, which is a marked improvement over his previous production.
The role of Massaquoi is one of the most important in the entire Cleveland offense and should be one of the prime factors for the Browns' rebirth in the NFL.  The hope is that he can stay healthy and his injury doesn't hamper his effectiveness.
There are a lot of questions that still need to be answered, and in regard to Cleveland's receivers, it all starts with this man.
I don't expect the Browns to go to the playoffs this year, but as they keep growing, they will arrive in the spotlight once again.
Look for Massaquoi's production to increase and for him to be a leader on the field and in the locker room.