Nate Burleson: Update on the Lions WR's Injured Elbow (with Picture)
September 3, 2011
Initially, the injury to Nate Burleson's elbow occurred last season in a regular-season game against the Dallas Cowboys on November 21. In that game, Burleson pulled in seven receptions for 97 yards and a score. Though Detroit would go on to lose the contest 35-19 to the Cowboys at Cowboys stadium, his performance in that game was a clear indication as to what a healthy Nate Burleson was capable of.
More importantly, Burleson was able to effectively manage the elbow injury throughout the remainder of the regular season.
The 2010 regular season represented more than Burleson's ability to persevere and compete at a high level, though. It proved that Burleson was capable of remaining healthy for the majority of a full 16-game schedule.
My initial analysis of the Burleson signing prior to the 2010 season was that Nate Burleson was a prolific play-maker worthy of a five-year $25 million contract…when healthy.
His injury history is slightly alarming: Prior to last season, the last time he started more than 14 games was in 2004—his second year in the National Football League. And the aforementioned elbow injury is beginning to develop into a lingering issue that could lead to missed time.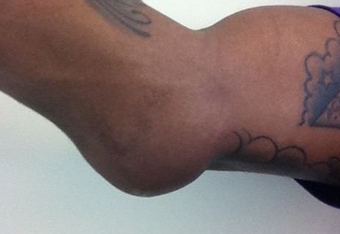 The injury suffered in the Cowboys game required "minor" offseason surgery to have the fluid drained and a grotesque bursa sac removed.
Prior to Burleson re-injuring his elbow against the New England Patriots in last Saturday's Week 3 preseason matchup, he looked as good as I've seen him in his career. A strong offseason regimen combined with successful elbow surgery has allowed Burleson to compete at an impressively high level. In only six preseason receptions, Burleson has recorded 100 yards receiving and three touchdowns. His myriad of Cris Carter-like sideline receptions has only solidified his rightful position opposite of "Megatron" in the Detroit Lions starting offense.
But all that came into question when Burleson, while securing another toe-dragging sideline reception, re-injured his elbow. According to Carlos Monarrez at the Detroit Free Press, Burleson broke the incision on his elbow—an injury that would require stitches. "It's just a superficial wound, but you also have infection and things like that, so we'll just cool our jets a little bit with him," coach Jim Schwartz said.
The re-aggravation of the surgically repaired right elbow was enough to hold Burleson out of Detroit's final preseason game at Buffalo. So when I hit Twitter and alluded to the importance of having a healthy Nate Burleson and his "#ToeDragSwag" in the lineup, he replied with:
Don't worry, I got 20 weeks of #ToeDragSwag on the way!
If Burleson's performance in his limited preseason play is any indication, Detroit Lions fans could be in for some fireworks this upcoming season. A healthy Lions offense is loaded with firepower. But more importantly, Burleson gives Detroit Lions 2011 second-round draft selection Titus Young a strong mentor and positive figure to model himself after.
Here's to a healthy Nate Burleson in 2011.