Tim Tebow Is a Victim of Circumstance: Held Hostage in Denver
September 3, 2011
Christian Petersen/Getty Images
Times are tough for Tim Tebow as he endures his own personal hell in the mile high city.
Drafted by Denver in 2010 (25th overall) Tim Tebow was looked at as a possible answer to the quarterback problems in Denver, with high expectations as a future leader of that team.
Entering the 2010 season, the Broncos still had a quarterback controversy bubbling with the drama circling around Kyle Orton after drafting Tebow in April.. 
Uncertainty about his future was at a fever pitch after Orton asked the Broncos for a trade as he wasn't ready to be second string to a rookie.
No one thought that Kyle Orton was going to pan out like he did after the Broncos happily parted ways with Jay Cutler, and fans and critics alike were expecting the young Tebow to be the heir apparent.
I don't think the Broncos thought that Orton would have worked out as well as he did given his up and down performance in Chicago, so despite the season Orton had in 2009, it seemed understandable that the Broncos drafted Tim Tebow.
The Broncos most likely didn't think Orton would be able to be a consistent leader and they looked for their future.  At the time his name was Tim Tebow.
It is interesting to see how Tebow was utilized by the Broncos.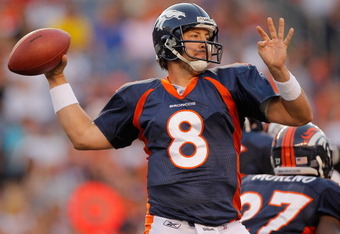 Justin Edmonds/Getty Images
In his rookie season, Tebow saw some action for the Broncos in nine games and some limited time in the huddle while Orton was dealing with a rib injury.
Tebow put together a quarterback rating of 82.1, and threw for 654 yards, with five touchdowns.  He also rushed for 227 yards and scored six times on the ground.
Tebow started 3 games at the end of the year, and played well enough for interim head coach Eric Studesville to be considered a strong candidate for the starting job in 2011.
Now enter John Fox as the head coach and John Elway in the executive office and the drama begins.
While Orton was asking for a trade, John Fox was coming into the organization.  Fox had recently ended his tenure as the Carolina Panthers' head coach when the club did not renew his contract.
I find it very interesting that one of the first things that Fox did as head coach of the Broncos was to personally evaluate Tebow, with an interview and workout.
The next thing Fox went on to do was to announce to the media that he wouldn't rush Tebow into the starting role.
It seems that despite Orton's request to be traded, John Fox already had his mind geared toward keeping the rookie Tebow in wait as he was already focusing on Orton and the Denver game plans.
Fox, who was recently let go by Carolina, had been burned by the experience of rookie quarterbacks in his previous position as coach with Carolina. Fox has always been known as a veteran friendly coach.
Fox had put faith in Jimmy Clausen to be the Panthers' quarterback and did not have the results he had planned on as the Panthers finished 2-14.
I think it is a fair assumption that Fox may have wanted to avoid jumping out of the fire and into the frying pan and reliving a rookie qb's growing pains in Denver, this time with Tebow.
During this year's training camp, Fox has also showed more respect and interest in Brady Quinn which has pushed Tebow further down the depth chart.  I believe that this move was also due to the fact that Quinn has NFL experience and would be Fox's choice anyway if Orton was traded or went down with an injury.
Tebow's performance in camp is surely affected by all of this. 
With recent trade rumors surfacing hinting at Miami acquiring Orton in a trade, it was Fox who stepped in and announced that Orton would be the starting quarterback.
It seems that Tim Tebow's personal hell in Denver has been created by the ego and mentalities of John Elway, John Fox, and Kyle Orton.
What is upsetting is how the organization has painted a picture of Tebow being an incompetent player and unworthy of the opportunity of playing a role in this organization.
It is a huge disrespect to air any internal laundry to the media in this fashion and equally upsetting to put a player through this turmoil.
What is even more peculiar is that the club is unwilling to trade or release Tebow and is almost punishing him by keeping him buried on the depth chart.  If Tebow isn't a factor in Denver, and won't be, then why would you not try to get something for him?
If I were Tebow, I'd ask to be released from my contract and try to find another team.  What hurts Tebow is the six million dollars that he carries, mainly due to the club expecting him to be their future.
The Broncos need to do the right thing.  They should admit they jumped the gun when they drafted Tebow and that they did so with assumptions of Orton not being capable of carrying the team.
I don't feel that Tebow should be handed a starting position. However, with limited reps in camp and no opportunity to compete, the Broncos can't assume that he isn't worth anything.