Los Angeles Angels of Anaheim: 14 Most "Angelic" Players in Angels History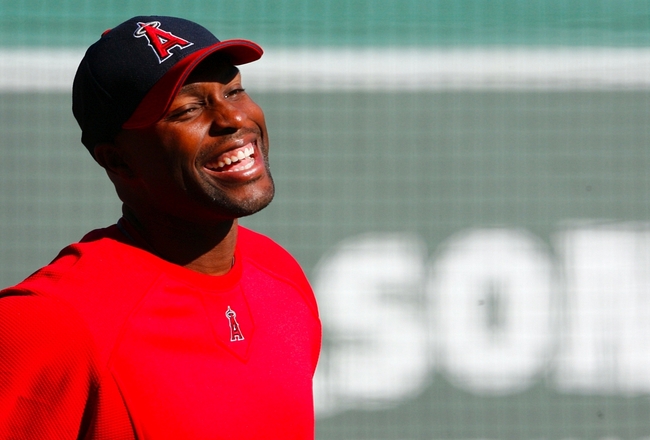 Jim Rogash/Getty Images
There's something unique about the Los Angeles Angels franchise, which you may not be able to identify if you've never rolled out to Angel Stadium for a Sunday afternoon game. There's an aura that permeates the team and the experience at their games that somehow makes them...different.
Maybe that difference started with their original owner, the Singing Cowboy, Gene Autry. In Autry's movies from the 1930s and '40s, he always portrayed an innocent and care-free cowboy, playing his guitar and singing on the back of his horse as he rode through the winding desert.
Strangely, that aura of straight-laced, old-fashioned goodness has continued to surround the franchise since its inception in 1961, so that when you think of the most angelic or most "Angel-like" players in the history of the franchise, there is a clear group of players that come to mind.
To be the "most angelic" doesn't mean you were the Angels' best power hitter, or that you won award after award, year after year.
Instead, the most angelic Angels have been those players who displayed that same sort of goodness and hard-working tenacity that Gene Autry embodied in his movies and life. To be the most angelic means you had to have been an Angels hero—not that you simply lit up the scoreboard.
Angels fans had to love you.
Those ranked highest on this list are the players who showed loyalty to the franchise, displayed the "Angel-like" mentality Autry begot, and, well, if they were great, they were ranked higher too!
Here are the top 14 most "angelic" Angels of all-time.
No. 14: Gene Autry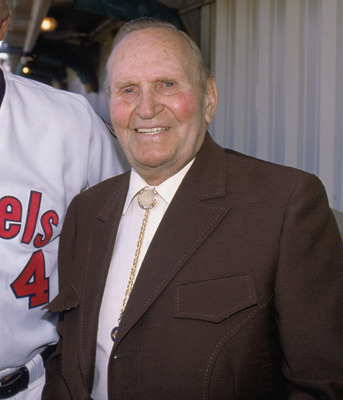 Ken Levine/Getty Images
Okay, okay, so Gene Autry was never a player for the Los Angeles Angels, but that shouldn't stop him from making the list of the "most angelic."
In addition to his squeaky-clean image as a radio, cinema, and television star, Gene Autry's memory is beloved by both Angels fans and players.
Ironically, his tenure as Angels owner was marred by poor play (just three division titles in 27 years of ownership), a practically revolving door when it came to team leadership changes (20 managers in the same time period) and financial failure, as toward the end of Autry's career he sold a portion of the team to a multi-billion dollar company in order to avoid bankruptcy.
Still, his "No. 26" was retired by the Angels to signify his being the 26th man on the baseball field, and the Angels have continued to cherish his memory long after his death in 1998.
No. 13: Buck Rodgers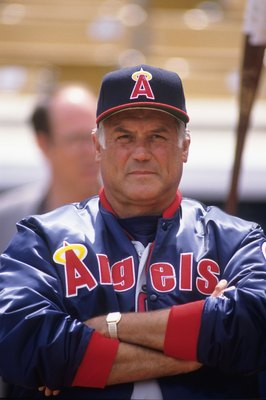 Getty Images/Getty Images
Buck Rodgers' career was never anything close to spectacular. Despite being a solid defensive catcher, the weak, switch-hitting Rodgers never won any major awards and was never chosen for any All-Star games in his nine-year career.
Regardless, he remains a very special part of Angels history as he was taken by the Angels in the Expansion Draft of 1960 and remained with the club until 1969. He played all of his 932 career games in an Angels uniform and was the franchise's first full-time catcher, even catching Bo Belinsky's 1962 no-hitter.
He came back to Anaheim in 1991 as the team's manager due to the popularity and leadership he enjoyed as a player, but he led the Angels to an underwhelming 140-173 record before stepping down in 1994.
No. 12: Jered Weaver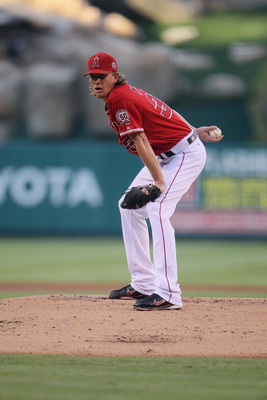 Jeff Gross/Getty Images
Jered Weaver may have just recently earned his wings when he signed a five-year deal with the Angels at a hometown discount. As a result, he has probably become the most popular Angel since Tim Salmon retired and will continue to be for years to come.
While his image outside Anaheim might be marred because of his on-field incident with Carlos Guillen earlier this year (and his rather ornery disposition, otherwise), he is still beloved by Angels fans. His popularity has soared so much in the last few months that he is nearly reaching the point where he is beyond ill repute.
Angels fans have come to rely on his 7 IP/1 ER/6 K stat-line night in and night out, and he has continued to deliver. The extremely high expectations he sets for himself jive with the Angels' code of hard, blue-collar work, even though on the mound, he sometimes appears far from angelic.
No. 11: Troy Percival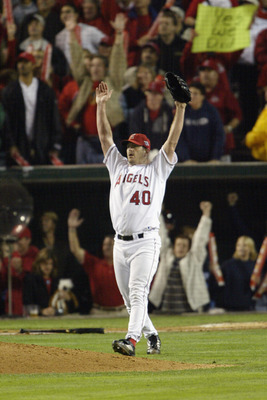 Jeff Gross/Getty Images
Troy Percival will always have a special place in Angels history for closing out Game 7 in the 2002 World Series, delivering the Angels' first-ever World Series championship.
Known affectionately as Percy, Percival was a fan favorite throughout his time with the Angels. A hometown boy himself, his charming personality and great desire to win made him a favorite in the bleachers and the clubhouse.
Although he squinted as he took signs from the catcher and had his fair share of wild throwing, his intensity on the field was never taken as outright aggression. And while opposing hitters hated to see him come out of the Angels bullpen in the ninth inning, Angels fans loved him for the intensity and passion he brought to the game.
No. 10: Chili Davis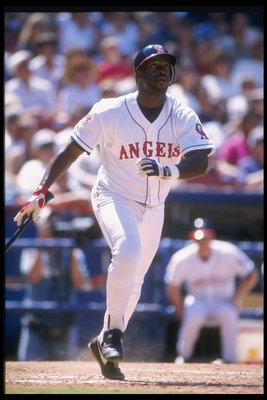 Stephen Dunn/Getty Images
Chili Davis was the type of unassuming, everyman kind of power hitter that Angels fans have come to love (i.e. Tim Salmon and Garrett Anderson).
But Chili was the first of his kind.
His calm demeanor and consistent play earned him a ton of respect in the Angels locker room, and those same qualities were the ones that endeared him to Angels fans. In his two stints with the California Angels, Chili Davis bore his tacit role as team leader with humility and grace, and that's why Angels fans loved him.
No. 9: Jim Fregosi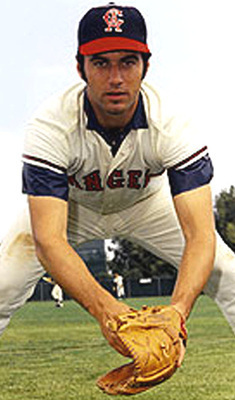 Known for his rugged good looks and stellar play both offensively and defensively, Jim Fregosi was the Angels' first big-league star. One of the original Los Angeles Angels, Fregosi was drafted in the expansion draft in 1960 and stayed with the Angels through 1971. Later in his career he also returned to Anaheim to manage the squad.
His extreme popularity combined with his outstanding play helped lead the Angels to retire his No. 11, and he will always be remembered as the Angels' first real major-league star.
No. 8: Rex Hudler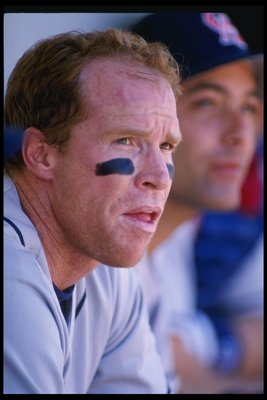 Otto Greule Jr/Getty Images
Although Rex Hudler was a utility journeyman for the majority of his career, he found his place in Anaheim as one of the most blue-collar, beloved players ever to don an Angels jersey.
The "Wonder Dog" enjoyed the best year of his career with the Halos in 1996 when he batted .311, hit 16 home runs and swiped 14 bags. But Hud was remembered less for his stats in Anaheim and more for his Pete Rose-like hustle on every play.
However, what cemented Rex Hudler's "angelic" place in Angel history was his brief stint as color commentator on Angels' broadcasts. Coining corny but lovable handles and phrases for all the players on the team (i.e. "Gettin' 'Figgy' with it," for Chone Figgins and "Swim Upstream, King Fish" for Tim Salmon), Hudler enjoyed great success and popularity until he was fired in 2009.
In 2011, Angels fans are still calling for the Wonder Dog's return.
No. 7: Jim Abbott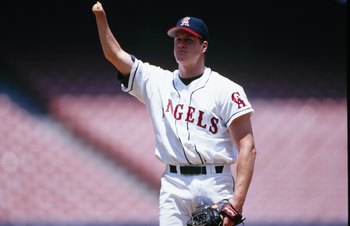 Jed Jacobsohn/Getty Images
Ugh! How can you not love Jim Abbott?
Born without the use of his right hand, Jim Abbott enjoyed a 10-year career and a no-hitter in the major leagues. He was an amazing talent and ended up first playing for the California Angels without ever having played in a minor league game.
This wonderful Wikipedia article can give you all the amazing particulars about his career, but the respect and admiration Jim Abbott won not only just in Anaheim, but across the country, show you why Abbott is on this list based on that merit alone.
No. 6: Nick Adenhart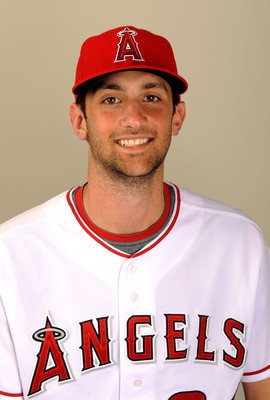 Kevork Djansezian/Getty Images
Nick Adenhart's career was cut tragically short when he was killed by a drunk driver in Fullerton, California on April 9, 2009. His death came on the heels of a six-inning, no-run performance against the Oakland A's, and he was just 22 years old.
Adenhart's death sent shockwaves through the entire organization, and the outpouring of fan emotion and sympathy was obvious, evidenced by the huge shrine fans erected outside Angel Stadium.
Although too young to ever have his career really take off, Adenhart will always be remembered as an Angel whose life was taken too early. He was well-liked in the locker room and will continue to be missed for many years to come.
No. 5: David Eckstein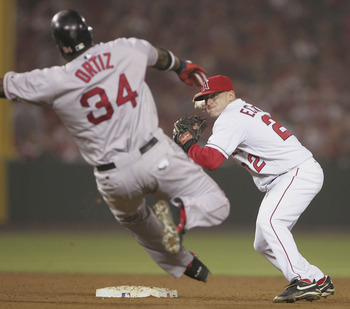 Stephen Dunn/Getty Images
Against all odds, David Eckstein made it to the major leagues as the starting shortstop for the 2002 World Series champions. He then went on to win the 2006 World Series MVP while with the St. Louis Cardinals.
But the fans Eckstein drew during his time in Anaheim were obvious after years of returning to Anaheim on other teams and always receiving warm ovations.
Everything about Eckstein was scrappy, and that's what Angels fans loved about him. Like Rex Hudler, Eckstein hustled on every single play out on the field, and he never took any of his good fortune for granted. He played the game with respect and class, and for that he is easily one of the most angelic players ever.
No. 4: Garrett Anderson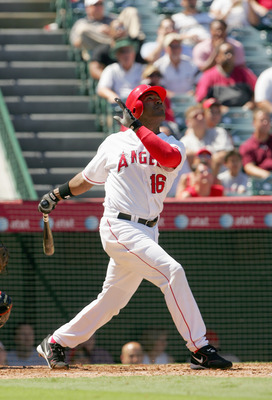 Stephen Dunn/Getty Images
Garrett Anderson is an all-time Angel great. He fit the same type of unassuming, consistent, power-hitting mold that Chili Davis constructed 10 years before him.
Although misunderstood by some fans early in his career because he was known to show no emotion out on the field, GA's career has been something like a fine wine ever since. As time goes by, Anderson has been remembered more and more fondly by Angels fans, and even his taciturn demeanor has been reinterpreted as something endearing.
He wasn't like Troy Percival who showed a lot of fire and passion, but Angels fans and players came to love and respect him for his even keel and great hitting all the same.
No. 3: Wally Joyner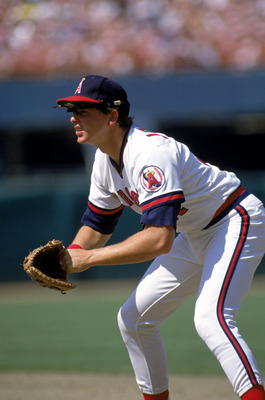 Stephen Dunn/Getty Images
Wally Joyner holds a much more revered place in Angels history than his good but rather pedestrian career would seem to have warranted.
Don't misinterpret what I am saying; he had a very good career with 204 home runs and a .289 career batting average—certainly nothing to scoff at. But in comparison to other Angel greats that share comparable popularity, Joyner is not one of the best.
Joyner's popularity, then, speaks to his on-field demeanor and poise. Known as one of the good guys throughout his career, Wally Joyner seemed to embody that old-fashioned goodness that Gene Autry did years before. Even though Joyner moved on to other teams later in his career, he'll always be remembered in Southern California as an Angel first and foremost.
No. 2: Torii Hunter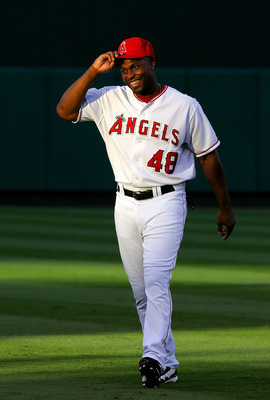 Lisa Blumenfeld/Getty Images
There is something infectious about Torii Hunter's smile and something delightful about watching his exciting play on the diamond.
Before coming to Anaheim in 2008, MLB fans marveled at Spider Man's play in center field for the Minnesota Twins. But since becoming an Angel, his popularity has soared to even greater heights in Southern California.
Known as much for his consistent hitting as his superb leadership in the Angels clubhouse, Torii Hunter is the perfect type of veteran any manager would love to have on his team. Fans adore him; players like him; Torii Hunter really is the perfect kind of ballplayer for kids and fans to admire.
No. 1: Tim Salmon
Lisa Blumenfeld/Getty Images
If you're an Angels fan, you know there could only be one man designated for No. 1 on this list: Tim Salmon. The guy is absolutely the face of the franchise and practically a saint in Angels fans' eyes.
Tim Salmon is perhaps the most underrated player ever, never once being elected to an All-Star game or receiving any season-end awards (besides his 1993 AL Rookie of Year) in spite of collecting 299 career home runs and a .282 batting average.
Regardless of his All-Star and year-end award snubs, Angels fans know what kind of talent they had in Tim Salmon. He was a legitimate five-tool threat and yet always played the game with grace and respect. He was the consummate gentleman on the field and a masher—not to mention the leader in a boatload of Angels career offensive statistics.
Tim Salmon really is Mr. Angel. And what could be more angelic than that?
Keep Reading

Los Angeles Angels of Anaheim: Like this team?