Chicago White Sox vs Detroit Tigers: It All Comes Down to This
September 2, 2011
Jonathan Daniel/Getty Images
It's the all-too-familiar position for the Chicago White Sox in recent seasons.
Thanks to being incredibly mediocre during the season, balancing a terrible start with a hot middle, Chicago's entire season now comes down to one series against an American League Central team. 
In recent seasons, it has been the Minnesota Twins who have all but shut the door on Chicago's season by sweeping them in a three-game series—usually with one blowout, one pitching duel and one game in which everything that can go wrong does go wrong. 
This season, with the Sox 5.5 games back of first place, it is the Detroit Tigers who are prepared to slam the door on one of the most disappointing seasons in recent memory for the South Siders.
Coming into the season, the White Sox were arguably the second- or third-best team in the American League, and now they find themselves on the brink of elimination.
A sweep isn't required to keep the season alive, but at this point in the season, what is gaining one game going to do for a team when it's more than five games back?
Tonight, it's John Danks versus Justin Verlander.
One would chalk this game up to the Tigers solely based on Verlander being on the bump, but the White Sox have actually hit Verlander better than any team in baseball.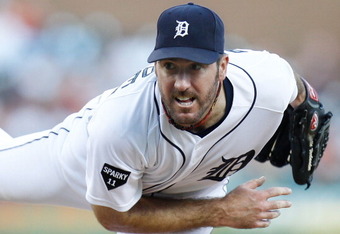 Gregory Shamus/Getty Images
Verlander has pitched 29 innings against the White Sox, giving up 25 hits, 13 earned runs, six home runs and four walks. As has been the trend of the season, the White Sox somehow found a way to go 1-3 in Verlander's four starts.
In the final two games of the series, the White Sox will send Mark Buehrle (anyone else realize Buehrle has a 3.05 ERA and has given up 17 earned runs in his last 71 innings pitched?) and Gavin Floyd to the mound to face Brad Penny and Max Scherzer, respectively.
The entire series, however, comes down to beating Verlander.
If Verlander cruises by the White Sox tonight, the team will fold, as has been the trend in recent seasons (in 2005 the White Sox had a mediocre second half and in 2008 they barely won a terrible division, so don't try to bring those years up).
If the White Sox beat Verlander...well, they still might fold in the next two games.
The White Sox are apparently the only team in baseball that can't hit Penny, as he sports a 5.07 season ERA, but has only given up six earned runs in 18.2 innings pitched against the White Sox. Only this White Sox team could make Bruce Chen and Brad Penny Cy Young candidates while hitting a real Cy Young candidate in Verlander hard.
It's truly mind-boggling, as has been the entire White Sox season.
If the White Sox happen to sweep the Tigers and win the division, what then?
White Sox fans should give them an obnoxious slow clap and shrug their shoulders.
You can't win a playoff series when you're still struggling to decide which players to start between Alex Rios, Adam Dunn, Tyler Flowers, Dayan Viciedo and Alejandro De Aza.
Real playoff teams don't have questions like that.
If the White Sox get swept or lose the series to the Tigers, what then?
Watch as Ozzie Guillen gets thrown under the bus for GM Kenny Williams' mistakes. 
It was Williams who gave giant contracts to the inconsistent Alex Rios when no one would touch him, and to Jake Peavy when the world knew he was bound for injury and a product of the pitcher-friendly PETCO Park.
It was Williams who essentially traded away young talent in Gio Gonzalez (3.22 ERA, 338 strikeouts, 172 walks in 368.2 innings pitched in the last two seasons) and Daniel Hudson (3.04 ERA, 214 strikeouts and 56 walks in 266.2 innings pitched since being traded from the Sox) for 24-year-old former third-round pick Zach Stewart (5.86 ERA in 27.2 innings for the Sox this season) and middle reliever Jason Frasor (seven earned runs and three home runs in 11 innings since joining the Sox).
Of course, it's hard to put blame on Williams for the Dunn debacle, since nobody could have seen that coming.
Then again, that's his job.
But it may not be for long.