Cleveland Browns: Winners and Losers in Week 4 Preseason Game vs. Bears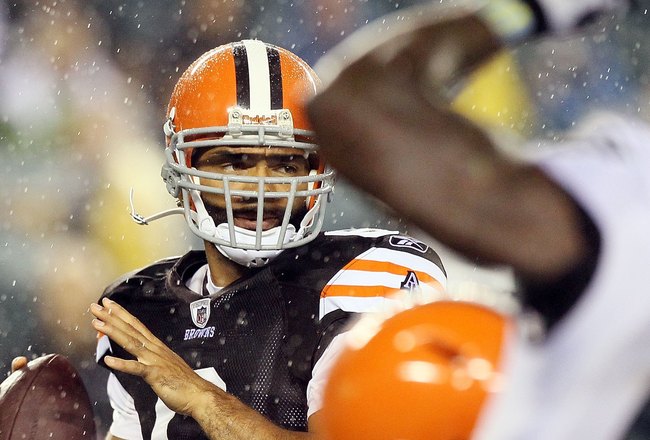 Jim McIsaac/Getty Images
18 of the Browns' 22 starters didn't set foot on the field in last night's 24-14 loss to Chicago in the final game of the preseason, and well, it showed.
Last night's game in Chicago proved to be largely a last-ditch audition for players on the cusp of making or not making the Browns' roster. A few players impressed, a few more did not and most didn't prove much about themselves one way or the other.
While the score was relatively close, the Bears appeared to be decisively in command of the game for the most part, proving that their backups could outplay the Browns' backups. We saw some disappointing performances out of some Browns players, but there were others who did well in the final preaseason game of 2011.
Following are this week's winners and losers for the Browns. Be sure to add your own Browns winners and losers for preseason Week 4 in the comments below!
1. Loser: QB Seneca Wallace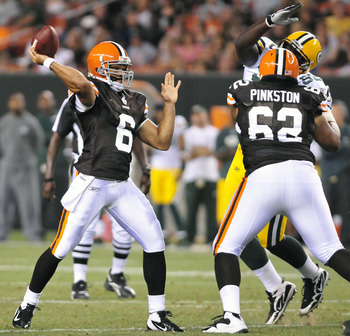 Jason Miller/Getty Images
If there was anyone left in town who had any doubts about whether Colt McCoy should really be the starting quarterback for 2011, I'd say backup Seneca Wallace did his best to allay those concerns last night.
Wallace, ever likable but unproductive, had another ineffective night in Chicago, going 4-for-9 for 52 yards, no touchdowns and no interceptions. He began the game going three and out on the Browns' first three possessions and unfortunately, looked worse than the numbers show for most of his snaps.
Still, in all fairness to Wallace, other malfunctions on offense contributed to the problem (more on this later), and the coaches were playing conservative, unimaginative football designed more to avoid injury than to score points. If last night's playbook had a title, it would have been "Survive" rather than "Win."
But in the fourth preseason game, as boring as that may be for the fans watching, it was the smart move. This team has seen enough injuries this preseason to last a lifetime, and the Browns don't need to have their backup QB go down in a heap before the season begins.
So we can't blame Wallace entirely for his lackluster performance. However, I have to say, what I've seen of Wallace throughout the preseason has made me very nervous for what will happen should McCoy be injured during the regular season. The best we can hope is that McCoy will stay healthy and that Wallace is just a little slow to warm up this season.
2. Winner: QB Jarrett Brown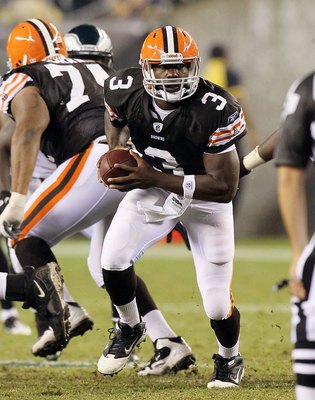 Jim McIsaac/Getty Images
What a difference a week made for third-string QB Jarrett Brown, who seemed to have gotten the wake-up call he needed when the Browns hinted that they may only carry two quarterbacks to begin the 2011 season.
Brown didn't exactly blow anyone away with his performance in Chicago last night, but he looked like he'd made huge improvements in his game over his last few appearances.
Be advised, this is all relative. Brown did thrown an interception and he certainly wasn't perfect. But he looked much better, and if you view his performance as a reflection of his third-string status, he didn't do too badly.
The interception was unfortunate, but Brown also connected with Rod Windsor for a 38-yard touchdown pass and finished 10-for-15 with 92 yards on the day.
Whether that was enough to sell the Browns on carrying three quarterbacks this season remains to be seen, but Brown did what he could to prove that he should be kept on the roster. The interception could be the thing that does him in, but all in all, I was pleased from what I saw out of Brown last night.
3. Loser: Offensive Blocking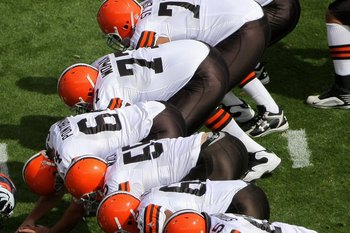 Doug Pensinger/Getty Images
The Browns' receivers' struggles to get separation and hang on to passes has been the headliner problem for the offense throughout the preseason, but last night it was another problem area on offense that caught my attention: blocking.
The O-line, the tight ends and the running backs all fell down on the job here last night. To be fair, the line did do a relatively decent job of protecting the QBs at times, but the Chicago defense recorded four sacks, forced a lot of bad throws and kept Wallace and Brown on the run more often than we'd like.
What may have bothered me even more, though, was the poor blocking for the receivers and ball carriers by the TEs and RBs. Several plays early in the game netted the Browns' offense tipped passes or receivers being unable to get open because the blocking of the TEs and RBs was, at times, absolutely horrendous.
Anyone trying to make a play relatively near the line of scrimmage was getting stuffed, and the Chicago defenders were all over the Browns' receivers no matter where they were on the field for most of the game.
Obviously, this would be far more concerning if we were talking about the play of the Browns' first stringers failing in this area, but it does bring the team's depth issues to the forefront once again.
4. Winner: Roster Bubble Players Who Impressed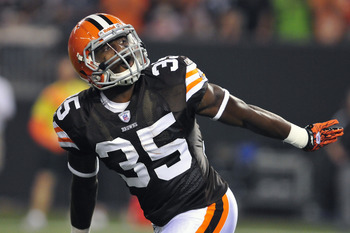 Jason Miller/Getty Images
Because last night was the last opportunity for the Browns to audition players on the cusp of making or not making the roster last night, we saw a lot of relatively unknown players going for broke and either coming up big or wiping out big.
Obviously, the majority of those players we saw last night who are low on the depth chart will not make the grade when the Browns make their final roster cuts on Saturday, but there were a few who made an excellent case for themselves in what we might call the final day of tryouts for the 2011 roster.
Among those who did was RB Armond Smith, for whom opportunity knocked when Brandon Jackson suffered a turf toe injury. And Smith has answered, playing well throughout the preseason and capping off his efforts with a solid performance that included a six-yard rushing TD last night.
Other roster bubble players who did well were DE Auston English, who did an excellent job of harassing the Bears' QBs and looks like a lock to make the team, and RB Quinn Porter, who put together a few solid rushes and had a nice 30-yard punt return that could help him secure a roster spot through his usefulness on special teams.
DT Scott Paxson also made a good case for himself by logging two sacks, and coming to you from the "out of nowhere" department, WR Rod Windsor, who may have shown too little too late, but made himself tough to cut by snagging a 38-yard touchdown pass and hauling in three catches—all three times he was targeted for 55 total yards.
CB James Dockery, possibly the most-discussed roster cusp guy for the Browns this preseason, had kind of a rough game, but despite (refreshingly humbly) stating before the game that he "didn't think he had a roster spot sewn up," he should have no problem making it through Saturday's final round of cuts.
5. Loser: Secondary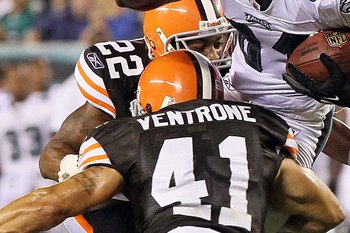 Jim McIsaac/Getty Images
There has been talk all throughout the preseason about how the Browns' secondary hasn't looked as good as many of us thought it would, and last night did little to allay those concerns.
While we need to be careful not to panic too much about any secondary shortcomings we saw last night, since most of the Browns' expected starters didn't play, the game certainly didn't help with our concerns about the depth we have in this area of the team.
As I mentioned earlier, roster bubble player James Dockery struggled, getting penalized several times (once that cost him an interception). Rookie CB Buster Skrine had a rough outing as well, getting beat in the end zone by Johnny Knox for a Bears touchdown.
DeAngelo Smith had problems, too, getting fooled by the Bears' offense and arriving too late to prevent the aforementioned Knox touchdown and struggling somewhat on other plays as well.
We didn't see most of the team's starting secondary last night, even those like Mike Adams, who are tenuously teetering between being considered a full-time starter and an injury sub starter, so fortunately, last night's failings in the secondary aren't a direct cause for concern. But again, it draws some attention to those depth issues we keep dealing with in multiple areas of the team.
Keep Reading

Cleveland Browns: Like this team?