New York Giants: What to Think About Victor Cruz After 36-25 Loss to Seahawks?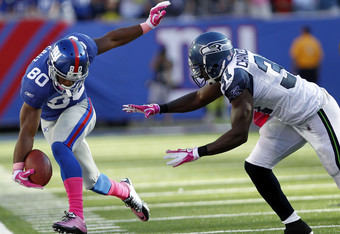 Jeff Zelevansky/Getty Images
Victor Cruz may have been the best player on the Giants on Sunday, and he may have been the worst.
In four games for the Giants, Cruz has put up some impressive numbers. (By the way, if this guy is a free agent in your fantasy league, pick him up. He has had 23, nine, and 20 points in the last three weeks.) Cruz has 225 yards and two touchdowns on 11 receptions.
But all these numbers tell a different story than his play.
Victor Cruz is inconsistent. If you watched the Giants-Seahawks game last Sunday, then you know that. Cruz lost the Giants the game in the red zone, and this isn't the first time Cruz has nearly lost the game for the Giants.
If you missed the game, you can check out highlights NFL.com highlights">here
In last night's loss, Victor Cruz was playing great. He had eight receptions for 161 yards. Everything was going right until the fourth quarter. Cruz started the fourth quarter with a huge 68- yard touchdown pass on an unbelievable catch. Things would turn downhill from there.
The score is 22-19 Giants with 11:25 left in the 4th quarter, Giants ball. Cruz catches a five-yard pass over the middle of the field, tries to stay on his feet and fight for a first down, and fumbles. It's Seattle's ball. Seattle kicks a field goal from the 20 after a nice stop by the New York defense, 22-22.
The Giants drove and kicked a field goal, making it 25-22.
One Seattle touchdown later, the score is 29-25, with just 2:37 left on the clock for the Giants to score a game-winning touchdown.
After a great drive (and two Victor Cruz catches), the Giants find themselves on the Seahawks' 10 yard line with all three time-outs and about 1:30 left on the clock.
Eli throws to Cruz, and Cruz tries to make another unbelievable one handed grab, but instead tips ball to the defense for a pick six. Game over. Cruz stumbled on his route, and instead of using two hands, Cruz only used one, and gave the ball to the defense.
This brings back memories of the Giants-Cardinals game last week where Cruz caught a ball, fell on the ground (giving himself up), and let go of the ball, which was pounced upon by the Cardinals.
While this was not ruled a fumble (and I think the refs got this one right), it's still scary having a receiver who is day and night. Day being the Cruz who makes great one handed catches, and is a number No. 2 WR for the Giants. Night being the bone-headed Cruz who is making dumb plays that can hurt the team.
So, with all the pros and cons of Victor Cruz, what should Giants fans think of him?
In the future, the 24-year old Cruz looks like he is going to be a good WR for the Giants. I mean, as Cruz gets older, he isn't going to make the "giving himself up'" almost fumble mistake that he made now.
For now, I hope this loss sits with Cruz all week, (and I also wish Coughlin will get on his case in practice) because it we need a more mature Victor Cruz next Sunday against the Bills.
As for what New York should think about Victor right now, Giants fans have a reason to be angry at him and get on his case a little. But overall, Giants should support Victor Cruz. Cruz is the only receiver (besides Nicks) who has shown potential. If Cruz is as good as he has shown over the last few weeks, the Giants will need him for years to come.
This article is
What is the duplicate article?
Why is this article offensive?
Where is this article plagiarized from?
Why is this article poorly edited?

New York Giants: Like this team?