Eagles Report Cards: Complete Grades for Every Position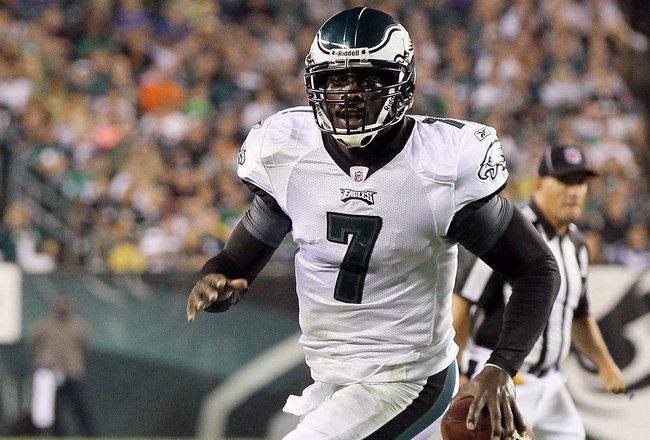 Jim McIsaac/Getty Images
As we enter in the final week of preseason, it appears the Eagles are pretty set on who is starting where. Several rookie has been officially named starters already, including center Jason Kelce, right guard Danny Watkins and linebacker Casey Matthews.
The Eagles have made it very clear that the next couple years will be Super Bowl or bust type seasons. Last season, the Eagles were weak at several positions, including right cornerback, linebacker and right tackle. Through the draft and a very aggressive free agency plan, the Eagles have solidified just about every position group by adding Pro Bowl caliber players and quality depth players as well.
How good can the Eagles be in 2011? They have plenty of talent, but there are still some serious concerns about the offensive line, linebackers and the durability of quarterback Michael Vick.
Quarterbacks: B+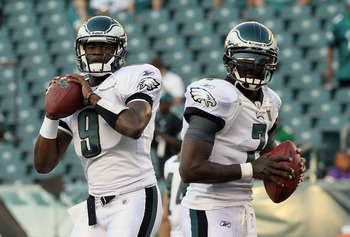 Jim McIsaac/Getty Images
The durability concerns regarding Michael Vick are fair, considering that he missed three games in 2010 due to a rib injury. Vick also looked worn down in the final few weeks of the season after taking one too many shots.
He will be looking to improve upon his best season of his career, when he threw for over 3,000 yards and 21 touchdowns with a 62.6 percent completion percentage in just 11 starts. He went from backup to franchise quarterback in a matter of weeks and recently signed a $100 million dollar contract.
Vick will be backed up by Vince Young, who has a very similar skill as Vick does. Young has a 30-17 career record, all with the Tennessee Titans. He also has the escape ability that Vick possesses along with a rocket arm as well.
Eagles fans can rest assured that if anything were to happen to Vick this season, he has a more than capable backup with plenty of big game experience.
Running Backs: A-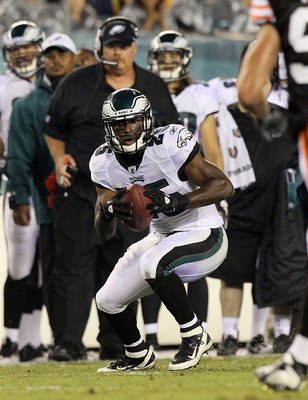 Jim McIsaac/Getty Images
The Eagles finally have that one two punch they have been missing at running back. LeSean McCoy has become a top five running back in the NFL in just his first two seasons and will split time with a very versatile but powerful Ronnie Brown.
Adding Ronnie Brown to the Eagles backfield will allow the Eagles to run the ball more and hopefully keep Vick fresher than he was in 2010. Brown also gives the Eagles another element to their offense, with his experience running the original wildcat offense while at Miami.
Wide Receiver/Tight Ends: A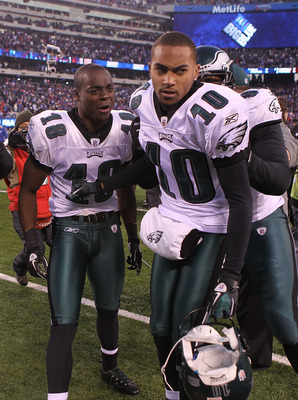 Nick Laham/Getty Images
The Eagles went from being the deepest receiver core in football, with the likes of DeSean Jackson, Jeremy Maclin, Jason Avant and Brent Celek, to the thinnest receiving core after the holdout of Jackson and the health issues of Maclin.
Jackson is still waiting on a new dea,l but will play regardless in 2011, while Maclin is 100 percent healthy following a cancer scare this summer. The Eagles also signed former New York Giants receiver Steve Smith to a very modest one year deal.
The Eagles remain solid at tight end as well, with both Brent Celek and Clay Harbor back along with veteran and recent Super Bowl winner Donald Lee.
Vick will once again have plenty of options to throw to. With both Jackson and Smith playing for a big contract and Maclin now entering just his third season, this receiving core could be even better.
Offensive Line: B-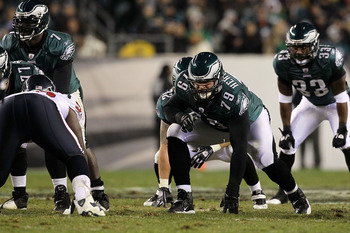 Jim McIsaac/Getty Images
No position group for the Eagles has gone through more change in a very short amount of time. The offensive line is going through a scheme change under offensive line coach and guru Howard Mudd. The line will also have four of the five starting positions being maned by different players than last season.
All-Pro Jason Peters will remain at left tackle, but his running mate, last year's starting left guard Todd Herremans, will move to right tackle. The versatile Evan Mathis will line up next to Peters. Jason Kelce is the Eagles new starting center in his rookie season. Right guard will also be held by a rookie, Eagles first round pick Danny Watkins.
The offensive line may lack familiarity from last season, but they all fit perfectly in the more athletic blocking scheme under Mudd.
Expect this unit to go throw some major growing pains early on with very little experience playing together, but this unit should really come together by mid season.
Defensive Line: A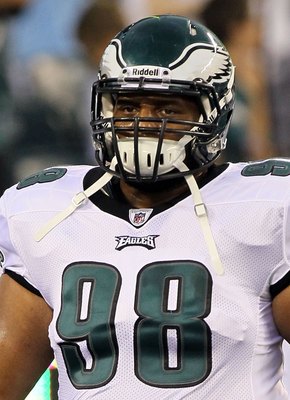 Jim McIsaac/Getty Images
Everyone is hyping up the Eagles cornerbacks and their receivers, for good reason, but the defensive line is the Eagles greatest strength. Last season, the Eagles pass rush fizzled and struggled to provide much of a pass rush down the stretch. That won't be the case this season.
Jim Washburn was brought in from the Tennessee Titans to coach up the defensive line and has already made his mark. Washburn's scheme calls for the defensive ends to line up wide, and all linemen attack the backfield rather than cover up gaps. Washburn also likes to rotate his linemen throughout the game. He expects every player to go all out on every play and will keep plugging in fresh guys to make that happen.
The Eagles signed several players to make his rotation and scheme work, including Cullen Jenkins, Jason Babin and Anthony Hargrove.
Trent Cole, Mike Patterson, Antonio Dixon and Jason Babin are the projected starters with Daniel Te'o-Nesheim, Phillip Hunt, Darryl Tapp, Anthony Hargrove, Trevor Laws and Cullen Jenkins are the expected rotation players. Brandon Graham will fit into the rotation as well, but is expected to be place on the PUP list and will be eligible after Week 6.
With all that talent and a much more aggressive scheme, it wouldn't be out of the question for the Eagles rack up as many as 50 sacks in 2011.
A much improved pass rush and a loaded secondary will make the Eagles a very tough team to pass against this season. Expect a lot of coverage sacks and just sacks in general.
Linebackers: C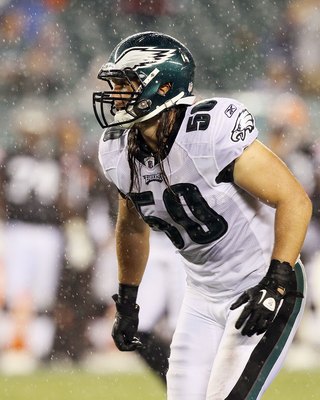 Jim McIsaac/Getty Images
The linebacking core of the Eagles has become the focal point of criticism this preseason following a beat down at the hands of the Pittsburgh Steelers. The linebacking trio of Moise Fokou, Casey Matthews and Jamar Chaney are all excellent in coverage, but as a unit, they will have to improve on their run support.
This group will have some major struggles against the run early on in 2011. Matthews is still figuring out the speed of the game in his rookie season, while Chaney and Fokou have a combined 17 starts between them.
All three players a little undersized, but they can cover the entire field. Chaney and Matthews can cover both running backs and tight ends in coverage, something the Eagles have really struggle with in the past.
This unit should excel against the pass as the season goes on, but their ability to consistently stop the run remains a big question.
Cornerbacks: A++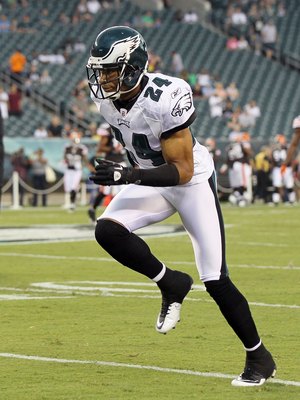 Jim McIsaac/Getty Images
When the Eagles acquired Dominique Rodgers-Cromartie in the Kevin Kolb trade with the Arizona Cardinals, they got a serious upgrade at cornerback. When the Eagles followed it up by signing Nnamdi Asomugha, they become a truly great defense.
The Eagles now have three corners in Asomugha, Rodgers-Cromartie and Asante Samuel that can lock down on any receiver in man coverage. They also have three good young players in Trevard Lindley, Curtis Marsh and Brandon Hughes. Slot corner Joselio Hanson is expected to be dealt for a mid round draft pick before the final roster cuts on September 3.
In a very competitive NFC with pass happy teams like Green Bay and New Orleans, having three Pro Bowl caliber corners is huge.
The Eagles can matchup with any receiving core in the league, and their corners will allow the defensive line to get after the quarterback and pick up a lot of coverage sacks.
Safety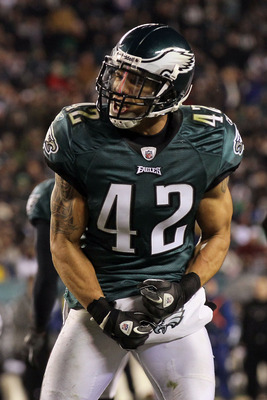 Jim McIsaac/Getty Images
Last year's safety duo of Nate Allen and Quintin Mikell will be replaced by Kurt Coleman and Jarrad Page. Allen is still recovering from a torn patella tendon in his knee and won't be ready to start come week 1. Mikell signed with the St. Louis Rams this offseason.
Coleman has become a rising star just one year removed from being a seventh round draft pick. He has picked up 16 tackles the past two preseason games and has locked up a starting safety spot. He isn't the biggest or the fastest safety in the league, but he is always around the ball. He is becoming a vocal leader on the defense.
Allen is the future at safety opposite of Coleman, but won't see much action until his knee is 100 percent ready. Jarrad Page will hold down his spot until he is fully healthy. Page is entering his sixth season in the league and has 210 career tackles and 12 interceptions.
Both safeties will get tested early on in the passing game, with the Eagles being loaded at cornerback. A secondary is only as strong as their weakest link, as Eagles fans found out last season with Dimitri Patterson.
Keep Reading

Philadelphia Eagles: Like this team?