Raiders vs. Seahawks Preview: 10 Players to Watch in the Preseason Finale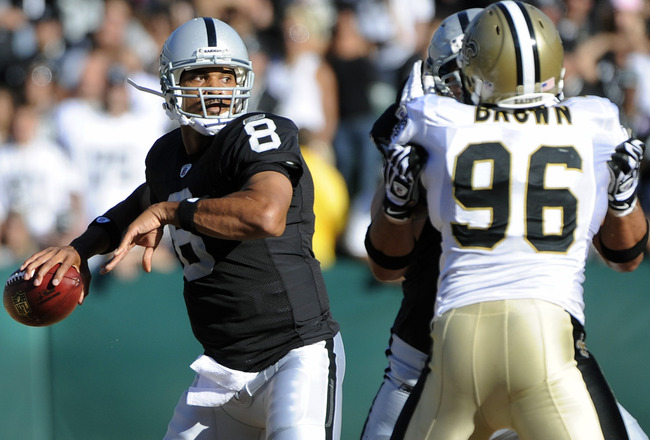 Thearon W. Henderson/Getty Images
The final game of the NFL preseason is between the Oakland Raiders and Seattle Seahawks. Both teams have had their struggles in the preseason.
While the Raiders are still searching for their first win of the 2011 NFL preseason, the Seahawks are looking to finish the preseason with a .500 record.
Both teams have improvements they must show in the final game of the preseason. Following are the five players from both teams we will key in on.
10) Earl Thomas, Seattle Seahawks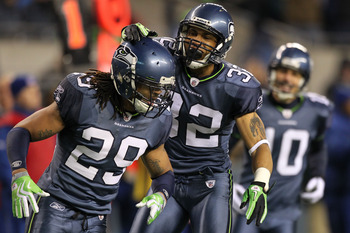 Otto Greule Jr/Getty Images
Earl Thomas was the 14th overall pick by the Seahawks in the 2010 NFL Draft. Thomas had a very impressive rookie season with 76 tackles and five interceptions.
The Seahawks were 27th against the pass in 2010, allowing 249.6 passing yards a game.
Thomas will be key to the Seahawks secondary in 2011 and he has looked good so far in the preseason. Last week against the Broncos, Thomas had two tackles and two pass deflections.
9) Derek Hagan, Oakland Raiders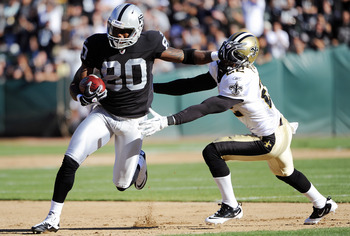 Thearon W. Henderson/Getty Images
Derek Hagan certainly isn't a headline name, but last week against the Saints, Hagan had six receptions for 121 yards and a touchdown.
Arguably the biggest question mark on the Raiders roster is the wide receiver position. With the injuries of Jacoby Ford and Louis Murphy, Hagan has an opportunity to climb his way up the depth chart.
Hagan has led the Raiders in receiving yards in two of the three preseason games thus far and was second in receiving in the other game.
8) Sidney Rice, Seattle Seahawks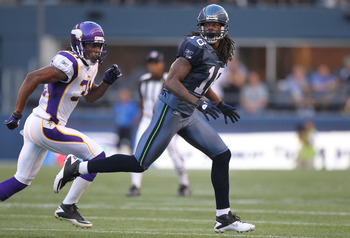 Otto Greule Jr/Getty Images
Sidney Rice was brought into Seattle to be that big play receiver. He has not lived up to those expectations thus far in the preseason.
Granted, it is the preseason and Rice has not played more than a half, but four catches for 22 yards in two games is not very impressive.
Rice must get in sync with his old Viking teammate Tarvaris Jackson in the final game of the preseason.
7) Michael Bush, Oakland Raiders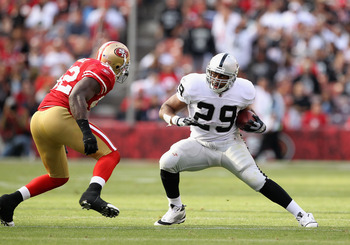 Ezra Shaw/Getty Images
Starting running back Darren McFadden has missed all of the preseason while recovering from a broken orbital bone under his eye.
Meanwhile, Michael Bush continues to impress. Last week against the Saints, Bush rushed the ball for 32 yards on five carries. He also hauled in two passes for 24 yards.
Bush was impressive in 2010, recording a total of 849 yards and eight touchdowns. Bush will be a key to the Raiders' success in 2011.
6) Robert Gallery, Seattle Seahawks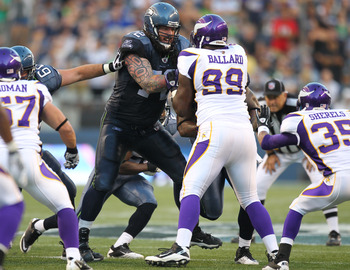 Otto Greule Jr/Getty Images
After seven quality years in Oakland, Gallery followed Tom Cable to Seattle. Seattle needed some help on the offensive line and Gallery was one of the best offensive linemen out in free agency.
Gallery now gets to face off against the team that drafted him and will certainly have some added motivation.
Look for Gallery to be a key piece to a very inexperienced Seahawks offensive line. The second oldest lineman to Gallery is 25.
5) Stanford Routt, Oakland Raiders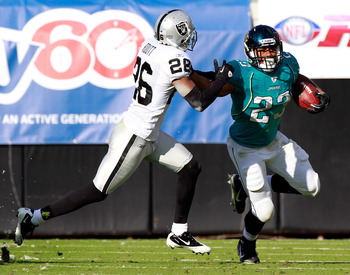 Sam Greenwood/Getty Images
After losing Nnamdi Asomugha, a lot of focus will be placed on Stanford Routt, who received quite a hefty contract during the offseason.
Routt only has two tackles throughout the preseason and he will need to fill the void left by Nnamdi.
With 55 tackles and two interceptions in 2010, Routt must improve his overall game if the Raiders are going to improve their defense.
4) Tarvaris Jackson, Seattle Seahawks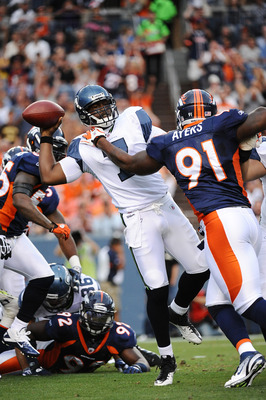 Garrett Ellwood/Getty Images
After Matt Hasselbeck signed with the Tennessee Titans, the Seattle Seahawks were quick to go out and grab Tarvaris Jackson.
Last week against the Broncos, Jackson went 13/22 for 93 yards and a touchdown. His touchdown last week was his first of the preseason.
Jackson has been less than impressive this preseason and must show that he can be the man for the Seahawks at quarterback in 2011.
3) Rolando McClain, Oakland Raiders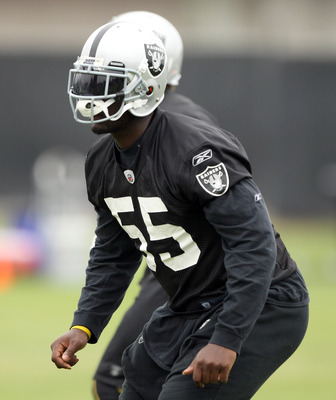 Ezra Shaw/Getty Images
Rolando McClain was taken eighth overall in the 2010 draft and showed just how good he can be in 2010 when he recorded 85 total tackles and an interception.
McClain only had half a sack in 2010 and he will need to improve upon that in 2011.
So far this preseason, McClain has six tackles and an interception in very limited playing time. If all goes well for McClain in 2011, he could easily eclipse 100+ tackles.
2) Zach Miller, Seattle Seahawks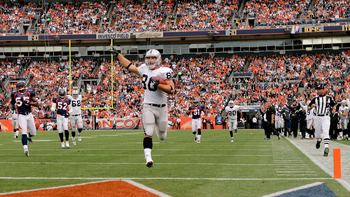 Justin Edmonds/Getty Images
After four productive seasons with the Raiders, Miller followed ex-head coach Tom Cable to Seattle just as Robert Gallery did.
Last season with the Raiders, Miller led the team in receptions, receiving yards and receiving touchdowns.
Miller only has one catch for 11 yards in the preseason thus far, but will quickly become a favorite target of starting quarterback Tarvaris Jackson.
1) Jason Campbell, Oakland Raiders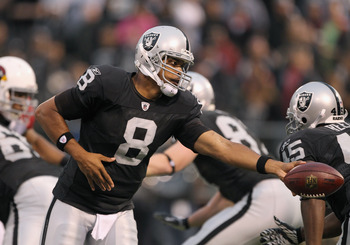 Ezra Shaw/Getty Images
The biggest key for the Raiders in 2011 will be a consistent passing game.
Campbell had a decent outing against the Saints last week going 12/17 for 150 yards, a touchdown and an interception.
Campbell did not play much in the first two preseason games, but he was very impressive. In the first two games combined, Campbell went 11/16 for 140 yards with no touchdowns or interceptions.
Jason Campbell will need to be productive for the Raiders if they want to bring home an AFC West title in 2011.
Keep Reading

Oakland Raiders: Like this team?