Fantasy Football Sleepers: 7 Picks Who'll Make You a Draft Day Legend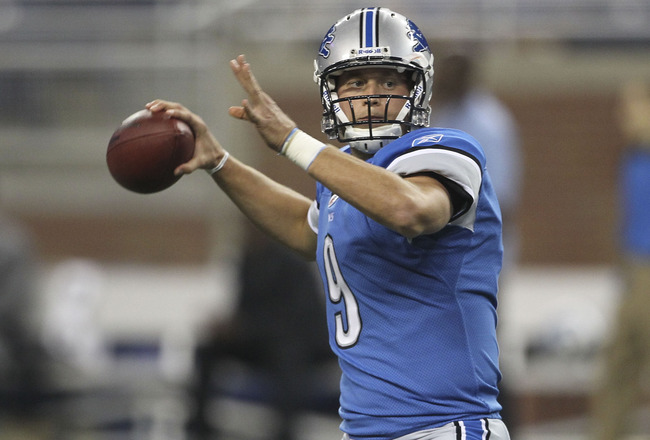 Leon Halip/Getty Images
Fantasy football is back in session with the 2011 NFL season ready to kick off next week.
While people will be looking to load up on talent in the early rounds, the sleepers selected in the later rounds may end up being the ones that will make or break your season.
Ask anyone that drafted Arian Foster last year in the middle rounds and you'll know exactly how much of an impact a sleeper can have on your championship hopes.
Here are seven fantasy football sleepers that will make you a legend in your draft this upcoming season.
Mario Manningham, WR, New York Giants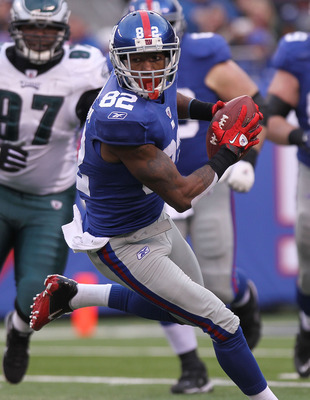 Nick Laham/Getty Images
With Steve Smith joining the New York Giants' division rival, the Philadelphia Eagles, Mario Manningham has been bumped up the depth chart.
With a clear-cut starting position and no competition for the position, Manningham will pay dividends for those willing to draft him in the middle rounds.
Manningham finished the last three games of the 2010 NFL season with three straight 100-plus yard receiving performances and four total touchdowns.
With defenses focused on stopping Hakeem Nicks, Manningham should face plenty of one-on-one coverage. With his big play ability, Manningham can capitalize and become a fantasy goldmine at the receiver position.
Reggie Bush, RB, Miami Dolphins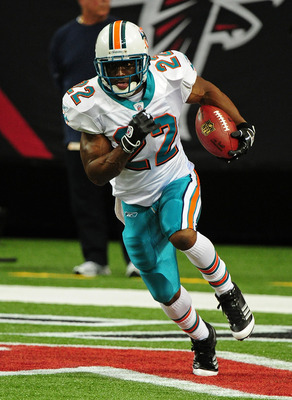 Scott Cunningham/Getty Images
Reggie Bush was considered one of the most electrifying talents to ever play college football. The hype surrounding him entering the NFL bordered on the absurd.
However, Bush has failed to live up to the hype, consistently underperforming and disappointing Saints fans. He is widely considered to be soft and prone to avoid contact—two qualities an NFL running back should never have.
While he played well during the Saints championship run, it was clear that he was an expendable asset after the Saints picked up Mark Ingram in the draft.
Now a part of the Miami Dolphins, Bush has laid claim to the starting position and should take full advantage.
A pass catching machine, Bush will be particularly useful in PPR format. However, with the Dolphins running their infamous wildcat formation, Bush should be utilized heavily in their offense.
Jimmy Graham, TE, New Orleans Saints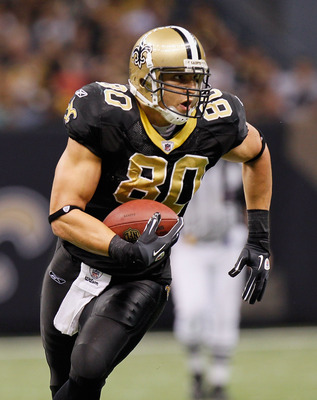 Kevin C. Cox/Getty Images
Jimmy Graham, as a rookie last season, was reliable and consistent when given the opportunity to play. Now that Jeremy Shockey is no longer in town, Graham ascends the depth chart.
With no competition for the starting position, expect Graham to take full advantage.
Part of arguably the most prolific passing attack in the NFL, Graham should feast on linebackers and defensive backs over the middle and in the red zone.
While others are reaching for elite and established players like Antonio Gates, you can get Graham in the later rounds.
Expect Graham to be a points machine in the Saints offense. Double-digit touchdowns are not out of the question this upcoming season.
Tim Hightower, RB, Washington Redskins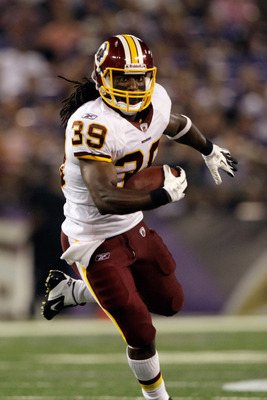 Rob Carr/Getty Images
Tim Hightower was an enigma while with Arizona Cardinals. While a relatively productive back, he was nothing more than a backup in his first three years in the NFL.
Traded to the Washington Redskins in the offseason, Hightower has earned the trust and respect of Mike Shanahan.
While those familiar with Shanahan—and his frustrating running back rotations—will understandably approach Hightower with trepidation, fear not, as Hightower is the real deal. He's a true every down back—he's capable of pounding the rock, catching passes out of the backfield and throwing a good block.
Running backs have had a long history of production in Shanahan's system and that shouldn't change with Hightower.
Beanie Wells, RB, Arizona Cardinals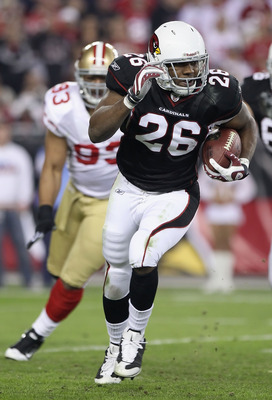 Christian Petersen/Getty Images
Beanie Wells, arguably the most talented running back drafted in the first round of the 2009 NFL draft, fell to the Arizona Cardinals with the 31st pick.
His first two seasons in the league have been anything but memorable. However, Wells has looked phenomenal in training camp and in preseason games. He's getting praise from everyone that's seen him play and he's in line for a breakout season.
With Tim Hightower now on the Washington Redskins and rookie backup, Ryan Williams, out for the season, Wells will be getting the lion's share of touches—expect him to take full advantage of the opportunity.
Sam Bradford, QB, St. Louis Rams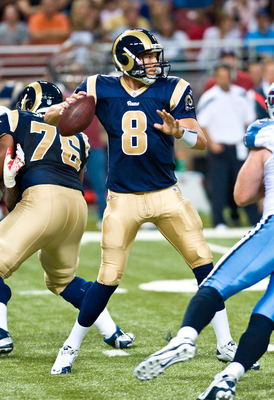 Ed Szczepanski/Getty Images
Sam Bradford, recipient of the 2010 Offensive Rookie of the Year award, will be entering his sophomore campaign with a full season of experience under his belt and nowhere to go but up.
With pass happy Josh McDaniels now calling the shots as offensive coordinator, expect the St. Louis Rams offense to thrive under this new system.
Plus, Bradford has some new toys to play with on offense. If Mike Sims-Walker pans out, Bradford may have a true No. 1 wide receiver to throw to.
While Bradford has been a bit shaky adapting to the new system thus far in the preseason, it shouldn't be long before he acclimates himself and continues his aerial assault on opposing secondaries.
Going late in fantasy drafts as a backup for most teams, Bradford has the potential to be a true QB1.
Matthew Stafford, QB, Detroit Lions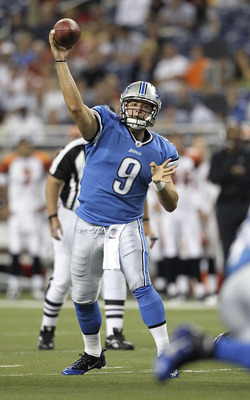 Leon Halip/Getty Images
While Matthew Stafford has had difficulty staying healthy his first two seasons in the league—he has played in only 13-of-32 eligible games—when healthy, he has shown flashes of elite quarterback play.
The Lions have been shredding defenses apart in the preseason and they should be an offensive juggernaut this season.
Stafford is afforded the luxury of having freak of nature, Calvin Johnson, as his go-to guy. The two clearly have a strong rapport that should translate onto the field and into fantasy gold.
While other managers will be drafting elite quarterbacks in the early rounds—while you're stacking up at the skill positions—you can wait for the middle rounds for a player with top five potential at his position. Just make sure you draft a solid backup.
Keep Reading