Fantasy Football Draft Strategy: To Cuff or Not To Cuff?
August 31, 2011
J. Meric/Getty Images
The NFL's collective shift towards spread offenses and committee running games has had a marked effect on fantasy football.
The draft strategy of taking a RB with each of your first two picks is no longer the standard, with many imaginary GMs even choosing to forgo taking a RB until the third round. Members of (12- or 10-team) standard scoring leagues should not be surprised to see nearly half of the first-round picks be either passers or catchers.
But while the fantasy community has done itself a service in heeding the winds of change, old habits die hard.
Of course, we're talking about handcuffs. Not the ones I saw this weekend that delayed this column, but the age-old practice of stashing your top RB's backup on the bench.
Most fantasy owners insist on locking up the backups to their stars. Now, there are arguments to be made for and against this strategy—on one hand you have the peace of mind in knowing you have a stand-in should your horse go down, and on the other you have additional bench spots for late-round flyers and bye-week replacements.
Rather than arguing the merits of these views, let's take a look at some of the top running backs on the board and their respective handcuffs and evaluate each situation.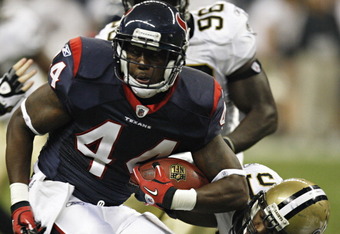 Bob Levey/Getty Images
Arian Foster, HOU (Average Draft Position 1.3)
Handcuff: Ben Tate/Derrick Ward (ADP 209)
Ward is the second man on the depth chart. So, strictly speaking, he is the handcuff and will probably see some serious carries if last season's leading rusher goes down.
That said, Tate has impressed in preseason and would definitely step in as a short-yardage back. At the tail end of the draft, Tate is a solid replacement in a system that has spawned two stud RBs in the past three years.
Adrian Peterson, MIN (ADP 2.0)
Handcuff: Toby Gerhart (ADP 178.3)
Like the Texans, Minnesota is a team that has churned out stud fantasy talent in recent years.
In this case, however, the heavy lifting was all done by one man—Adrian Peterson. The Vikings' once-elite offensive line is on the decline, and the quarterback situation is shaky (to put it gently).
Adrian Peterson is not going second overall because of his situation, he is doing so in spite of it. Peterson is bad QB- and line-proof—Toby Gerhart is not. This late-round pick is better spent on a flyer like Delone Carter (ADP 206.9) or a potential goal-line back Willis McGahee (ADP 192.3).
Chris Johnson, TEN (ADP 3.4)
Handcuff: Javon Ringer (ADP 201.0)
The refrain around fantasy circles is that Johnson will eventually show up to log his 1,500 yards and 10-plus touchdowns.
Call me pessimistic, but I'm a little more concerned. We've already seen the effects of the lockout in a sharp increase in injuries throughout the league. I have to believe that the longer Johnson holds out, the more likely he is to tweak a hamstring when he returns (and I do believe he will return).
Either way, there is a real chance Ringer will see the field in 2011. With the Titans' offensive line and run-first mentality, anyone in the backfield will put up solid numbers.
Jamaal Charles, KC (ADP 4.2)
Handcuff: Thomas Jones (ADP 81.5)
AND 
Darren McFadden, OAK (ADP 12.1)
Handcuff: Michael Bush (ADP 89.6)
I lump Charles and McFadden together because their backups will see a fair share of carries even if the starters stay healthy all season.
The Raiders placed a first- and third-round tender on Bush in the offseason and plan to deploy him in a similar manner to last season, in which he notched 800-plus total yards and eight TDs.
Todd Haley continues to deny Charles a full workload, much to the chagrin of fantasy owners. While Charles should see more touches than in 2010, a significant timeshare with Jones is likely.
If you're drafting Jones or Bush this high, it's not to stash them on the bench. So whether you take them will depend on how you feel starting two RBs from the same team on a given week. Personally, I'm content to pass on Bush and Jones and grab some mid-round talent with higher upside.
Maurice Jones-Drew, JAC (ADP 7.3)
Handcuff: Rashad Jennings (ADP 103.3)
Mojo is spreading the word that his knee will be fine—and he has played through injury before—but it's worrisome to spend a first-round pick on someone who hasn't touched the field in the preseason.
The past few years, we've heard that Jennings is star-in-waiting behind Jones-Drew, and he boasts a 5.4 yard per carry in limited action. If you're using an early pick on Mojo, Jennings is a must-have.
If you liked this, there's plenty more in The Fantasy Fix's 2011 Fantasy Football Draft Guide.
Written by Chris Sheehan exclusively for the The Fantasy Fix.