Michael Vick's Contract: 10 Reasons He's Worth a Startling $100 Million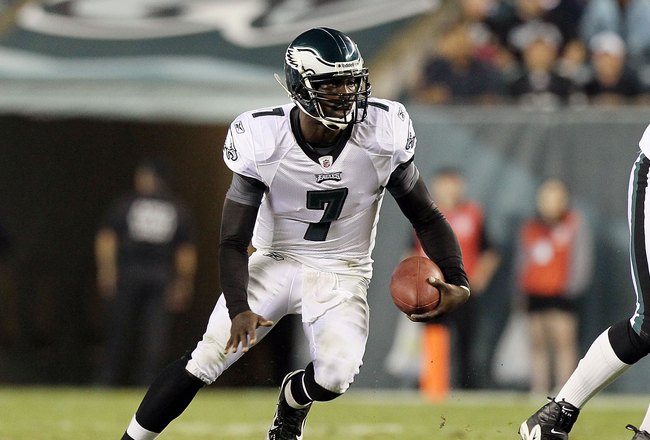 Jim McIsaac/Getty Images
Is Michael Vick worth the reportedly guaranteed almost $40 million and $100 million overall contract he recently signed? I'm sure if you asked PETA, then the answer would be a resounding "woof!"
One thing you can still get for a few stacks of money these days is a sneer, followed by a lot of hate.
I believe he is worth the cash, though. Vick has gone from prodigy to prison because of a dog-fighting conviction, back to prodigy. I just hope his money doesn't go back-and-forth.
Mike, please don't blow your dough and become a prodigal son, son.
Son (Vick) is still almost as quick as lightning. I'll now take you on a lightning tour of my top 10 reasons why the man, despite his haters, deserves the dollars.
The dollar is rolling to its devaluation, so you guys hurry up and roll graphics…
10. His Talent Graphically Shows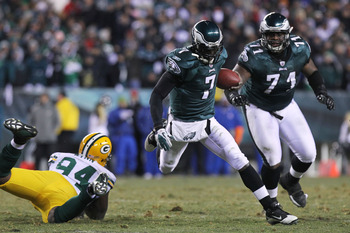 Nick Laham/Getty Images
A moving picture can show most of it all on the gridiron, and Vick is a superstar. He was the No. 1 fantasy football quarterback last season.
Like it or not, NFL players, that translates to individual production on the field. And in a team sport, individual production leads to team championships (see: Aaron Rodgers).
Quarterbacks with huge talent get paid. And that's partly why Vick, jersey No. 7, became the first two-time $100 million man.
9. His Jersey Sells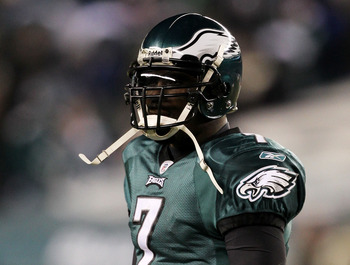 Al Bello/Getty Images
If the Eagles sell 1,000,000 Vick jerseys at $100 dollars each, then they'll recoup.
Keep in mind that the jerseys don't need to be sold during the contract's life. They could become very popular to fans all over the Eastern seaboard for years.
8. His Appeal Among Fans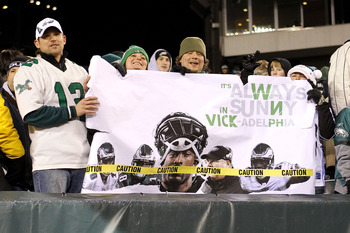 Chris Chambers/Getty Images
I suspect some fans will travel from Vick's native Newport News, Va., to Philadelphia just to try to purchase walk-up tickets to a sold-out game.
Vick is capable of putting seats in the stadium even during a losing season. If ticket prices have to hike, then so be it. People gladly pay to see Michael Vick perform, and PETA hates it.
I wouldn't be surprised if the animal rights organization fires up an advertising campaign involving a Michael Vick jersey on top of an otherwise nude model. And I want my finder's fee for the idea.
Next slide…
7. Vick Found the Light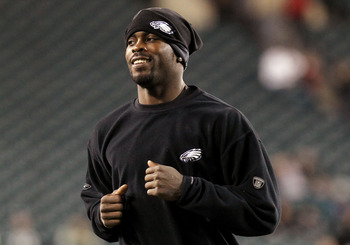 Nick Laham/Getty Images
If only a lot of people I know could find the light like Michael Vick found it.
By reason of the fact that he woke up and saw the error of his ways, he's a solid public representative for the Philadelphia Eagles. Wherever the man goes, he's a walking advertisement for the franchise, and that translates to big bucks in their other business ventures.
6. Vick's Popularity Among His Peers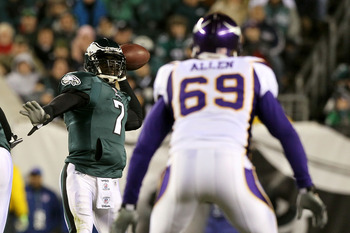 Jim McIsaac/Getty Images
According to the Sept. 5, 2011 issue of ESPN The Magazine, Vick was 100 percent liked by his peers in the NFL. Out of 44 respondents to the magazine's poll, not one was judged to be a hater.
Seven players said the man had zero weaknesses. Some said he should learn how to slide more.
Next slide, please…
5. Vick's Career Could Unexpectedly End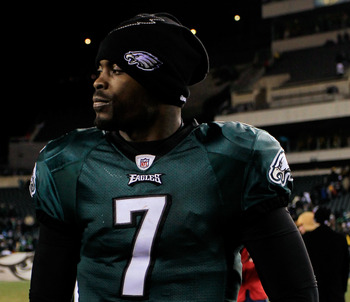 Chris Trotman/Getty Images
Knowing Vick needs to slide more raises the issue of him getting hurt at any given moment. If you saw the tackle he made in the first preseason game against Pittsburgh on Troy Polamalu, then you know what I mean.
Playing with reckless abandon the way he does, if Vick gets hurt and has to stop playing for good, then the money should ensure his family will be set for a long time.
Hey, Mike, get down. I want to see you slide into the Hall of Fame.
4. Some Famous Rookies Get Better Deals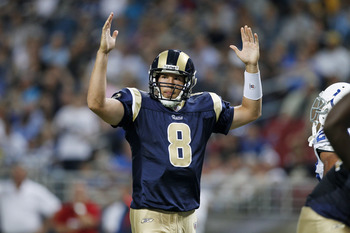 Joe Robbins/Getty Images
St. Louis Rams quarterback Sam Bradford slid his way into a reported $50 million guaranteed contract over six seasons.
Veteran players almost immediately started complaining about rooks getting better deals than some vets. I'm neutral on this; it depends on the situation, the player and the team's bankroll.
A rookie capable of generating more revenue for the team than a veteran player should be compensated. At the same time, a veteran has been there longer and should make more than a snotty-nosed rook.
Bradford's nose is usually clean, by the way.
3. Mr. Clean, Tom Brady, Got $48 Million Guaranteed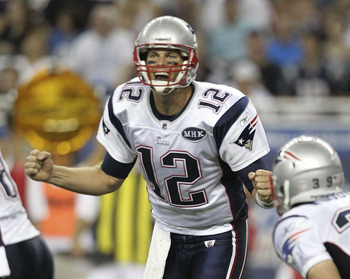 Leon Halip/Getty Images
In 2010, Brady signed a deal that runs through 2014 when he'll be 37 years old. His deal was added on to his existing contract for four more years and $72 million.
Brady has won three Super Bowls. Vick hasn't won any. If Brady is getting $48 million guaranteed, then Vick's $40 million sounds about right to me.
They both make enough to hire cleaning crews, and that's always good if you can afford it.
2. The Eagles Can Afford Him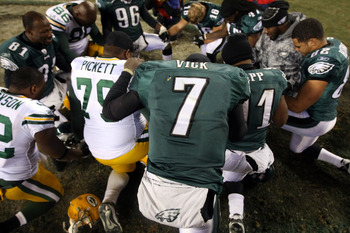 Al Bello/Getty Images
They brought in a high-priced cornerback, Nnamdi Asomugha, and will have to pay wide receiver DeSean Jackson at some point. They obviously have enough cake to make Vick the first two-timer ($100 million contracts) in NFL history.
1. Larry Fitzgerald's Contract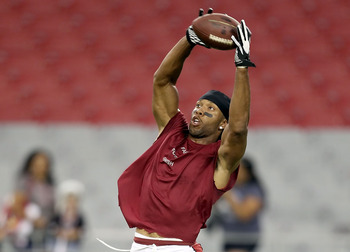 Christian Petersen/Getty Images
Wide receivers like Fitzgerald are historically perceived as "divas," but they're subject to suffering career-ending injuries like any other player.
Receivers consistently wind up in unprotected positions. Darryl Stingley of the New England Patriots had his career ended by ferocious-hitting safety Jack Tatum in the 1970s.
Now, if Fitzgerald is worth $120 million, then certainly a quarterback deserves a comparatively paltry $100 million.
I'm also trying to be a $100 million man. Until then, keep reading and catch me next time on "Lake's Life-Changing Contracts Report."
Comment or contact Lake Cruise.
Keep Reading

Philadelphia Eagles: Like this team?