Dallas Cowboys: Why Flying Under the NFL Radar Is a Good Thing for 'Pokes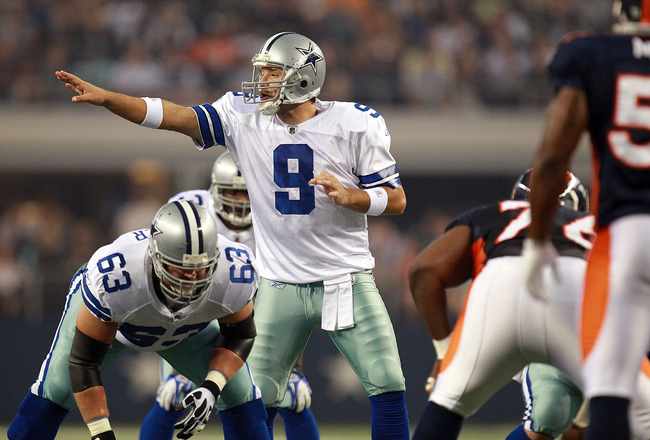 Ronald Martinez/Getty Images
All of the hype heading into last season was about how the Dallas Cowboys were going to turn the Super Bowl into a home game. With that kind of talk going on, expectations for fans basically became "Super Bowl or Bust."
After a 1-7 start and the loss of quarterback Tony Romo to injury, the verdict was in loud and clear that the season had, in fact, been a bust. Despite having plenty of talent back and their quarterback returning to the field, the Cowboys are still very much flying under the radar in 2011 because of their dreadful performance last season.
I believe Dallas' situation of lower expectations this year is actually a good thing for them, especially in comparison to all of the hype surrounding this team in 2010. Keep reading and I will explain why.
Lower Expectations Equals Less Pressure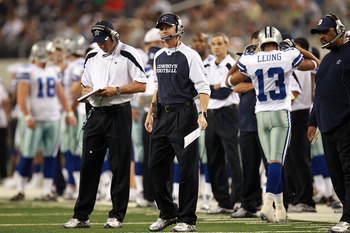 Ronald Martinez/Getty Images
Obviously, when you play football for the Dallas Cowboys there is also a certain level of pressure to perform and win games. However, last season that pressure seemed to be ratcheted up a few more notches with the possibility of playing the Super Bowl on their own field. The expectations appeared to be a little extreme, even for a land where Jerry Jones is king.
This year, with a new head coach in his first full season at the helm and all of the Cowboys weaknesses having been exposed last year, expectations are about as tempered as possible in Dallas. This will take a lot of pressure off the team and especially off of their new leader, Jason Garrett.
Players play better when they are loose, and coaches coach better when they aren't constantly looking over their shoulder to see if they're about to be fired. Less pressure in Dallas is a good thing for the Cowboys.
Cowboys Can Sneak Up on Teams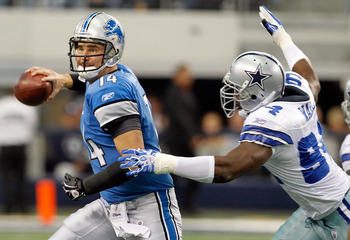 Tom Pennington/Getty Images
The NFL is very much a "What have you done for me lately?" type league. A prime example is how Arian Foster is now considered, by some, the best running back in the NFL, despite having only had one great season. With that in mind, the truth is the Cowboys did not do much last year and therefore will not be at the top of other teams' priority lists of big games this season.
For instance, the Cowboys play Detroit in Week 4, and normally, the Lions would be primed and pumped to give Dallas their best shot. However, Detroit is supposed to be much improved this season and may even have an outside shot at the playoffs.
The Lions also play division rival Chicago in Week 5. In a circumstance like this, where the Lions' next game probably means more to them than the one against Dallas does, it is possible the Cowboys might not get Detroit's best shot. Last year, this almost certainly would not have been the case.
No More Super Bowl or Bust Mentality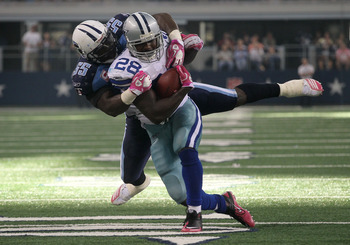 Stephen Dunn/Getty Images
The problem with the "Super Bowl or Bust" mentality is that it implies it is impossible to have a good season without winning the Super Bowl. I simply do not believe this is true.
Last year, the St. Louis Rams won seven games and did not even make the playoffs. However, I bet that Rams fans were very pleased with their season due to the fact that in 2009 they had won only a single game, making a seven-win season a huge improvement and reason for hope in a brighter future.
I would argue the St. Louis Rams had a terrific season, yet they came no where near winning a Super Bowl. The Cowboys would do well to learn from this lesson. In 2011, winning the NFC East would make for a great season. Winning more than one playoff game would be reason for celebration as well.
Being able to properly contextualize what makes them successful is going to be a major benefit for the Dallas Cowboys from flying under the radar.
Dallas Can Use Underdog Status as Motivation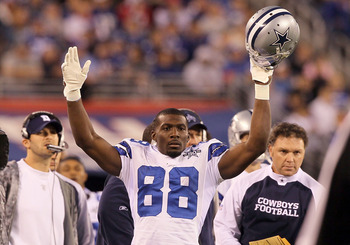 Jim McIsaac/Getty Images
Pretty much every team at some point tries to motivate themselves around the idea that no one believes in them. This is much easier to do when you are a team like the Dallas Cowboys, which are flying under the radar.
There is something to be said for playing the role of the underdog and using that as a rallying cry throughout the season. Being a successful franchise such as the Cowboys does not often lend itself to this position, though.
For once, Dallas can legitimately claim a status as an underdog and use it as inspiration to achieve more than most people believe they are able to.
Keep Reading

Dallas Cowboys: Like this team?