Chicago Bears Positional Breakdown: Quarterbacks
August 30, 2011
Al Bello/Getty Images
One of the most important and high profile positions in all of sports is the quarterback.  For years the Bears have tried to find their savior—from Erik Kramer to Rick Mirer, and Rex Grossman to Kyle Orton—the position has not had much stability. With Cutler however, the Bears finally believe they're on the right track. 
Sure, Cutler has struggled at times, but he has also shown flashes of brilliance.  Last season had many up and down moments, from terrible offensive line play and Cutler's injury in the NFC championship to the flashes of brilliance, such as the regular season game against the Eagles where Cutler threw for nearly 250 yards and four  touchdowns or the playoff game against the Seahawks which saw Cutler pass for 274 yards and two touchdowns.  This season is going to be more about getting Cutler to consistently show those flashes of brilliance.
Coming into this season, Cutler has many questions to answer. The big question is whether he can bounce back from the perception that he is "quitter," which is what many in the media portrayed him as after he left the NFC Championship game.  I firmly do not believe that Cutler "quit" in that game, the guy spent much of the year getting knocked down and abused by defenses because of a horrible offensive line, and he continued to get back up. It is unfortunate that the injury had to occur during a pivotal game such as that, but much to Cutler's credit, I do not think that he really cares what other people think of him.  In the line of work that he is in, you have to have thick skin, and not care if you make a mistake, and get back out and try to rectify the situation.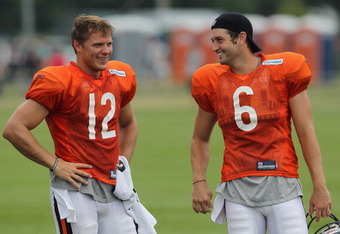 Jonathan Daniel/Getty Images
Once the lockout ended and teams were allowed to report to training camp, Cutler was the first one to arrive, with many saying that he has lost some weight, and seems to be in the best shape of his life.  Sure, all of this sounds good, but what really matters is when Cutler steps on the field.  Offensive coordinator Mike Martz has said that he has been "giddy" with Cutler's marked improvement with his footwork and understanding of this offense.  Martz knows that he implements a very difficult offense, and knows that it takes some time to get used to.  I believe with a season under Martz's offense under their belt, and another camp to get deeper into it, this offense and Cutler should have a good year.  In the end, the way to make Cutler more consistent is for the offensive line to improve and keep him on his feet.
Last offseason, Martz wanted to add a veteran quarterback to the Bears' roster, despite having a reliable option in Caleb Hanie, so they went ahead and added veteran Todd Collins.  Collins was awful in virtually every opportunity he was given last season, when Cutler was injured against the Giants, Collins came in and completed just one pass and threw an interception.  The following week, while filling in for Cutler against the Carolina Panthers, Collins threw four interceptions; although, the Bears were still able to win the game. 
Collins last appearance was against the Packers in the NFC Championship game after Cutler's injury, in his short time on the field he went 0-4 in passing the ball, leaving the Bears no choice but to bring in Hanie.
Hanie nearly shocked the Packers by leading the Bears downfield for scores twice—one being a Chester Taylor touchdown run and the other a touchdown pass from Hanie to Earl Bennett.  Hanie does not have a particular set of skills that jump out at you, but in his limited opportunities he has shown that he can run this offense, as well as having confidence in himself.  Hanie offers the Bears a guy who knows the offense just as well as Cutler, and if needed, Hanie can step in and perform.
Instead of using free agency to find another quarterback, the Bears' looked to the draft, and took University of Idaho quarterback Nathan Enderle.  Enderle projects to be nothing more then a good backup down the road, but with a 6'4" and 233 lbs frame, he offers a more prototypical quarterback.  Given the chance to sit and watch two veterans ahead of him and learn this offense, Enderle has a chance to stick around, and should Hanie decide to leave after this season, he could easily slide in to the backup quarterback role.
Regardless of who the backups are, the Bears will live and die with the play of Cutler, and this season may end up being the most important season of his career.