Tennessee Titans Need to Play Hardball with Chris Johnson
August 30, 2011
Andy Lyons/Getty Images
There's been some speculation as of late that the Tennessee Titans might look into trading Chris Johnson away instead of making him one of the highest-paid players in the NFL.
Even though the two sides remain very far apart, there's no way the Titans trade away the face of their franchise.
Johnson is the main draw right now for Titans fans with the exception of Jake Locker, and losing Johnson would squash any hopes of being a competitive team in the near future.
However, the Titans can gain the upper hand in this holdout situation if they don't give into Johnson's demands before the regular season starts.
Johnson is holding out as long as he can until he feels that it's hurting himself financially. Missing preseason games probably doesn't qualify for that.
For the Titans, they can show they mean business by starting the regular season without him. That may seem crazy, but the Titans start off with Jacksonville, a team that isn't exactly what you would call the class of the AFC.
Rookie running back Jamie Harper has been coming along nicely in training camp and the first three preseason games. He has a touchdown in each of the three games he has played for the Titans , and has displayed some great downhill running abilities.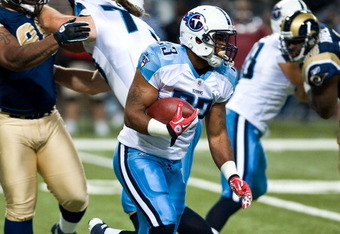 Ed Szczepanski/Getty Images
Meanwhile, the Titans still have Javon Ringer, their draft pick from 2010. Ringer proved to be valuable when he got the opportunity to do so last season.
Head coach Mike Munchak has also said that the team would likely add a veteran running back as well.
Let's be honest here, barring something extremely crazy happening among the AFC's elite, the Titans are probably a season or two from making a serious run back into the postseason.
They can afford to call Johnson's bluff with the two running backs they have because there's not a lot of high expectations for them as a team anyway. Roll the dice and see if this team is capable of being competitive without Johnson for a game or two.
If the Titans were to start the season with a win over a division opponent without Johnson, it could be a huge statement that Johnson is at least somewhat expendable.
The Titans could use the Jacksonville game to see how their team would look in the future if they do decide to trade Johnson at some point.
Now I'm not saying that it's in the best interest to lose Johnson. He's one of the best athletes in the NFL, but at the end of the day he's still a running back that has a short shelf life. The money he's asking for is ludicrous and could paralyze the organization in a number of ways if they give in.
Johnson makes the Titans a better team, no doubt about it. However, hindering the organization's future financially to win a couple more games in a season that's probably going to finish short of the playoffs anyway is not worth it.
The Titans have to protect their future interests by calling Johnson's bluff. I can't see Johnson sitting out a whole season by leaving an offer on the table that would make him the highest-paid running back in the NFL.
This is a classic situation of a player looking to break the bank way before he actually deserves it. Larry Fitzgerald broke the bank, but he did so with way more credentials than Johnson can claim.
Fitzgerald has played seven NFL seasons, with six of them being Pro Bowl worthy. He helped take his team to a Super Bowl when no one expected it.
Most importantly, he plays wide receiver which is a position that generally lasts way longer than a running back.
Comparing what Fitzgerald got to Johnson's holdout is comparing apples to oranges. They're nowhere close to being on the same level in monetary terms.
When Johnson begins to make his decline in a few seasons like every running back does, Fitzgerald will most likely still be catching 80 to 90 balls a year.
Johnson will give in sooner or later and be satisfied with being the highest-paid running back in NFL history, but right now he's testing the waters to see if he can basically hit the jackpot. The Titans can't make it that easy. They need to play hardball if Johnson wants to play hardball.