Texas Rangers: Is Nolan Ryan's Pitching Philosophy Wearing out Their Arms?
August 29, 2011
Nolan Ryan has preached pitcher's stamina ever since he took over as team president of the Texas Rangers in 2008. Coming from a guy who has thrown the fifth most innings in the history of the game, you would expect that.
Ryan is convinced that the pitch count has ruined pitching as he knew it, and it's hard to argue with that.
Last season the Philadelphia Phillies had a league-leading 14 complete games. Ryan had seven seasons with at least that many.
Ryan believes you have to be tough to pitch in the majors, and he is trying instill that sense of toughness in this group of young starters. Pitching seven innings is expected, not hoped for. And don't even utter the words "pitch count."
Check out these numbers before and after Nolan Ryan came to Texas.
In 2007, the Rangers starters threw zero complete games and 838 innings, or 58 percent of the innings thrown by the entire team. So far in 2011, starters have thrown nine complete games and 827 innings, which amounts to just under 70 percent of the entire team.
Those are staggering numbers considering the Rangers rotation is made up of two former late-inning relievers, a former Japanese league player and two young prospects. Numbers like these have given Ryan the confidence to keep the workload at a heavy pace.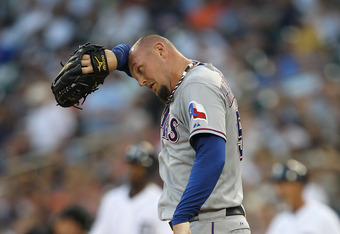 But is Ryan's old-school pitching philosophy wearing out the arms of the Rangers' pitching staff?
The answer is yes.
Before the All-Star break, Rangers starters had a 3.65 ERA. Since the All-Star break it has jumped almost 50 points to 4.01. The ERA for August is up to 5.06, which resembles the early 2000 Rangers.
In an article by ESPN's Richard Durrett, Ryan says, "They're just not sharp. They looked fatigued. These are the dog days, and this is when you have to push yourself."
While I admire Ryan and what he wants his pitchers to be able to do, he has to know what he is dealing with.
Alexi Ogando came out of nowhere to earn a rotation spot this spring and he has flourished. He was named to the All-Star game and has had an ERA under three for the majority of the season.
Ogando pitched 42 innings last season for the Rangers in relief. This season he has almost quadrupled that output with 151. Ogando is one of the most talented pitchers on the team without a doubt, but for a converted outfielder and reliever he has to be handled with care.
You don't want a fatigued Ogando in October because the Rangers will not get out of the first round, if that is the case.
Matt Harrison and Derek Holland have been two of the best pitchers at times for the Rangers. Harrison led the team in ERA earlier this summer and Holland has thrown four complete game shutouts. But over the last month, but pitchers have struggled with inconsistency.
Harrison has seen his ERA climb from the high twos to a much more average 3.59. Over his last five starts he has given up 20 runs in just 27 innings. After a stellar June, Holland has also struggled in August to the tune of a 5.13 ERA and a WHIP of 1.82.
Ryan's philosophy is wearing out the Rangers' arms, but is it accomplishing its goal of making them tougher?
Without a doubt.
The Rangers' original starting five pitchers have pitched in every game but three—no injuries outside of a blister here and there. While some big-name pitchers deal with nagging injuries all year, this group of converted relievers and young bucks are staying healthy.
Tired, but healthy.
With four days off the rest of the season, it looks like they will use that time to skip a few starts here and there in order to keep everyone fresh.  Ryan calls it "babying" pitchers, but when pitching in 100 degree heat every day, some form of "babying" has to take place.