Tennessee Titans: Key Position Battles to Watch Against the Chicago Bears
August 27, 2011
Generally, the third preseason game is the one where fans can get the best idea of how their team is going to look when the games finally start counting in the standings.
The Titans get a Chicago Bears team that has a lot of questions surrounding it, most notably whether or not Jay Cutler can silence all of the doubters he gained in the NFC Championship game last season.
Meanwhile, the Titans have plenty of questions of their own. Most of them involve key position battles that still have to be figured out.
Tonight should give us a better idea of who the Titans will rely heavily on this season. 
Defensive Tackle (Karl Klug vs. Jurrell Casey)
The Bears offensive line is notoriously known as one of the worst in the NFL, so it will be important for the Titans defensive line to put plenty of pressure on Cutler.
Both Karl Klug and Jurrell Casey have looked superb in two preseason games, and both of these guys can make strong statements tonight.
Casey may have the upper hand at this point since he's had five tackles, two tackles for a loss and forced a fumble.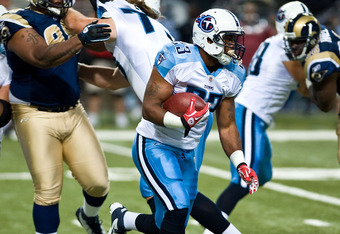 If Casey continues to be a disruptive force against a weak Bears offensive line, then he could cement a starting role.
Cornerback (Alterraun Verner vs. Jason McCourty)
Heading into tonight's game, Jason McCourty is listed as the starting cornerback opposite of Cortland Finnegan according to the Titans official website.
This position battle may be the most important one. The Titans secondary has finished 29th and 31st over the last two seasons in pass defense.
Verner started last season and played well for much of the season as a rookie, so McCourty will have to really play well to overtake Verner.
These two guys will most likely cover Devin Hester and Earl Bennett for much of the night, while Finnegan will guard the much taller Roy Williams.
Running back (Javon Ringer vs. Jamie Harper)
Jamie Harper is a good candidate for offensive MVP over the first two preseason games, as he's tallied 110 rushing yards and two touchdowns.
Chris Johnson is the unquestionable starter for whenever he returns from his holdout, but Javon Ringer should not feel so comfortable as the primary backup anymore.
Ringer has been relatively quiet this preseason, so he'll need to make some kind of a statement tonight.
It will be interesting to see who Mike Munchak decides to start the game with. That decision could be a sign of who will be the starter if Johnson's holdout does extend into the regular season.
Tight End (Jared Cook vs. Craig Stevens)
All signs point to Jared Cook being the primary tight end for the Titans in 2011, but Craig Stevens had a good 2010 season despite getting very few targets from Titans quarterbacks.
It's Cook's battle to lose, and he's proved to not only be the top target at tight end, but the top target out of all the Titans receivers in the preseason.
Cook has gotten six targets from Titans quarterbacks this preseason while Stevens has only received three targets.
The tight end position will be an extremely important part of the Titans offense this season, and if Cook can have his breakout year, then the Titans could end up shocking a lot of people.
Other things to watch against the Bears:
Can Jake Locker bounce back from a mediocre second game against the Rams? He gets a Bears secondary that ranked 20th in the NFL against the pass in 2010.
The Titans recently added veteran Kevin Curtis to their roster, which meant cutting rookie wide receiver Joe Hills. It will be interesting to see how he's used tonight, if at all.
We might see Kenny Britt for the first time this preseason. He's been dealing with hamstring and quad injuries all training camp.