Unfulfilled Potential: The NFL Journey of Vince Young
August 26, 2011
He just wins.
This statement was the biggest reason Vince Young enthusiasts believed he would be an elite NFL quarterback. And if going by his achievements at the University of Texas, that statement was indeed hard to argue.
In fact, going back to his rookie season for the Tennessee Titans you see flashes of thinking that he just might have a future as an upper-tier NFL quarterback.
Then the injury.
The boo birds and the benching. The suicide watch and the shoulder pads into the crowd. The walking out on his coach and finally, the release.
Yes, it's safe to say that Young has made just about every mistake both on and off the field a guy who went No. 3 overall in the draft could make. Be it getting in fights at strip clubs or getting a photo snapped chugging tequila out of a bottle, shirtless with a bunch of other sweaty dudes.
Yes, one way or another, Young has always made headlines. But something he hasn't done in a few years is make plays.
Living in Houston and being at the forefront of the "The Texans should draft Vince Young!" fan movement of 2006, obviously I have strong feelings about this topic. But with the news that he is having difficulty even beating out Mike Kafka as the Eagles backup to Michael Vick this season, it truly made me reflect on the young career of a guy who had almost everyone sold on him being on a collision course to multiple Super Bowl appearances.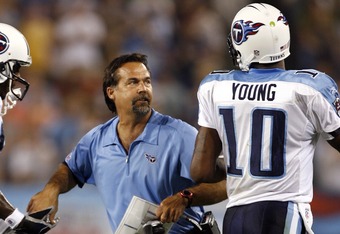 By now, most realize that the Texans got the pick right in 2006 when they made the controversial decision to take Mario Williams with the first pick in the draft. Reggie Bush is referred to as "Reggie Bust" these days while Mario has had two Pro Bowl appearances and named an NFL All-Pro twice. He's also the only one of those three guys still with the team that drafted him.
Before I get too deep into this, let me reiterate that I think Young is a really good guy. He does good stuff for the community and he isn't a low-character person. I bear no ill will towards the kid and I hope things get better for him. But while with Tennesee, he got benched for Kerry Collins and put in Jeff Fisher's doghouse for a reason. The guy has serious immaturity issues and a ridiculous sense of entitlement. That isn't what has gotten me to dislike the guy, though. What has made me not even take the guy seriously as a pro is what I like to call "The Vincies."
A Vincy is what one would call a devout and unwavering supporter of Vince Young. Now, to people reading this outside of Texas, you're probably quite confused. Yes, these people do exist and they exist in extremely high numbers in The Lone Star State. Not a day goes by on local sports radio where we don't hear some fan boy of VY call in and talk about how the Texans messed up six years ago and they'd of already turned their franchise around and became "winners" if they would have just drafted Young.
They still say, to this very day, that the team should cut ties with Matt Schaub and bring in Young. It's the kind of man love that you could not even begin to fathom. And there's thousands of these guys in Houston and Austin, I'm not even kidding. There are 31 other teams in the NFL that didn't think Vince was ready to be a starter. But the Texans messed up because they didn't cut a guy who has consecutive 4,000-yard passing seasons and bring in VY? It's enough to drive you crazy, for sure. Lord knows they've come close for me over the years in attendance at Texans games.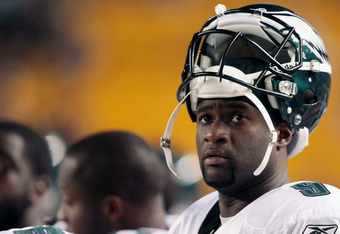 As far as the "he just wins" stuff, what one did in college means nothing once he sets foot on an NFL film. In my opinion, when someone says ,"The guy just has a lot of heart," it's a built-in excuse in case the guy doesn't succeed at the next level.
"Heart" is one of those terms, right up there with "momentum," that I find completely useless when evaluating a player. You know who else had a lot of heart and was a winner? Tim Tebow. And how is he working out?
Young is a very talented athlete and he had some of the most amazing performances in the NCAA that I have ever seen. But I have no problem separating my Saturdays from my Sundays, and the bottom line is that Young just hasn't been that good in the pros. That's why he is about to fall to third on the depth chart in Philadelphia.
When Young left Texas to enter the NFL draft, most college football fans were saying, "Who the hell is Colt McCoy?" In the NFL, Colt McCoy is a starter and people are soon to be asking, "What ever happened to Vince Young?"