Philadelphia Eagles Preseason: How They Fared Against the Cleveland Browns
August 26, 2011
Following the Eagles' dismal outing against the Pittsburgh Steelers last week, they faced much scrutiny for their poor play, especially at linebacker. Going into their third preseason game, at home against the Cleveland Browns, observers also wondered about Nate Allen, who would be playing with the second-team defense after revealing that he still had not fully recovered from last year's season-ending knee injury, and rookie center Jason Kelce, who would be starting over veteran Jamaal Jackson.
Philadelphia rolled to a 24-14 win over Cleveland, leading 24-0 at one point (almost identical to their loss in Pittsburgh) before allowing two late touchdowns. While they did not manage to answer all the questions facing them, they did a good job dealing with most of them. Here is a position by position review of the Eagles following their Thursday night victory. 
Quarterbacks
Michael Vick didn't have an exceptional bounce-back game, though, he certainly had a better performance than last week. He played reasonably well, given the extenuating circumstances. The biggest accomplishment for him was staying healthy, especially after taking so many hits from the Browns' defense.
It's hard to accurately evaluate his performance as he rarely had time to throw the ball. His receivers also did not do a great job of getting open and failed to help his cause by dropping a few of his passes. Though he ended up going 10-for-18 for 98 yards, seven of his completions went to running back LeSean McCoy, who did a good job staying open and serving as Vick's safety valve. Vick also made a few good runs (something that we didn't see much of in the previous games, for good reasons) when he had openings, taking one in for a touchdown. Thankfully, he avoided taking any hits on his runs.
Vince Young looked more comfortable playing than he had in previous weeks. He made several good throws and used his feet to extend plays. He also had a running touchdown.
Running Backs
LeSean McCoy's rushing stats weren't too gaudy, though, part of this is due to the play of the right side of the offensive line. He was often ignored or left uncovered on passing situations, allowing him to make several big plays after the catch.
Ronnie Brown was very impressive, getting a number of good runs, including a 13-yard touchdown run. He looked powerful and confident coming out of the backfield and definitely validated his position on the team.
Dion Lewis also played well, accumulating 41 yards on nine attempts. With his strong performance in the last few games, he may have locked up his spot on the roster over the veteran Eldra Buckley and rookies Graig Cooper and Derrick Locke.
Wide Receivers
The receivers did not have a good game. That's the only way to put it. On 30 throws by Vick and Young, only 13 of them were targeted at the receivers, of which only four were caught. DeSean Jackson, Riley Cooper and Johnnie Lee Higgins failed to make a single catch on eight targets, while Sinorice Moss led the unit with two catches for 20 yards. Most of the game, the receivers simply could not get open, forcing Michael Vick to throw the ball away, take unnecessary hits or check it down to his running backs.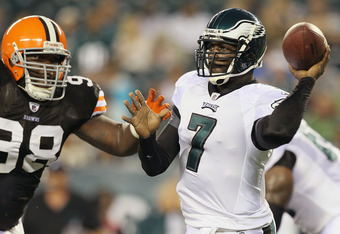 Though this is supposed to be an extremely talented group of wideouts, the receiving corps desperately needs Jeremy Maclin and Steve Smith back for the Eagles' offense to take off. Thankfully, they both will be back within the first few weeks of the season, and maybe even for the opener.
Tight Ends
Brent Celek caught two balls early for 15 yards, though, he fell short of a first down on one possession. He didn't have too many opportunities to make catches afterwards as he helped the offensive line block pass rushers.
Backups Donald Lee and Clay Harbor also had solid games. Lee caught all the passes thrown his way, though, only one went for a significant gain, while Harbor was used as a runner on a fourth-down conversion, taking the ball for seven yards after Vick faked the handoff to McCoy.
Offensive Line
The line wasn't as bad as you may think. That being said, there's still plenty of room for improvement. As usual, the duo of Jason Peters and Todd Herremans was stellar. However, the Jason Kelce experiment had mixed results; Kelce was awful in pass protection, though, he played better as the game went on, and he was stellar as a run blocker downfield, providing good protection on Ronnie Brown's touchdown run.
The tandem of Kelce and Danny Watkins was extremely porous at the beginning of the game, though, they did play better as the game went on. Numerous times, Cleveland pass rushers got into the backfield, leading to Michael Vick taking several big hits, one leading to a fumble deep in Eagles territory. Though both players have good potential, the offensive line will not be successful with two rookies next to each other, not to mention another inexperienced player in King Dunlap at right tackle (speaking of Dunlap, he had another surprisingly good performance, not letting anyone get by him).
It's important to note that both of the Eagles' early scores came on a short field thanks to a muffed punt recovery and an interception. However, their last first-half touchdown came on a long, methodical drive, notable because the offensive line was playing much better.
Jamaal Jackson, who played well with the second team, should breathe a sigh of relief; for now, his starting job seems safe. Eagles fans shouldn't be too worried about the offensive line; with Jackson back in the starting lineup, Michael Vick should be reasonably well-protected, and the unit has a number of solid backups, such as Kelce and Evan Mathis, should anything go wrong. Right tackle still remains a question, with Ryan Harris and Winston Justice still injured, but King Dunlap seems to be a reasonable fill-in for the time being. 
Defensive Line
The defensive line was stellar, recording five sacks of the Browns quarterbacks on the night. They played as well as advertised, regularly getting into the backfield and stopping plays. For the most part, they also did a good job stopping the run, especially with the improved play of the linebackers playing behind them.
Perhaps the most uplifting moment of the night was when Mike Patterson, making his return from a seizure at training camp, sacked Colt McCoy. Though there was an offensive holding penalty on the play, the Eagles declined it in honor of their defensive tackle's play. Following the sack, the Eagles home crowd gave Patterson a standing ovation.
If the defensive line can keep up their play during the regular season, this Eagles defense should have a great year.
Linebackers
 The linebackers were highly criticized after their performance against the Steelers last week, and rightfully so. However, they rebounded, and put in a solid night of work against the Browns.
Casey Matthews, after an awful game last week, led the team in tackles. His highly touted instincts were on full display as he easily got into the backfield to break up multiple running plays. He also had good pass coverage on several other plays, knocking down one pass intended for the tight end.
Jamar Chaney had a great game. Juan Castillo had made the decision to move him to strongside linebacker, claiming that it was a crucial position in his defense, and Chaney proved why. He was strong in pass coverage, breaking up a potential touchdown pass to Peyton Hillis, and stopped a number of other passes thrown his way.
Another rookie, Brian Rolle, played well as the nickel linebacker, recording a sack as well as providing good coverage.
Secondary
 The Eagles' secondary had a great game locking down the Browns' receivers. Although Nate Allen allowed another touchdown, playing with the twos, Jarrad Page played well as his replacement. Kurt Coleman continued to play like a tackling machine, recording another five and tying Casey Matthews for the team lead, just a week after posting 11 in one half.
The cornerbacks were also great. Asante Samuel had an interception, and although Nnamdi Asomugha did get beat on one play, he drew an offensive pass interference penalty. Both he and Dominique Rodgers-Cromartie also played in the slot.
Surprisingly, Brandon Hughes, formerly of the New York Giants practice squad (I'm guessing they could really use him right now), lined up as the fourth corner, ahead of both Curtis Marsh and Trevard Lindley. As Joselio Hanson was not anywhere to be seen, this adds fuel to the speculation that he may be traded soon. 
Special Teams
 Which was better, the Eagles' special teams against the Browns, or the Eagles' front office during free agency? It's actually a tough question. Against Cleveland, the Eagles recovered two fumbled punts and blocked a field goal. Their own punter, rookie Chas Henry, continued his solid play, landing two of his four punts within the 20-yard line, and kicker Alex Henery also made a 37-yard field goal.
Overall
 Apart from a need for more solid offensive-line play, and a little more effort from the wide receivers, the Eagles seem to be developing into a complete team. The linebackers probably will have a few more ups and downs, but they too are improving. The secondary and defensive line should be as good as expected, maybe even better, with a glut of talent at both positions. The offense, too, will perform up to last year's standards once all their skill position players return to the field. 
Eagles fans should be excited for the upcoming season, and we should expect great things from Philadelphia moving forward.