Keith Olbermann Lists Dodgers' Frank McCourt as His "Worst Person in the World"
August 26, 2011
It is not every day that I agree completely with left-wing political analyst Keith Olbermann. I mean after all, I believe he is a Yankees fan.
But this time I do.
On his "Countdown with Keith Olbermann" show for Thursday, August 25, on the Current TV Network, Olbermann listed Los Angeles Dodgers owner Frank McCourt as his "Worst Person in the World."
And why did he do this? Well it seems that according to an LA Times report by T.J. Simers the Dodgers are asking season ticket holders to "grade" the Dodgers announcing team.

According to Simers, the team has sent a survey to its season ticket holders, asking them to evaluate one of the team's announcers on a scale of one to five in the following eight areas:
1. Knowledge of baseball
2. Knowledge of Dodgers organization
3. Objectivity
4. Accuracy of calls
5. Storytelling ability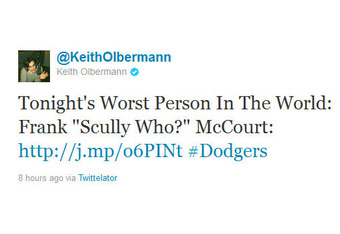 6. Focus on the game
7. Style
8. Overall performance
Of course as all Dodger fans know, one of the announcers the Dodgers are apparently asking their fans to grade is Hall of Famer Vin Scully.
Yes, Vin Scully. You know, the guy who has been a Dodger announcer since 1950. The voice of the Dodgers. You know, that guy.
For most Dodger fans, Dodger baseball wouldn't be Dodger baseball without Vin Scully.
Really Frank McCourt? You really want to go there?
I mean after all, I believe almost every Dodger fan in the world would list you as one of the worst owners in the history of Major League Baseball.
What you have done to the Dodgers with your careless spending, your divorce, poor management and the bankrupting of the Dodgers is about as bad as it gets.
In Simers' column he says the Dodgers sent him a copy of the survey, and told him Scully's job is his as long as the broadcaster wants it. The Dodgers also told Simers they surveyed fans on dozens of topics and that they have been grading their announcers for years.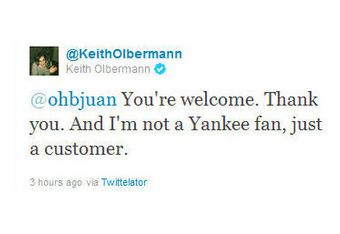 While this is probably true, considering what the McCourt era has done to the credibility of the Dodgers franchise, I don't think they should be sending out any surveys where they want people to grade any part of the organization.
Unless of course McCourt wants to really know how Dodger fans feel about him.
But something tells me he already knows how the fans feel about the incompetent way he has handled the organization.
And I don't really think he cares.
I thank you Keith Olbermann for listing Frank McCourt as the worst person in the world.
But then Dodger fans have known that for quite some time.
You can see the the video of Keith Olbermann's "Worst Person in the World" list for August 25, and read a transcript of it on his website.
You can follow me on Twitter, I am @ohbjuan.