Cleveland Browns vs. Philadelphia Eagles: Complete Report Card for the Birds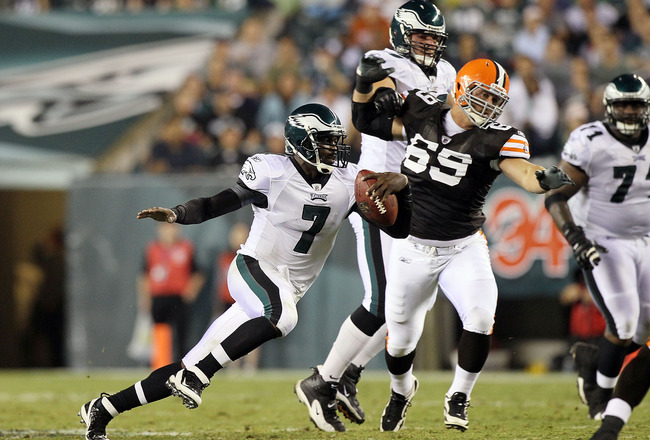 Jim McIsaac/Getty Images
The Philadelphia Eagles first team showcased their talents in an impressive win over the Cleveland Browns winning by the final score of 24-14.
There were many concerns heading into the game, including the continuity of the offensive line, the struggles of the young linebackers, the inconsistency displayed by the safeties, and of course Michael Vick.
Which of the above bounced back?
Here is a report card of each position for the Eagles:
Quarterbacks: B-
Jim McIsaac/Getty Images
Was Michael Vick exceptional? No, but he did enough to lead three scoring drives for the team.
The offensive line had its struggles early on, giving Vick almost no time to find his receivers. That and the fact the Eagles really had a conservative gameplan heading into the game.
Vick did a much better job recognizing where the blitz was coming and made pre-snap adjustments to identify the hot receiver.
For the game Vick threw for 98 yards on 10-18, with a passer rating of 71.1, but he did run for a touchdown.
Backing up Vick was Vince Young who led the Eagles on one scoring drive capped off by his 10 yard rushing touchdown.
Young was as conservative as Vick, looking to get the ball out quickly to his receivers running drags or curl routes.
Running Backs: A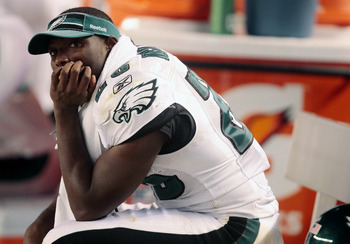 Jared Wickerham/Getty Images
The backs, LeSean McCoy, Ronnie Brown, and Dion Lewis ran for 94 yards on 15 carries (6.2 YPA).
While McCoy only ran for 12 yards, his pass catching abilities are invaluable to the team. He had seven receptions for 69 yards and was keen on getting open when Vick was running for his life. I wouldn't be surprised if McCoy once again led the Eagles in receptions next year, as Vick loves the checkdown when all else fails.
McCoy struggled a bit on his inside runs, but that was more of the fault of the offensive line still not being in touch early on and creating holes.
Ronnie Brown was the only position player who scored a touchdown tonight, which came on a nice 13 yard run. For the game, Brown had 9 touches and 56 total yards, 41 yards through the ground.
I think any critics of the move can be silenced. The Eagles got a bargain for a tough runner who can also be a goal line back or even be the lead back if needed.
The 230 pound Brown showed he still has cutting ability and enough speed to make the defense respect him.
Dion Lewis continues his stellar preseason. His jukes and cuts seem almost as good as McCoy's and he will only continue to improve. With above average speed, Lewis will be a change of pace back.
Wide Recievers: D+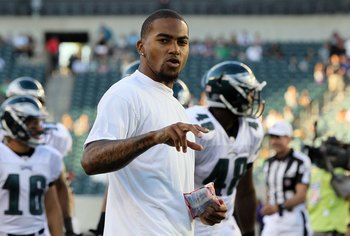 Jim McIsaac/Getty Images
While the offensive line was largely to blame for Vick's inability to hit his receivers, the pass catchers struggled against a good Browns secondary to get open. Therefore Vick had to throw to his checkdown receiver McCoy.
DeSean Jackson was non-existent, but there was also a safety over the top helping out the corner. He was targeted four times though. The rest of the receivers had average games, as no one really stood out.
Hopefully Jeremy Maclin can make his return to full strength very soon because Vick's relies on his top receiving target. Jackson and Maclin are an elite tandem and are interdependent.
Just to show how abysmal the receivers were today, Sinorice Moss led the receivers with 20 yards and two receptions. Yes, I'm talking about Sinorice Moss.
The Eagles receivers better step up their game.
Tight Ends: C+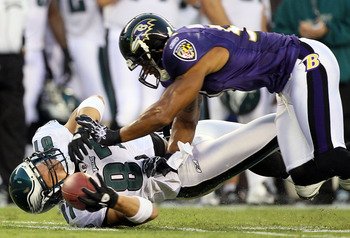 Jim McIsaac/Getty Images
After last week's drop-filled game by Brent Celek, you can say he rebounded with only two receptions for 15 yards. When he isn't blocking, Vick usually does not look Celek's way. Is there a distrust between the two? Celek had definitely fallen off the map last year with a poor season filled with numerous key drops.
When he does stay in and block, Celek is nothing more than a marginal blocker.
Clay Harbor did not receive one target tonight, but did convert a 4th and 1, with a seven yard run. Could he play the role of an H-back type and convert short yardages for the Eagles?
If the Eagles do keep three tight ends, then Donald Lee is a lock to make the team. He is a good enough blocker and has soft hands.
Offensive Line: C-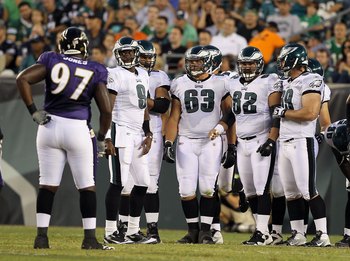 Jim McIsaac/Getty Images
If you have not checked it out already, take a look at this solid piece by Dave Stoessel outlining why the line could be the Eagles fatal flaw.
Anyways, the only reason the line does not deserve a 'F' grading for tonight's performance was because they improved as the game went on. The left side of the line was good, but like last year, the right side of the line struggled.
Jamaal Jackson may have taken a sigh of relief because his job as the starting center looks more secure. In Jason Kelce's first start, he struggled with a bad snap to Vick, a holding call and along with Danny Watkins, was responsible for Vick's fumble, as the two failed to block the Browns' Phil Taylor. While Kelce improved as the game progressed, the bad taste in Eagle fans' mouth was still there. Kelce did throw a great block in Ronnie Brown's touchdown run.
Watkins may not lose his job, but he was man-handled consistently by Taylor. He will have to work on maintaining leverage.
King Dunlap wasn't terrible, but was not that good either. The Eagles will praying Ryan Harris or Winston Justice come back soon.
Defensive Line: A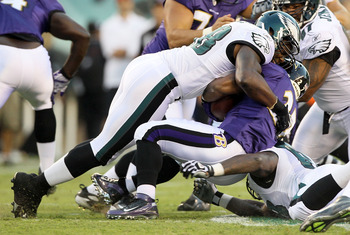 Jim McIsaac/Getty Images
The defensive line was very good and will sport one of the best crews in the league this upcoming season. The nine-wide scheme looks to be completely blending in with the defensive line's strength.
Phillip Hunt, Derek Landri, Mike Patterson, and Trent Cole each recorded a sack.
The defensive end depth is great and hopefully will allow Cole to be more fresh as the season wears on.
Derek Landri is making his case to be on the 53 man roster with another strong showing in terms of pass rushing.
Colt McCoy rushed each of his throws because the line got up field quickly and stormed the pocket.
The run defense took a step forward from last week's horrid showing, mainly because the addition of the behemoth Mike Patterson who provides an invaluable run stuffing skill.
When Antonio Dixon returns from his injury, the run defense will greatly improve.
Linebackers: B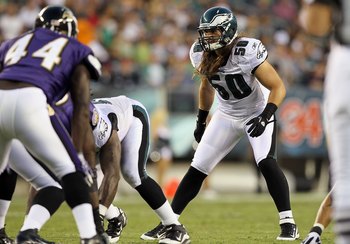 Jim McIsaac/Getty Images
Though I am against starting a rookie middle linebacker, Casey Matthews took a step forward. He has all but locked down the job.
While Matthews had five solo tackles, most of them near the line, we will never know if he can consistently play at a high level once the season starts. That's why I was such an advocate of bringing a veteran middle linebacker so the the pressure and trust level wouldn't be so high on only a fourth round draft pick.
Not only did Matthew show his progression, but Jamar Chaney was solid and will be an asset as a coverage linebacker going forward.
The nickel defense featured Brian Rolle and Chaney, and Rolle certainly had a few solid moments.
The projected starting weakside linebacker Moise Fokou will probably strictly be a run-supporting backer. His memorable moment of the night was Peyton Hillis running over him.
Cornebacks: A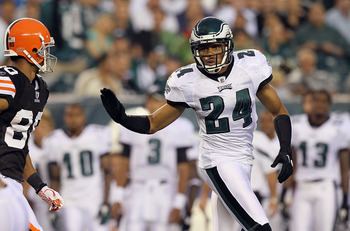 Jim McIsaac/Getty Images
Nnamdi Asomugha once again proved why he is the best cornerback in the league. He was surprisingly tested deep and held his own shutting down the receivers he faced.
Asante Samuel playing in his zone bubble intercepted Colt McCoy and I wouldn't be surprised to see Samuel once again near the leaderboards in interceptions. Teams will target Samuel more, but his ability to react quickly to the quarterback and pick off the pass is second to none in the league.
Dominique Rodgers-Cromartie had another strong showing and it looks to me that last year's poor play was a fluke because of the lack of pass rush in Arizona. Rodgers-Cromartie also blocked a kick.
Brandon Hughes may have further locked down his job as the coaches played him ahead of the popular Curtis Marsh and the quickly falling Trevard Lindley. Hughes is a player and has a future as a possible nickel or even a second corner.
I would be shocked if Joselio Hanson was not traded, even though he can play on the inside, the cornerback depth is unreal here in Philadelphia.
Safeties: B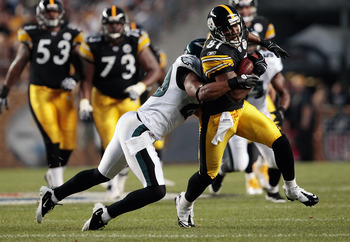 Jared Wickerham/Getty Images
The Eagles don't need their safeties to be great, just be solid and not give up big plays. That is exactly what they did tonight.
Kurt Coleman once again looked to be a dependable run supporter at the last line of defense. He has probably locked up the job as the free safety.
Jarrad Page started over Nate Allen, and did well in coverage. He held his own against Benjamin Watson who ran a couple routes against him.
There's not much to note with the safeties, other than that they didn't kill the team with their play like they did last week.
Special Teams: A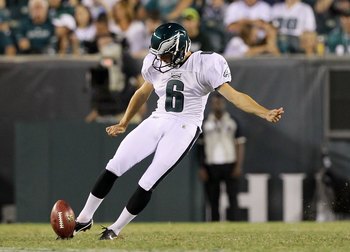 Jim McIsaac/Getty Images
Dominique Rodgers-Cromartie blocked Phil Dawson's attempt and Clay Harbor and Jon Dorenbos each recovered a muffed punt.
Bobby April was considered the best special teams coordinator in the league, but after a year with struggles last year, the special teams look to be coming on.
Alex Henery nailed a 37 yard field goal, and Chas Henry, in poor conditions averaged 43.5 yards per attempt, including a booming 58 yarder.
Both are not letting the nerves get to them.
Keep Reading

Philadelphia Eagles: Like this team?