Jacksonville Jaguars: Dirk Koetter to Be Most Watched Man on Offense This Season
August 25, 2011
While Mel Tucker got the keys to the defense this year and was rewarded like it was Christmas in July with new toys to fill in major gaps, Dirk Koetter is still working to develop an offense that will remain competitive in the AFC South.
This year is just as critical for Koetter as it is for head coach Jack Del Rio, general manager Gene Smith and all 53 roster spots on the team.
But Koetter has his work cut out for him. 
While the media has been quick to praise Tucker and Del Rio for making changes on defense, there are still holes that need to be filled on the offensive end before the start of the season on Sept. 11.
Could it be that while the defense shows improvement, the offense—led by running back Maurice Jones-Drew and tight end Marcedes Lewis—will take a step or two back?
It sure looks like it after two preseason games. With Jones-Drew not playing this weekend against Buffalo, you have to wonder whether the Jaguars staff is being too cautious with their star RB in waiting for the surgically repaired knee to completely heal.
Talk is one thing; action is another.
Right now, the Jaguars are facing issues at every offensive phase. The team has only scored 27 points in two games and may have to rely on the defense to make key stops instead of quarterback David Garrard (I claim him as the starter until told otherwise) and his crew making big plays.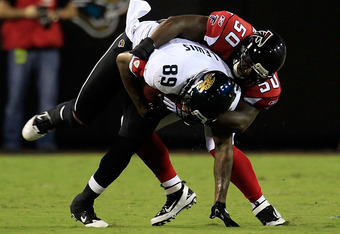 The offensive line is in flux. It's high time for Eugene Monroe to step up as a top-tier left tackle. Right tackle Eben Britton is still out for the preseason, but he vows to be ready by the September opener.  Gone is veteran guard Vince Manuwai. In step free agents Tony Moll and Jason Spitz, who appears to be in a battle for the starting job with Will Rackley, the 2011 third-round pick.
Mike Thomas is listed as the top receiver on the team, but the battle for the second slot between Jason Hill and Cecil Shorts is compelling. Lewis will be the starting tight end.
In the backfield, Jones-Drew is the unquestioned starter. Deji Karim and Rashad Jennings are capable backups, but the knee of their franchise player is still under review. Until we see him bull through a line and burst to daylight, we won't know exactly how it will hold up.
And then, we have this quarterback issue. While Garrard gives the team the best chance to win right now, is he the "right" choice for the team?
Sports Talk Radio in town has bantered the idea of releasing the veteran or even trading him, saving his salary and cap space and starting rookie Blaine Gabbert. That, in my opinion, means the team is giving up on the season. It would seem like a terrible waste, especially with Jones-Drew and Lewis in their primes.
With a tough schedule and all these questions, fans and the coaching staff—especially Koetter—need answers.
And they need them now.