Pittsburgh Steelers: Troy Polamalu and Mike Wallace Aren't Going Anywhere
August 25, 2011
The Pittsburgh Steelers re-signed Lawerence Timmons to a six-year, $50 million contract. That's great. Timmons is a good inside linebacker and one of the only defensive starters on the Steelers roster that is under the age of 30.
LaMarr Woodley is the other starter under 30, and he also received a brand-new contract from the Steelers.
Meanwhile, Troy Polamalu's contract is up after this season. Steeler nation is panicking. Why have the Steelers not locked up the reigning defensive player of the year? Is it because of money? Are they waiting to see if he's healthy?
Polamalu is the most important player on the Steelers defense. They struggle when he's not on the field or at 100 percent.
That being said, his health is an issue. Polamalu has only played all 16 games in a season once in his entire career. Not to mention that his agent wants him to be the highest-paid defensive player in the league. That's not going to happen in Pittsburgh, nor should it.
I would expect Polmalu's next contract, if it's with the Steelers, to be a five-year deal, around $9 million per year. Right now, Polamalu is due $8.6 million for the 2011 season.
I expect Polamalu to get the franchise tag for next season, similar to what they did with Woodley this year. The Steelers won't just let him walk. If they can't re-sign him for any reason, they'll at least get one more year out of him and then possibly do a sign-and-trade or trade him next offseason.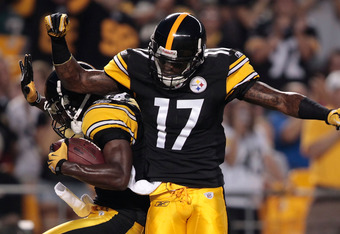 Right now the Steelers are saying all contract talks have been put on hold until after the 2011 season due to "cash flow" problems.
Next year receiver Mike Wallace is due to be a restricted free agent. So, they are going to look to re-sign him. That's a scary thought considering that Wallace is expected to have a huge 2011 season. He is going to want a big contract also.
I'm not worried though, and neither should you. The Steelers will find a way to keep both Wallace and Polamalu for the long haul. The Steelers have a lot of veterans who are on their last legs, including:
·        Casey Hampton
·        James Harrison
·        Ryan Clark
·        Hines Ward
·        Aaron Smith
·        James Farrior
All of those players could see the 2011 or 2012 season as their last. There's a lot of money that will be dropped off of the books if that holds true.
This will provide enough money for the Steelers to lock up Wallace for a long-term deal and to ensure Polamalu retires with the black and gold.
Polamalu is a Pittsburgh Steeler icon—perhaps one of the most popular players in team history. His hair has become an unofficial icon for the team. Not to mention that he's a future Hall of Famer.
Steeler nation should relax, No. 43 is going to be a Steeler as long as he and the team wants him to be.
This article also appears on the very popular Pittsburgh blog: 412sportstalk.
Follow me on Twitter: http://twitter.com/#!/Madchad1187